WORLD CHAMPIONS: 1935, 1945
AMERICAN LEAGUE CHAMPIONS: 1907, 1908, 1909, 1934, 1940
(NOTE: I HAVE RECENTLY SPOTTED A FEW ERRORS ON THESE CARDS. THESE WILL BE CORRECTED SHORTLY. ~4F)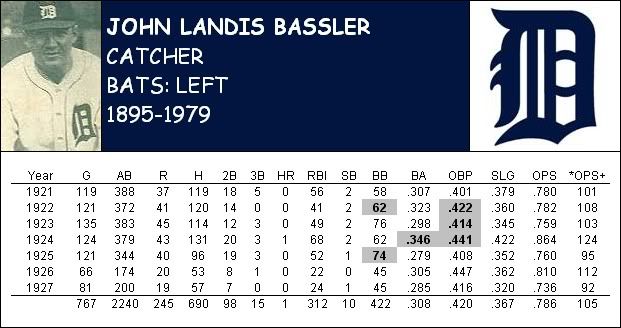 JOHNNY BASSLER: Considered one of the best Catcher in the league in the 1920's, his leadership and excellent defensive abilities helped him finish in the top 7 in the voting for most valuable player three years in a row. Has second highest career On-Base Percentage of any Catcher, and third highest of any Tiger. A career .304 hitter, his ration of 5.4 Walks per Strikeout in the third highest in history, surpassed only by Hall of Famers Joe Sewell and Tris Speaker. His 1925 ratio of 57.3 At Bats was the tenth highest single season total in history, and amongst Catchers, only Hall of Famer Mickey Cochrane ever achieved a higher ratio.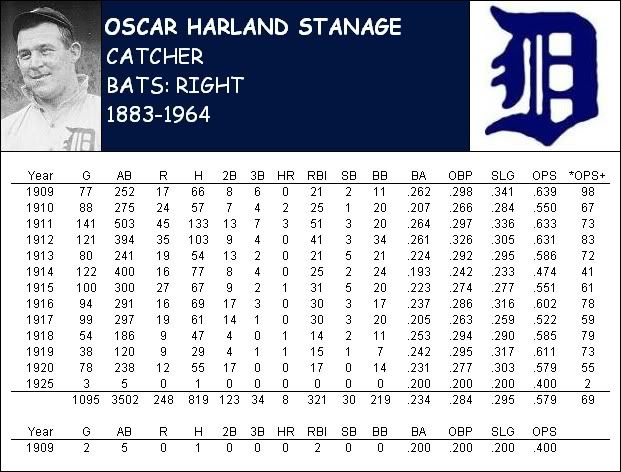 OSCAR STANAGE: Known for his cannon of an arm, he threw out more runners that any Catcher of the 1910's, three times leading the league in assists by a Catcher and twice leading in Double plays. His career average of 1.29 assists per game is the 5th best in Major League history. Due his relatively weak bat, he was challenged by better hitting Catchers almost every year, but he managed to fight them off, year after year, eventually Catching more games for Detroit than anyone except Bill Freehan. (He was finally replaced by fellow All-Time Tiger, Johnny Bassler.)
BIRDIE TEBBETTS: An outspoken, hardscrabble player who left everything he had on the field. Never afraid to speak his mind, he was loved by fans and writers, and often got into the heads of opposing hitters, distracting them with his in-game banter. A smart tactician on the field, he lead a successful managerial career once his playing days were over.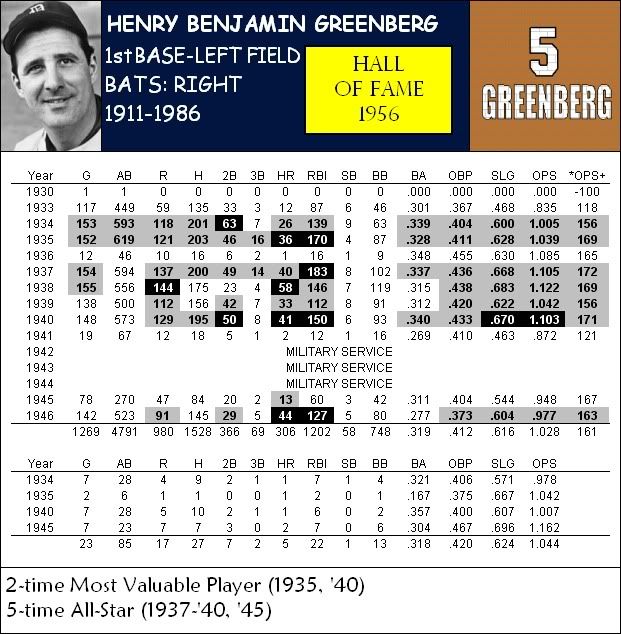 HANK GREENBERG: A fearsome slugger and the first Jewish superstar in professional American Sports, Greenberg was the club's offensive leader throughout the 1930's. His class, work ethic, religious devotion and character endeared him to fans nationwide, especially within the Jewish community. Despite losing several seasons to both injuries and ilitary service, he dominated the league's leader boards and held the club's Home Run record at the time of his retirement. His Career Slugging Percentage and OPS with the Tigers remain club records.