World Champions: 1968, 1984
American League Champions: 2006
Division Winners: 1972, 1987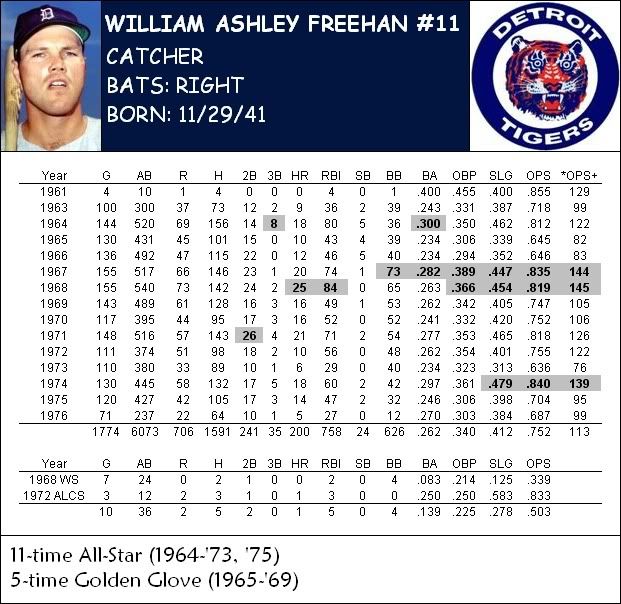 BILL FREEHAN: Do you know how many eligible Catchers with five Golden Gloves and eleven Star-Selections are NOT in the Hall of Fame? Only one.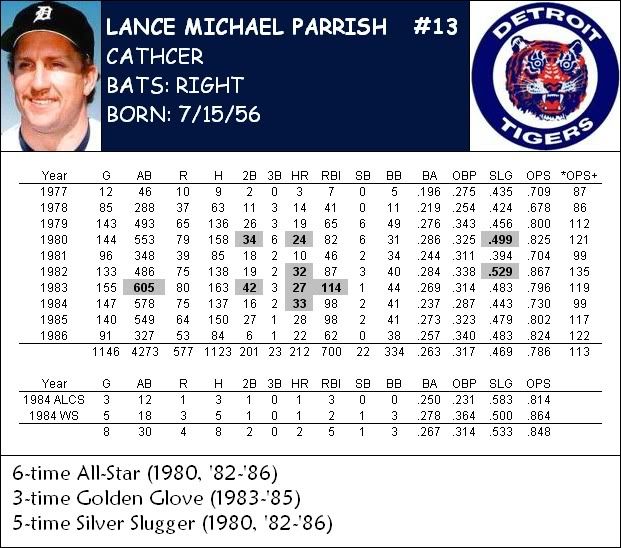 LANCE PARRISH: A prdoigous slugger from behind the plate, Parrish still ranks fifth in career Home Runs by a Catcher. His marks of 32 and 33 Home Runs in a season were both single season records at the time. Three times he took home
both
the Golden Glove
and
the Silver Slugger at Catcher in the same season.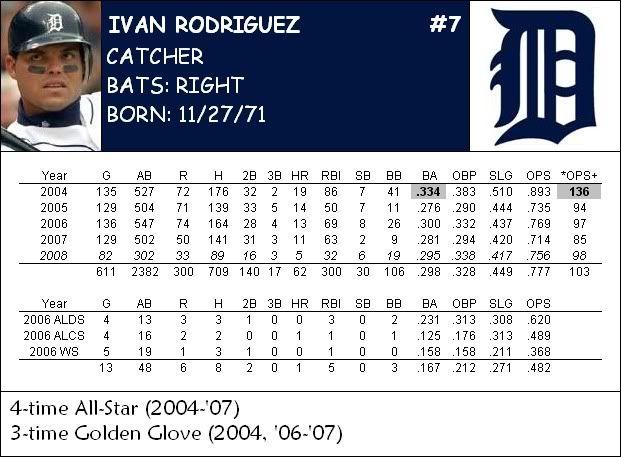 IVAN "PUDGE" RODRIGUEZ: It is perhaps a testament to how good he was in his prime that even after both his offensive and defensive skills had declined, that he remianed among the league's elite Catchers throughout his time in Detroit.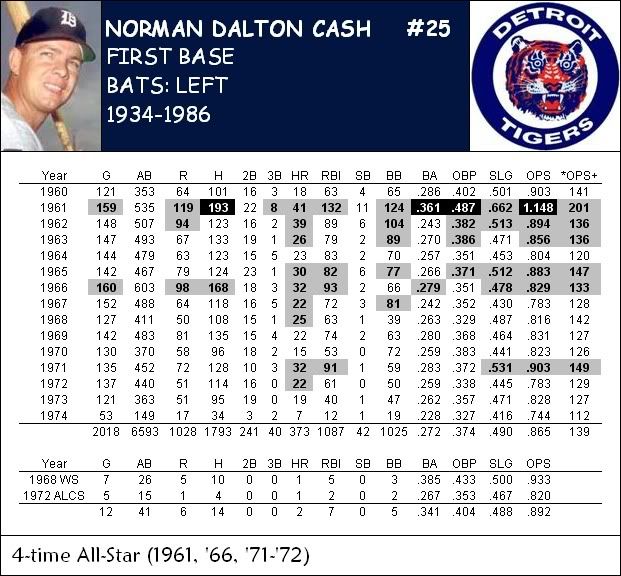 NORM CASH: If you compare Cash to the latest three first baseman to be elected to the Hall of Famers (Tony Perez, Orlando Cepeda, and Eddie Murray) Stormin' Norman in higher in terms of career OPS, OPS+, Runs Created per Game and Offensive Winning Percentage. Like Freehan, another of the great late-60's, early 70's Tigers than never got the Hall of Fame look that they deserved.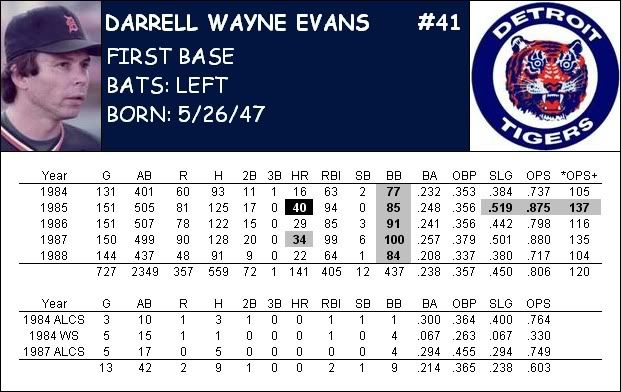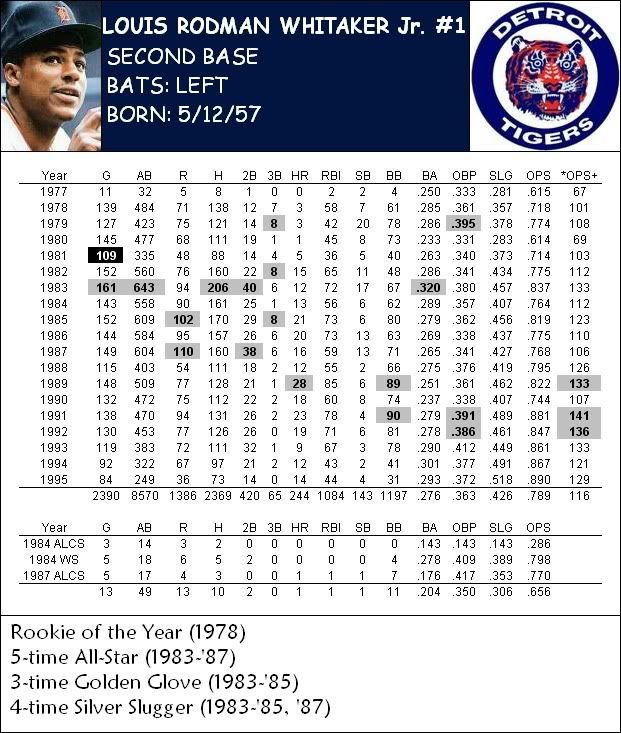 LOU WHITAKER: One half of the most prolific double play combination in history.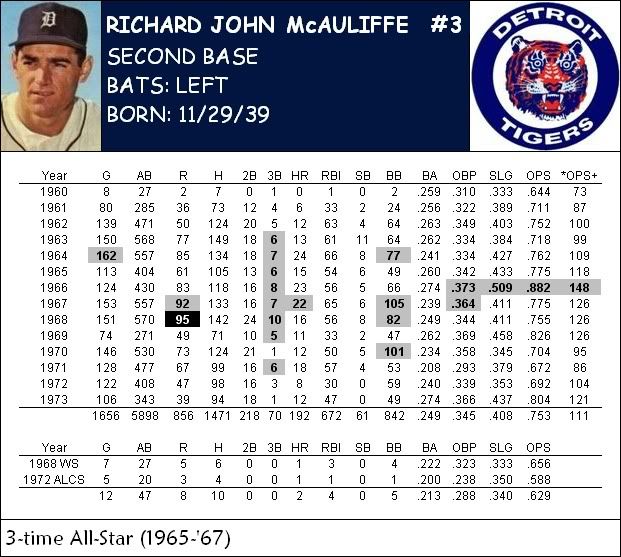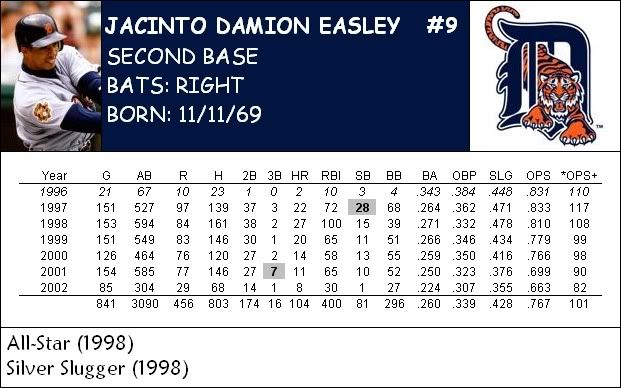 DAMION EASLEY: A lot of fans will think I'm crazy for not giving this spot to Polanco. Statistically speaking their probably a lot closer than you think. Planco wins on Average and Fielding, Easley on Power and Speed. Personally, I think the biggest strike against Easley is that he played for such lousy teams. If Polanco sticks around, one or two more GOOD seasons would make him a lock. If he's gone next year... I'm sure the debate will rage on!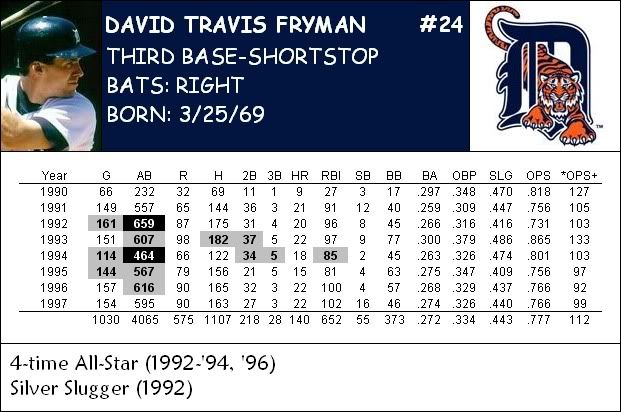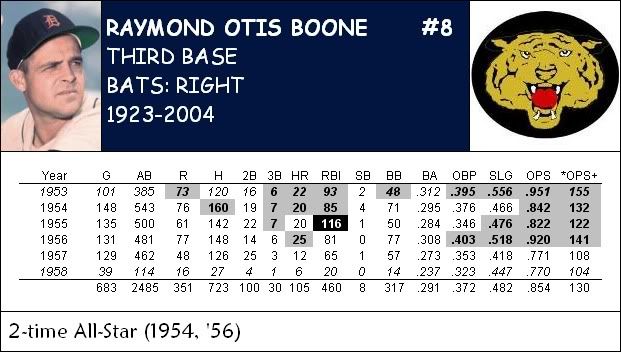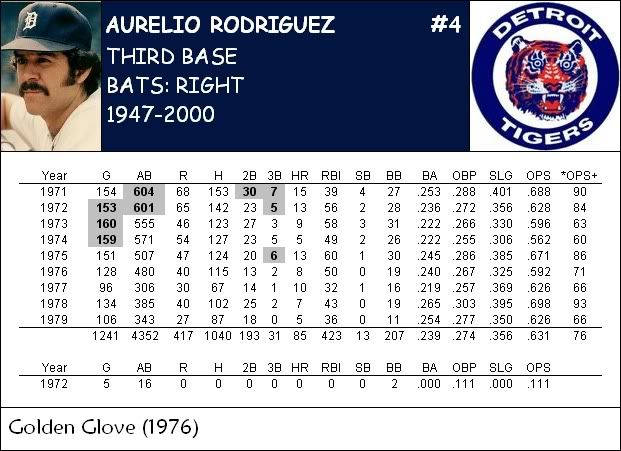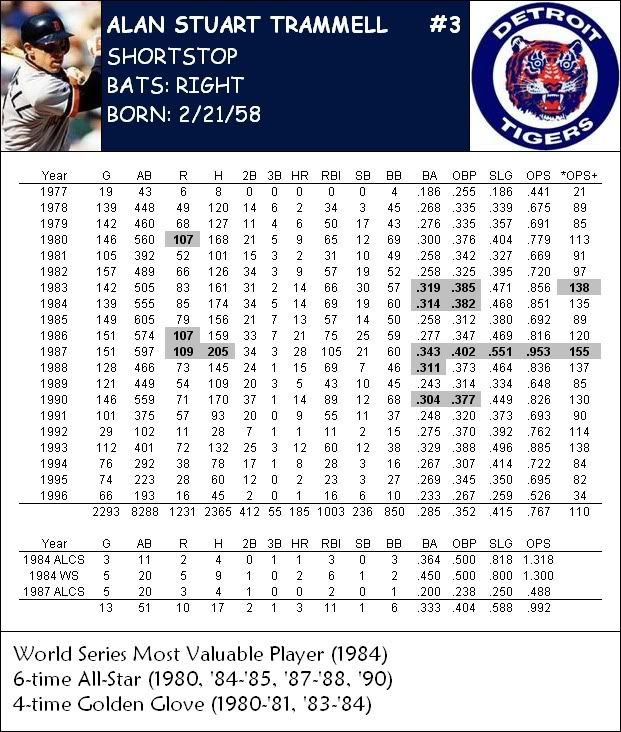 ALAN TRAMMELL: One half of the most prolific double-play combination in history.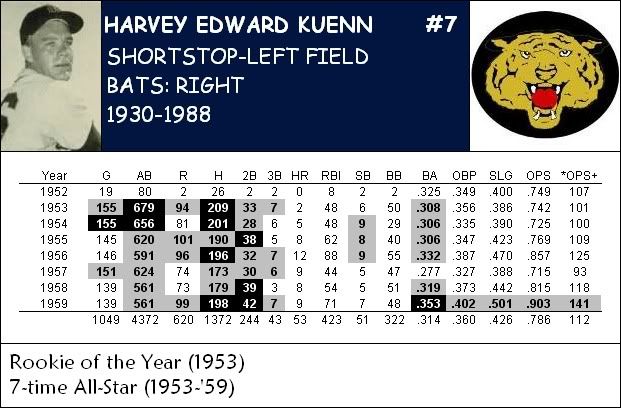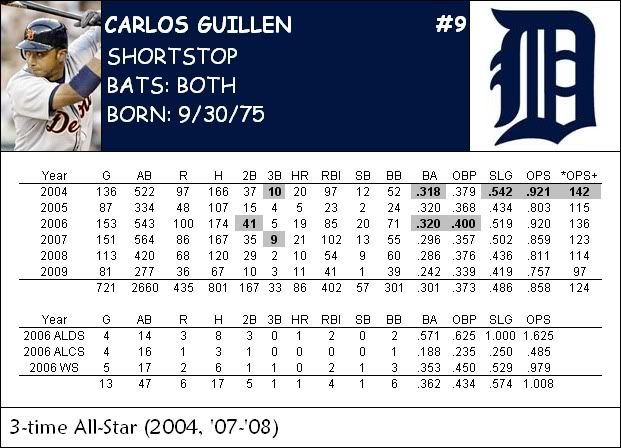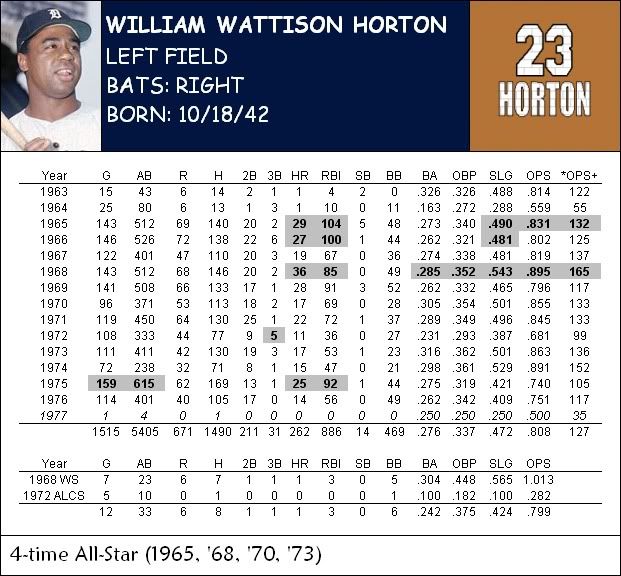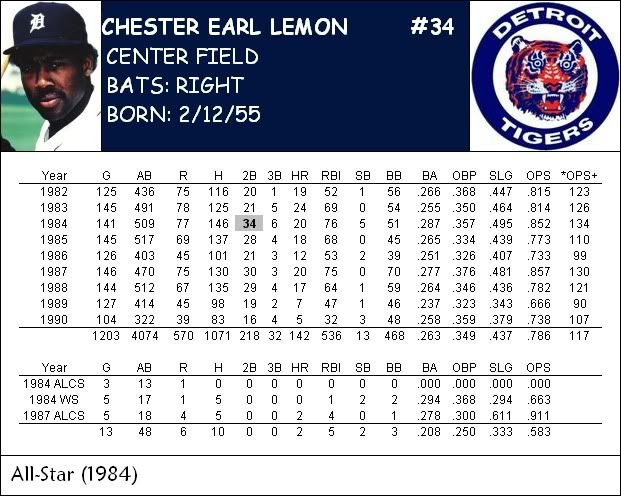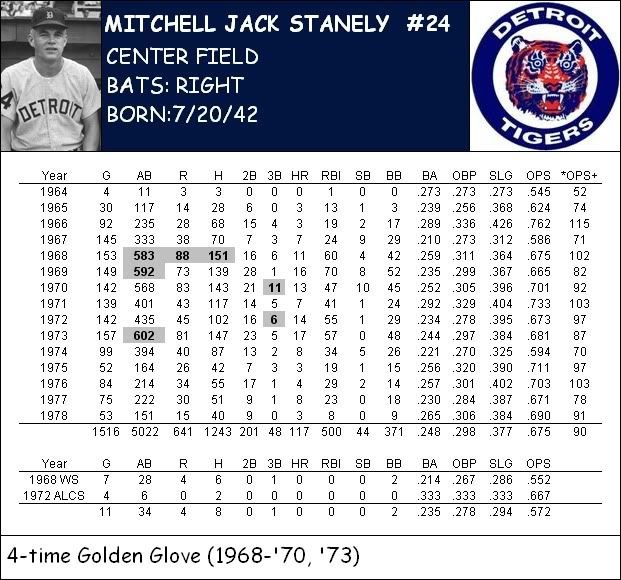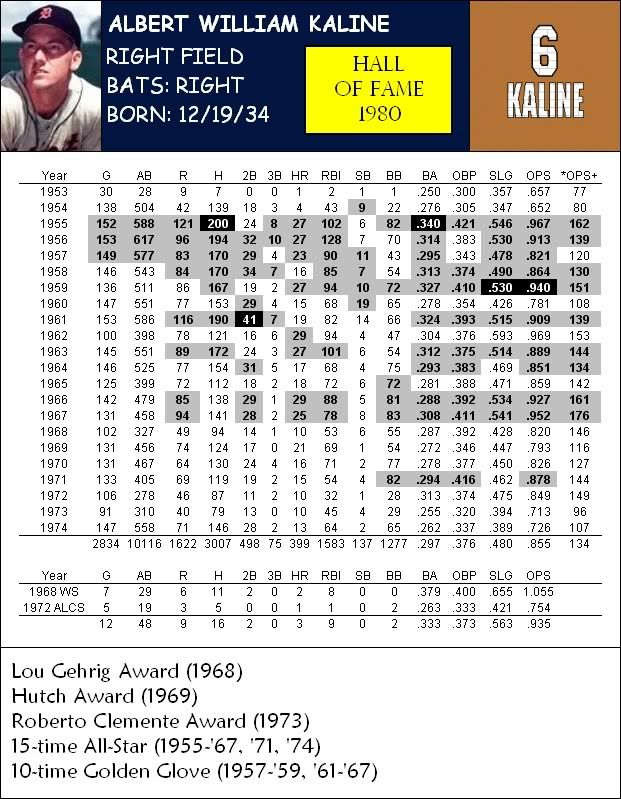 AL KALINE: The most beloved Tiger of all time. In addition to leadership, performance and
class
, Kaline was so well know for sportsmanship and community involvment that he is the only player to win the Hutch Award (for fighting spirit and competitive dirve), Lou Gehrig Award (for charecter and integrity on and off the field) AND the Roberto Clemente Award (for exemplary sportsmanship, community involvement and individual contribution to his team.)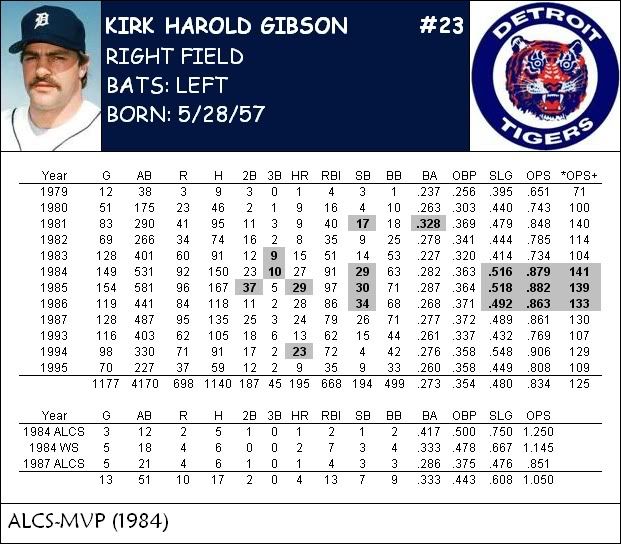 KIRK GIBSON: A born spark-plug if ever there was one. A blue-collar Reggie Jackson in the clutch. Years before he chanelled Roy Hobbs against Dennis Eckersley in '88 (for LA) he was making Hall of Famer Goose Gossage wish he had listened to his manager and walked him. The guy just WAS a tiger!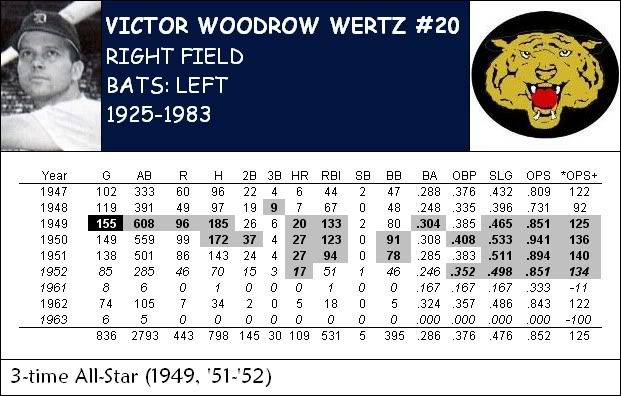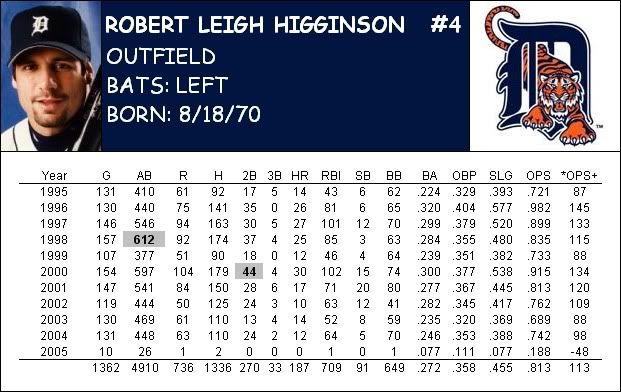 BOBBY HIGGINSON: It would have been pretty easy to put Curtis Granderson or Magglio Ordonez in this spot. If Mags goes on a tear the nenxt two years? He's in. If he continues to decline, he's not even chalenging for Steve Kemp's spot. As for Granderson, given time he will probably take this post eventually. In the meantime, I wanted to honor Higgy, who alwasy gavce 110%, stayed loyal to the team and involved in his community. Too bad he got hurt and retired the year before the Tigers finally got GOOD! And I always say: Don't fault a fine ballplayer just because he got stuck on lousy teams.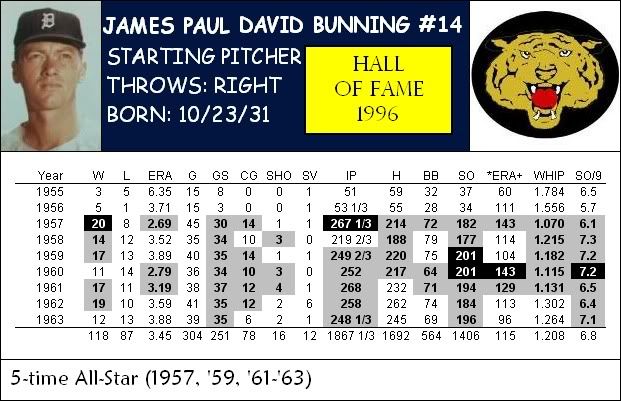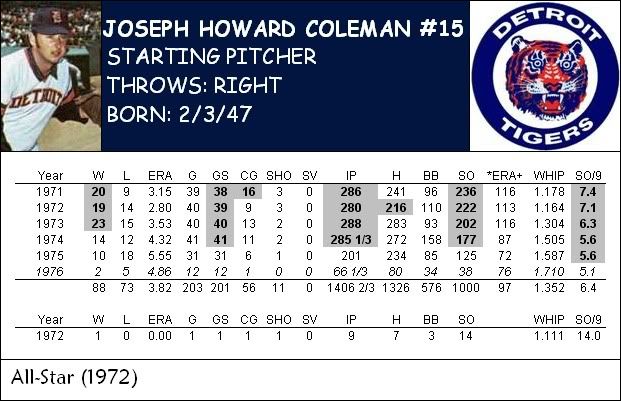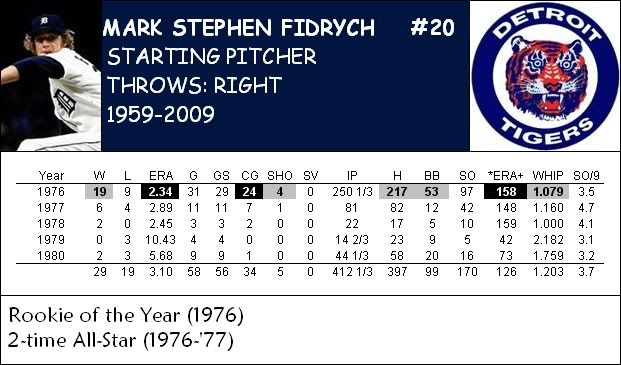 MARK FIDRYCH: This team's purely sentimental pick. Recurring injuries prevented him from recapturing the effectiveness of his rookie season, but "The Bird" remained a perennial fan favorite.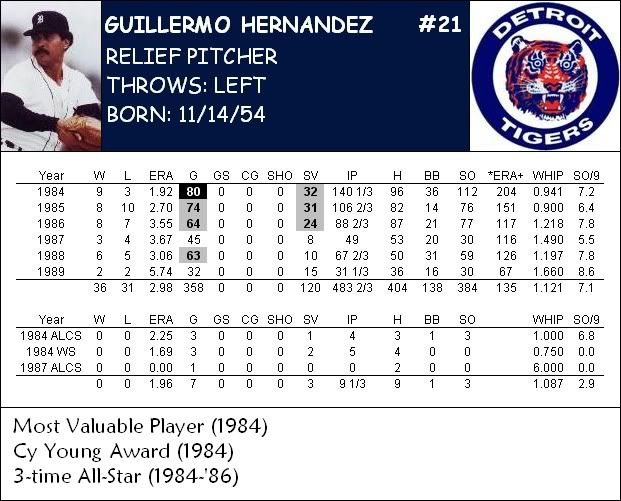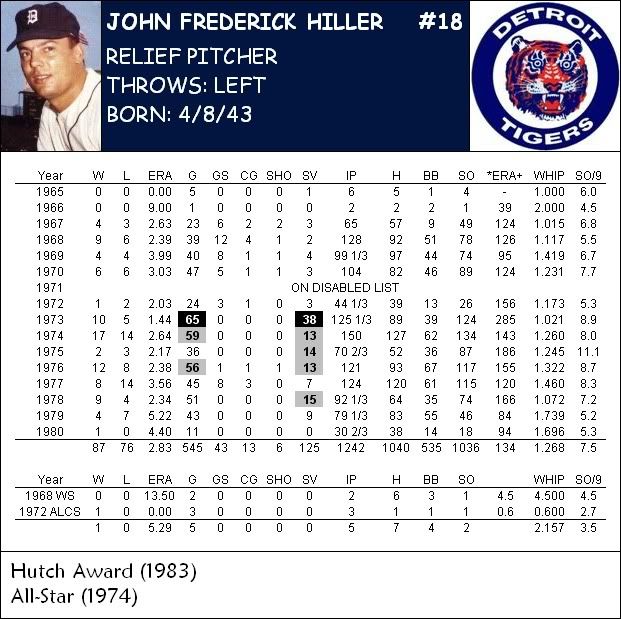 JOHN HILLER: How many guys, after having a heart attack and missing a year, come back better than ever and start setting records? 38 saves in a season may seem almost quaint by today's standards, but it was the American League record at the time.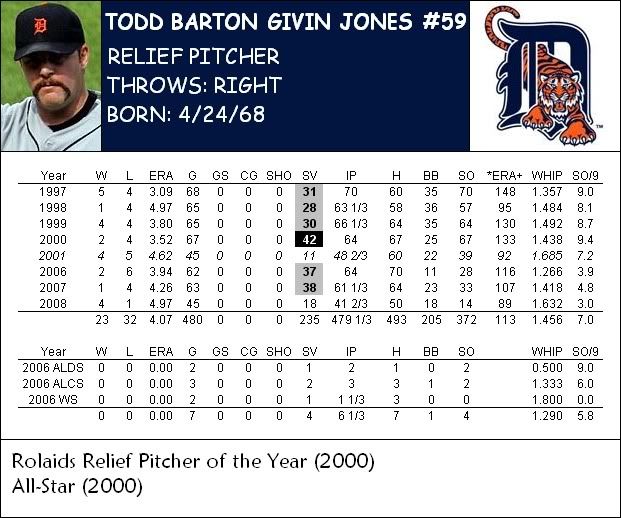 TODD JONES: Good old, Roller-Coaster Jones. He might have given fans regular 9th-Inning heart palpitations, but the fact remains: No man got the job done more often for the Tigers than Todd Jones.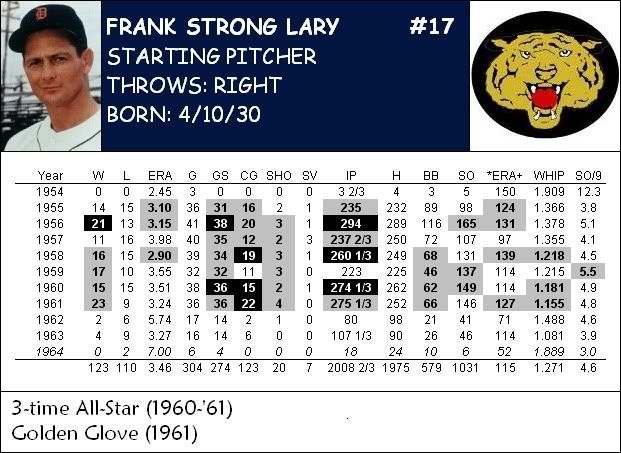 "FRANK LARY. The Yankee-Killer. The Tigers' pitcher who, for a seven-year period from 1955-61, was the major source of delight for all Yankee-Haters. The one pitcher who had the Yankees' number. The force that Yankee-Haters could count on, as everything else failed, to prove that the Yankees were mortal." - Moss Klein, Newark Star-Ledger (Baseball Digest, July 1978)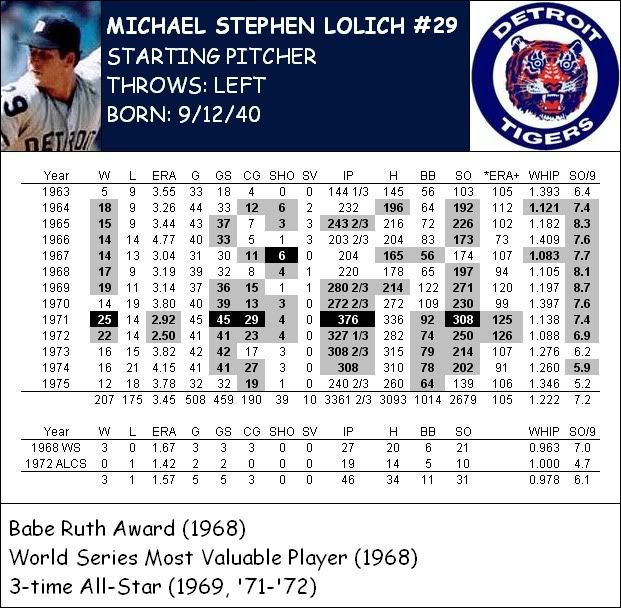 MICKEY LOLICH: Three victories in a single World Series, one coming against Bob Gibson. You just don't get any more more heroic than that.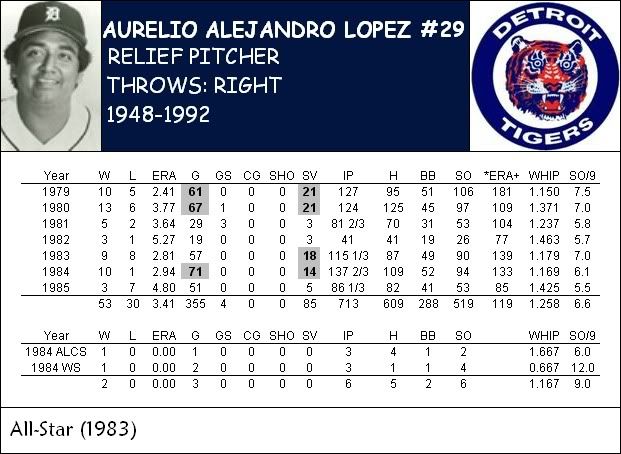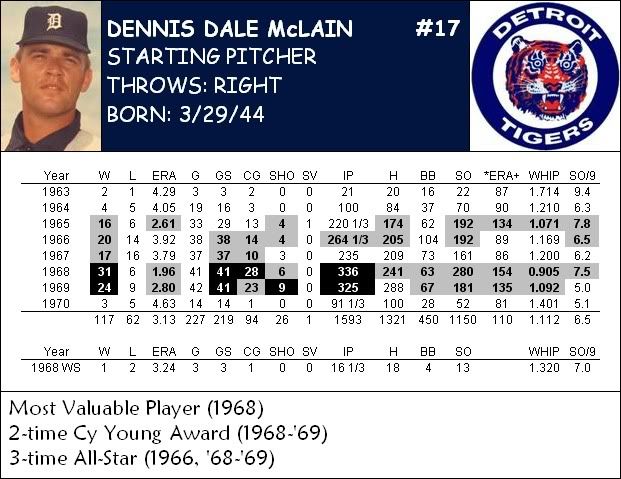 DENNY McLAIN: Far and away the single most despicable
human being
on the team but at his peak arguably the best pitcher in Tiger history. The last pitcher to win 30 games in a season, and very likely to be
the
last.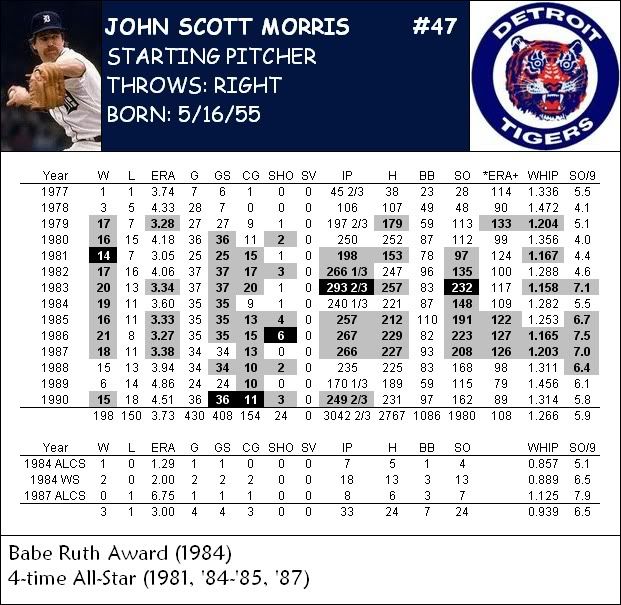 JACK MORRIS: The winningest Pitcher of the 1980's and absolute
money
in the big games. Can someone please tell why this man is not in the Hall of Fame yet?!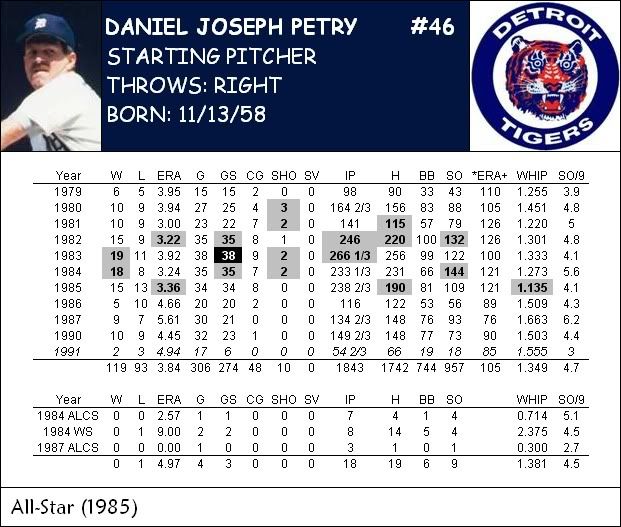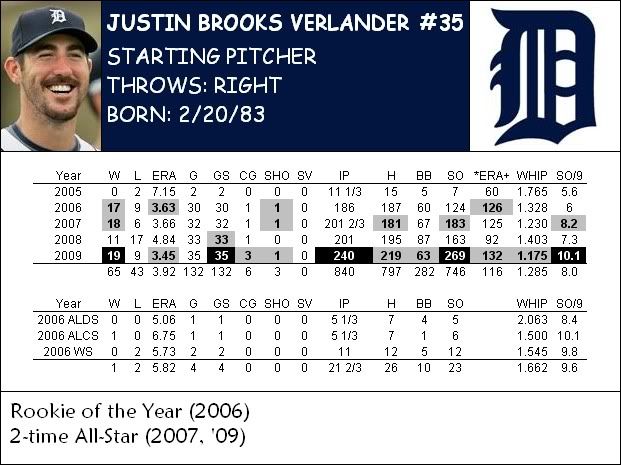 SPARKY ANDERSON: To date, the
only
Hall of Famer on the 1984 Tigers: World Champions and the winnigest American League team of the 1980's.