WORLD CHAMPIONS: 1959, 1963, 1965, 1981, 1988
NATIONAL LEAGUE CHAMPIONS: 1966, 1974, 1977, 1978
DIVISION CHAMPIONS: 1983, 1985, 1995, 2004, 2008, 2009
WILD CARD: 1996, 2006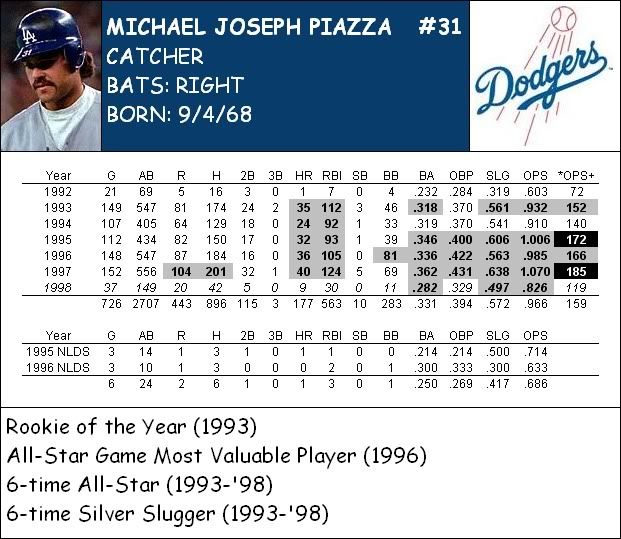 MIKE PIAZZA: Do you know what's really crazy? This guy was a
62nd round draft pick
who needed his godfather, Tommy Lasorda, to talk the Dodgers into drafting him at all. Imagine that: The future all-time Home-Run King amonst Catchers, and the best hitting Catcher in club history, needed
family connections
just to get a job!
MIKE SCIOSCIA: The Great Wall of Scioscia. Easily one of the physically toughest Catchers around, but never really appreciated for it until almost the end of career. I was really sad to see this guy retire, and I'm not even really a Dodger fan. Of course... his
replacement
(see above) did help us all get over it, but still. One of the last hard-nosed, old-school type ballplayers. You just
knew
this guy would make a great manager some day. Plus he was on the Simpsons, so how cool is that?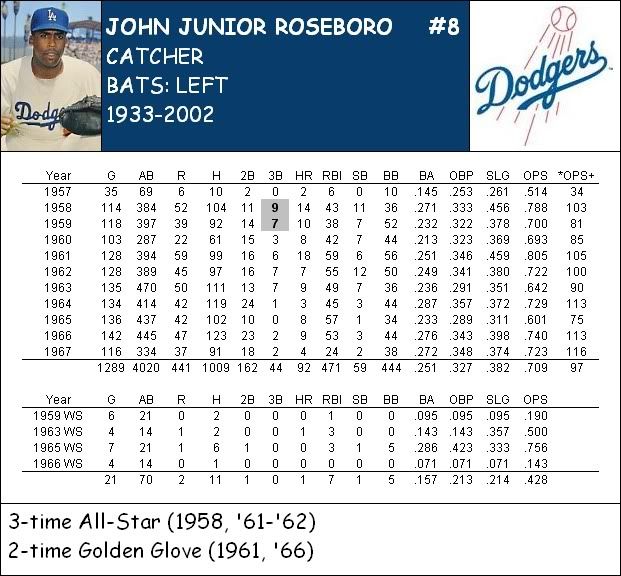 JOHNNY ROSEBORO: Considering the rarity of African-American Catchers these days, it's pretty impressive that the Dodgers managed to field a black starting catcher for over twenty years, from 1947 to 1967. Now granted: Roseboro's no Campy. But a pair of Gold Gloves gives him some Star cred of his own.
It seems that he was one of those guys that never really adjusted to life after baseball:
"It's an unreal life and when you leave it, you're lost. You can't deal with reality. They keep pushing money at you and then one day they suddenly stop and you find yourself standing in an unemployment line, hiding your face so former friends won't see you." ~Johnny Roseboro
Well, Johnny, here's one more 'hats off' to the fine work you did on the field.
STEVE GARVEY: DO you know how many eligible players have SIX 200-Hit seasons are are not in the Hall of Fame? Only Garvey. Is it because he was a one dimension player? Not with four Gold-Gloves, consistent power numbers and a Post-Season Records that even Reggie Jackson could be jealous of! You want to know how great this guy was? ASK HIM! Just like Reggie, he'll tell you!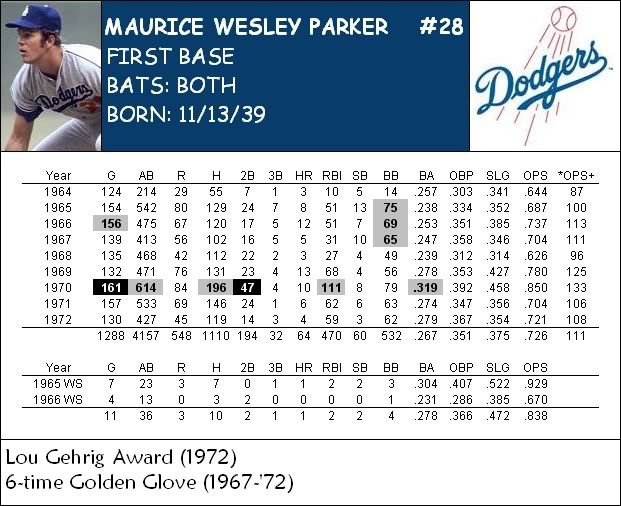 WES PARKER: "Mister Steady." One of the best defensive First Baseman of All-Time. Even in his last few years, his glove (and overall play) was good enough to keep a young, talented rookie named Steve Garvey from having a chance to play every day until he was 25 years old. He defensive prowess probably cost Garvey an honest shot at 3000 Hits.
ERIC KARROS: It's a testament to how far offensive numbers have been inflated, and how competetive the First Base position in particular has become that a guy with five 30-Home Run, 100-RBI seasons couldn't garner a
single
All-Star selection.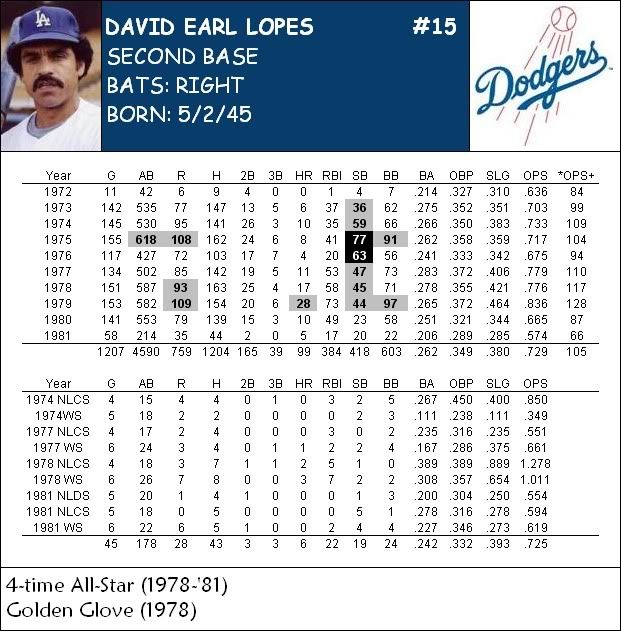 DAVEY LOPES: Although he had the extreme misfortune of having his best years coinside with Joe Morgan's, he also had Speed, Power, Fielding and the best moustache this side of Cheech Marin. He stole a then-record 38 consecutive Bases in 1975, and along with teamates Garvey, Russell, Cey and Yeager was part of the longest serving 5-man infield in history.
"I'm trying to get down to zero [batting average] so I can start the season over." ~Davey Lopes, 1981
And you gotta love a guy with such a self-depricating sense of humor, too. Reminds you that, at the end of the day, it
is
still a
game
.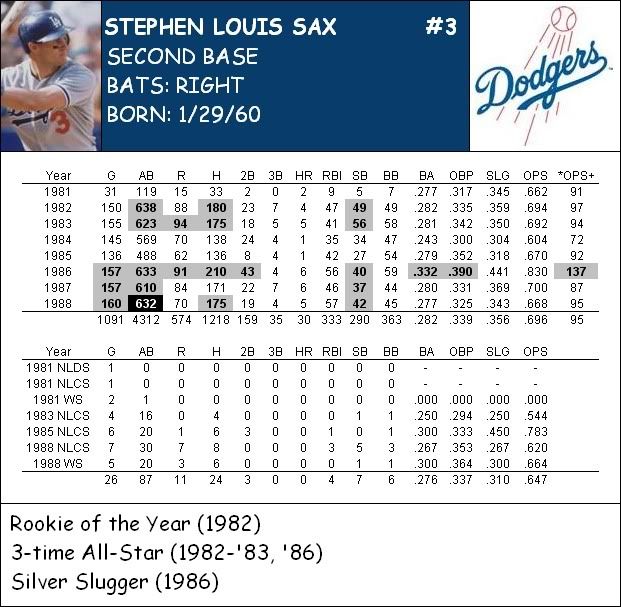 STEVE SAX: Somewhere out there is a former New York Yankee infielder who's very greatful that this guy came along before him. Otherwise the sudden inability to make a routine throw to First Base might have been known as "Chuck Knoblauch's Disease." (I guess "Steve Sax Disease" is the infielder's equivelent of "Steve Blass Disease!" LOL) All kidding aside, Sax was one of the steadiest, most consistent Second Basemen in the National League in the 1980's. (Like Johnny Ray, but with longevity.) Plus, along with Mike Scioscia, he's the second Dodger ringer to picked for Mister Burns'
Isotopes
Softball team in the 1992 Simpsons episode,
Homer at the Bat
, although he was with the White Sox at the time.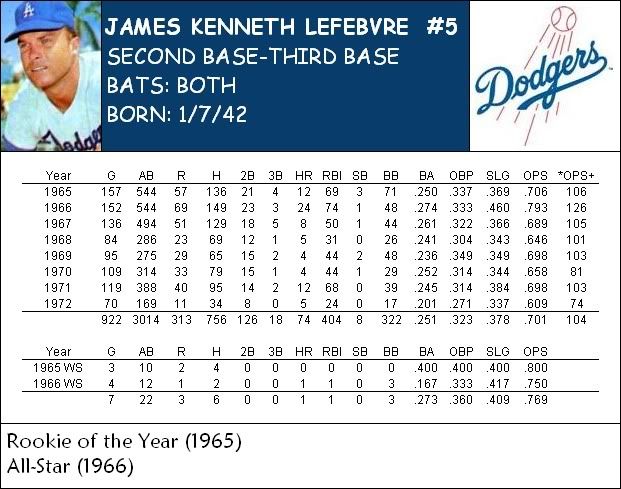 JIM LEFEBVRE: Although he never quite lived up to the early promise he showed, he remained an above average hitter and versitile infielder thoughout his career. Was the first player to win both a World Series (1965) and Japan Series (1974.) In 1965, (along with teammates Gilliam, Parker, and Wills) was part of an infield that consisted entirely of switch-hitters. Went on to a successfull coaching and managerial career when his playing days were over.
RON CEY: "The Penguin" (Was that nickname supposed to be complimentary?! LOL) The primary source of power on the great Dodger teams throughout the 1970's. An underrated slugging Third Baseman, who unfortunatley came of age at the exact same time as Mike Schmidt. (The two even shared a
Rookie Card
! I feel sorry for any Ron Cey fans who had to pay out Mike Schmidt money to get that card!)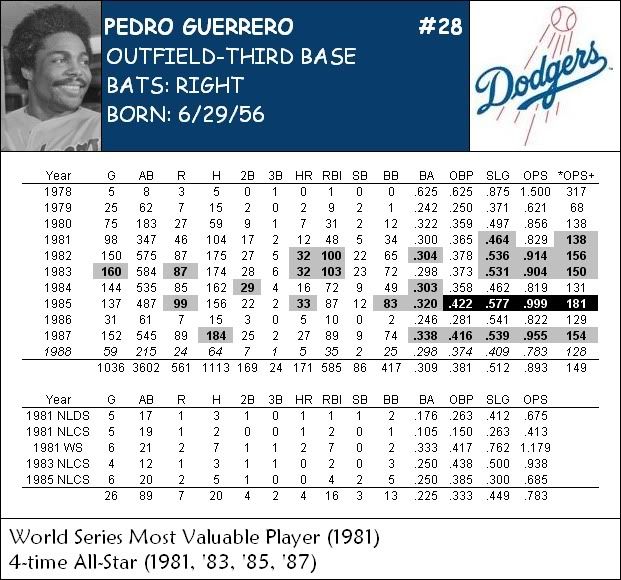 PEDRO GUERRERO: His name means "Warrior" but it may as well mean "Monster." At his best, his numbers would look good even compared directly against today's inflated offenses.
JIM GILLIAM: Played more games in Brooklyn than anyone else on the team. (He could have just as well gone on the Brooklyn Team, but he still played more Games for LA.) You've got a love guy who plays multiple positions, and does nothing but draw walks, steal bases and score runs. Replaced Jackie Robinson at Second Base, moving him to the Outfield, when he came up.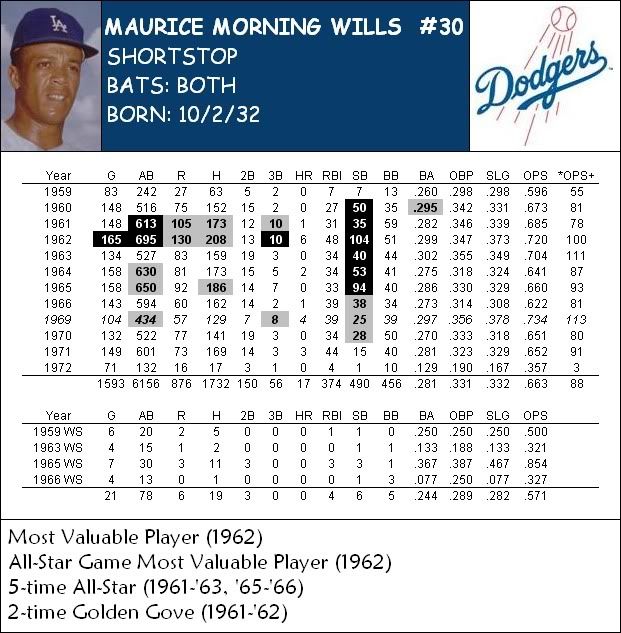 MAURY WILLS: The fastest man alive, in history, at that time. One of the best base-stealers of all time, even if not on of the great lead-off men. (Why did no one like to draw walks back then?!)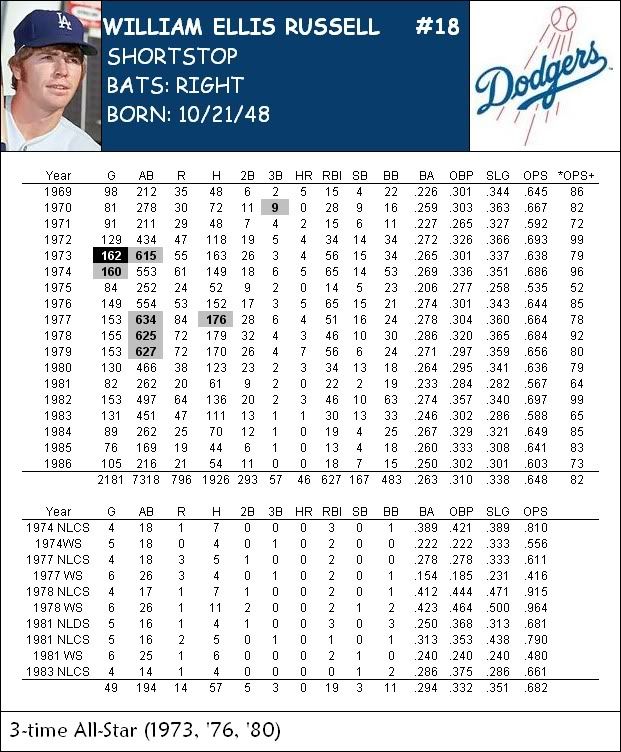 BILL RUSSELL: Part of the longest co-serving 5-man infield in history, along with teammates Yeager, Garvey, Lopes and Cey. A compentant and consitent Shortstop, who was unfortnuately overshadowedd by Larry Bowa and Dave Concepcion during most of his career. (Being overshadowed by the great Reds and Phillies of the 1970's seems to be an ongoing theme here no? Lopes, Cey, now Russell...)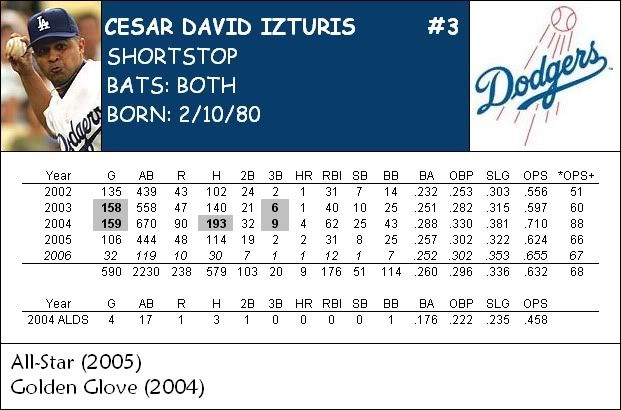 CESAR IZTURIS: Yeah... this was kind of a hard pick to swallow. Athough he was the slickest fielding shortstop wince Wills, if there are any Dodger fans out there who disagree with this one: Find me another qualifying All-Star, Gold Glove Shortstop for LA and I'll consider switching out Izturis.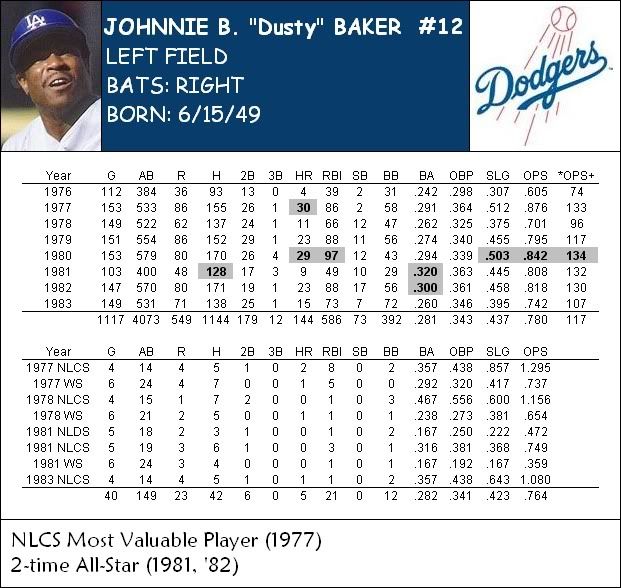 DUSTY BAKER: Hit for power, hit for average and wasn't slow. Easy to overlook because he had his best years when the Dodgers weren't as good. (Better in '79 that '78, better in '82 that '81.) The exception to this was in 1977, when he was part of a team in which EVERYONE was
very
good. (And so he was
still
easy to overlook!) Went on to become a successful manager after he retired.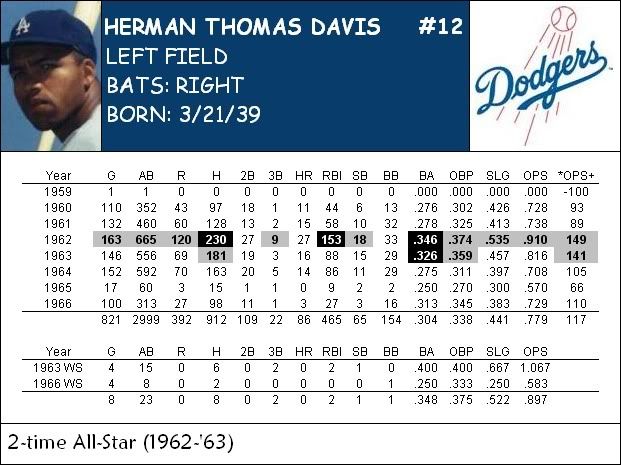 TOMMY DAVIS: For two years he was the best hitter in baseball. Followed up a year for the ages (153 RBI?! 120 Runs?! 230 Hits?!) by winning
another
batting title the following year.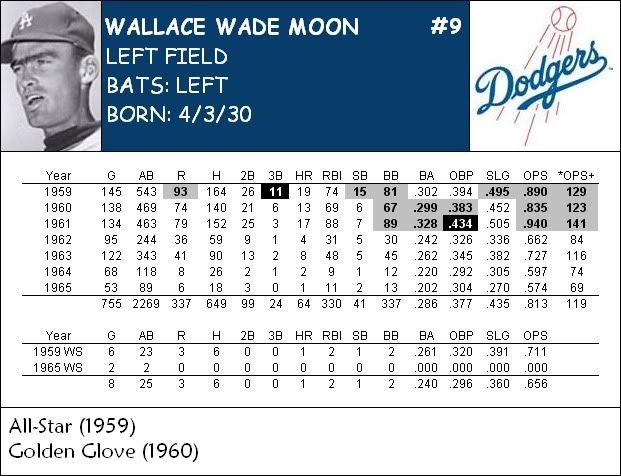 WALLY MOON: A steady, hard nosed old-school ball player who could run, hit for average and power and field. But
dude
: What's with that thick, bushy unibrow, huh? Cripes, it looks like he stole Davey Lopes' moustache and glued it over his eyes! Yikes!
WILLIE DAVIS: One of the best base-stealers on the team that brought it back into style. Good fielder, tons of speed, and even a little Power. But why were the guys in the 60's and 70's so averse to drawing walks? With all the base-running talent the Dodgers had, it's scary to think what they could have done with 5-10% more times on base!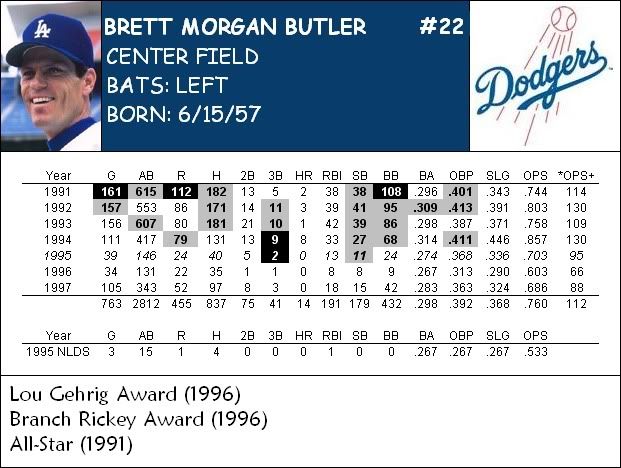 BRETT BUTLER: As if his comeback after Cancer treratment wasn't a good enough story on it's own, Butler (along with Jim Guilliam) understood what a fast, good-fielding but light-hitting lead off guy has to do: Draw walks! Along with a regult .300 AVG and .400 OBP, he drew walks, hit triples, stole bases and was one of the league's best bunters, leading the league in sacrifices in 1992 and finishing in the top ten twice more, in 1993 and 1997.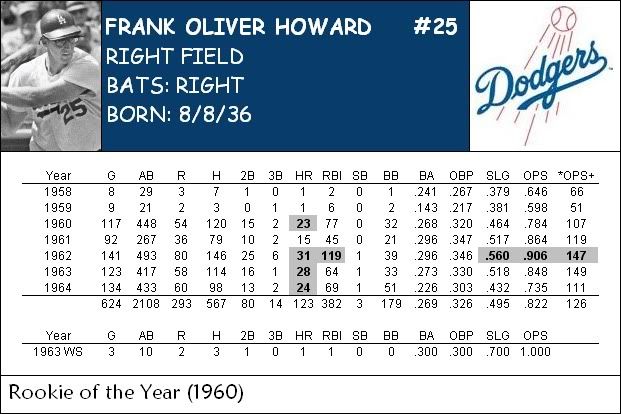 FRANK HOWARD: He stood 6'7", 255 lbs. He was one of the most awesome and intimidating power hitters in history, but stuck for
years
in one of the worst hitter's parks every conceived. If it were not for the absurd design of the LA Coliseum, Hoawrds waould have easily hit 500 home runs.
SHAWN GREEN: His time with the Dodgers had a kind of Tommy Davis-trajectory to it: Two awesome years surrounded by several
pretty good
ones.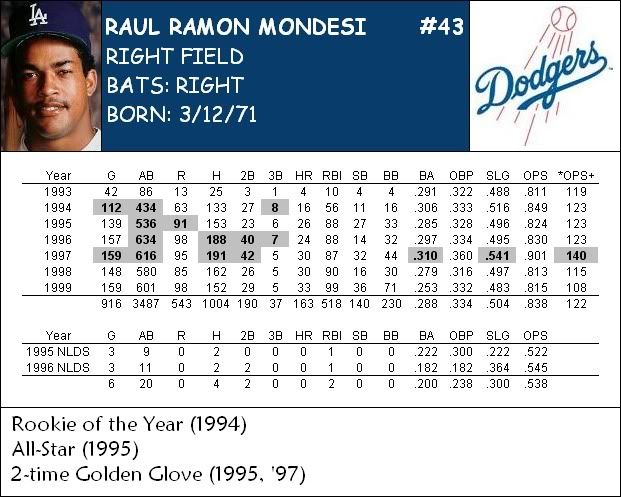 RAUL MODESI: Hard to like, but you just can't deny his talent, or criticise his hustle.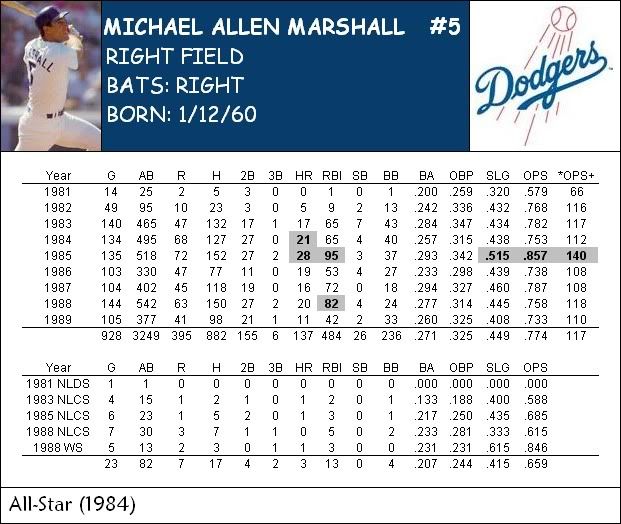 MIKE MARSHALL (the Outfielder): A low-key, hard-working, blue-collar Dodger of the 1980's who's job it was to protect Pedro Guerrero and Kirk Gibson in the lineup.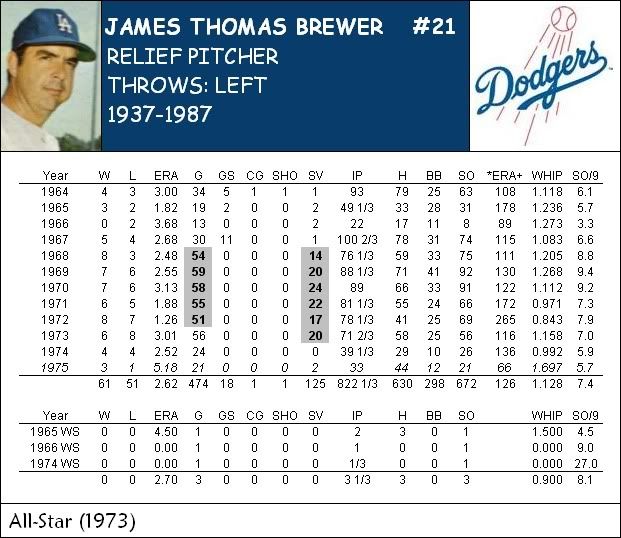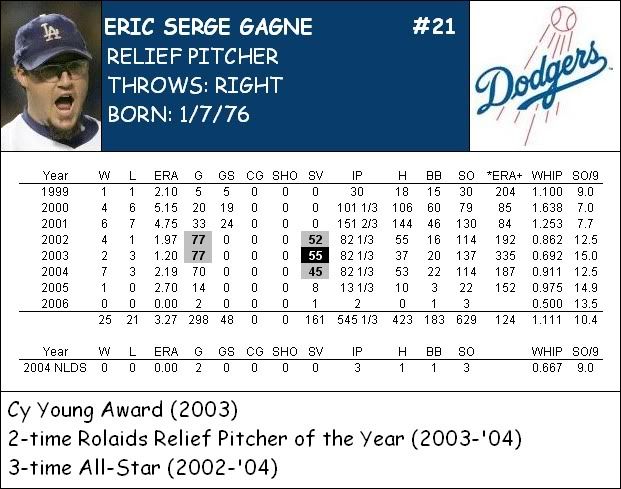 ERIC GAGNE: In just three years he broke the Club's All-Time Saves Record. He was virtually unhittable when healthy. Unfortunately, I didn't really get to see him much first-hand until he pitched for Boston... at which point I became convinced that "gagne" was the french word for "gas can."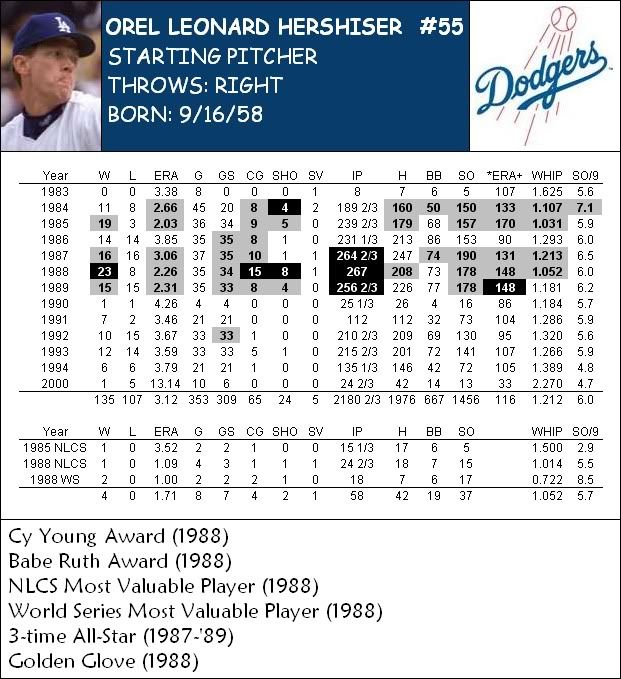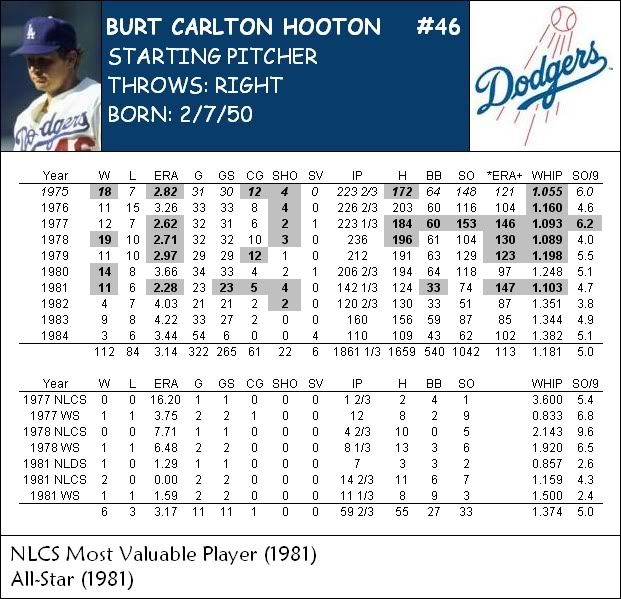 BURT HOOTON: In doing research for this blog, occasionally I come accross some real surprises. I had heard of Burt Hooton, but he I really had no idea how good he was.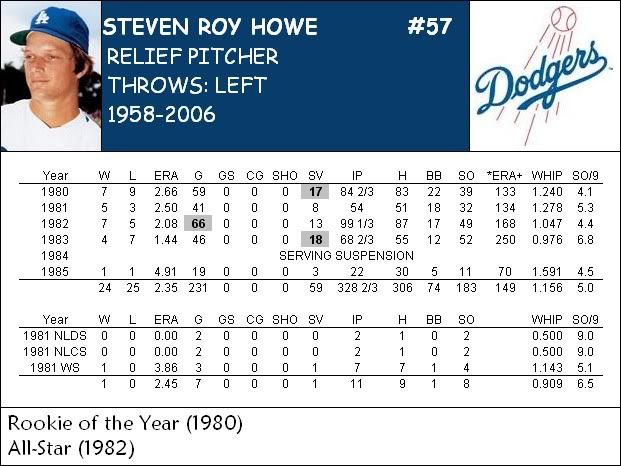 STEVE HOWE: No one gets picked for "potential," but Steve Howe comes these closest. He starts out with a pretty amazing feat: a 2.66 ERA as a rookie, that he LOWERS each of the next three years! Unfortunately drugs and multiple suspensions took their toll and so much potential was left unfullfilled.
"This is your last chance. And I'm not talking about one of those Major League Baseball Steve Howe kind of last chances." ~Leslie Nielsen to Anna Nicole Smith in The Naked Gun 33 1/3.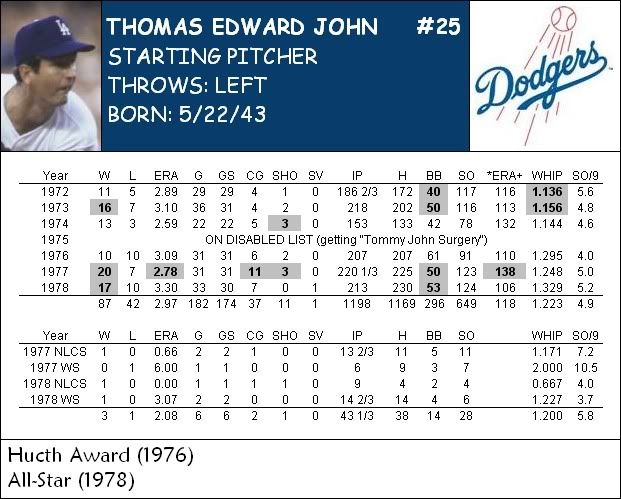 TOMMY JOHN: It's a good thing for both modern medicine and future pitchers that John ended up having as good a career as he did. Somehow I don't think that many pitchers would want to have "Terry Felton surgery." Winningest pitcher of the 20th centrury to not make the Hall of Fame.
"When they operated on my arm, I asked them to put in a Koufax fastball. They did, but it turned out to be Mrs. Koufax." - Tommy John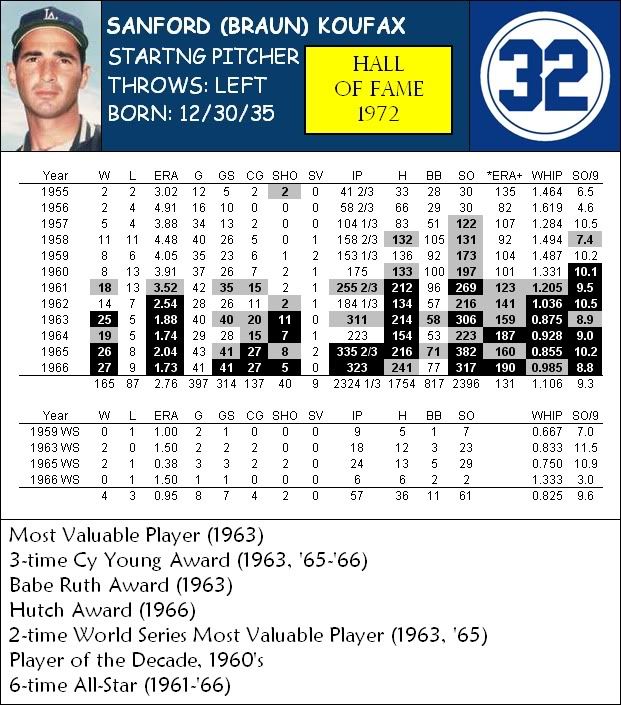 SANDY KOUFAX: He's known for what happened in just six seasons, and really just in three of them. But it was a run that no one has come close to duplicating. In addition to the three triple-cronws and insane amount of black-ink that accompanies them, he thre a then-record four no-hitters in that span.
'Razor' RAMON MARTINEZ: Not as dominant as his younger brother Pedro, but still a 20-win season in his own right. His career had a sort of Dwight Gooden trajectory to it: he peaked really high his rookie year and then declined slowly over the next several years.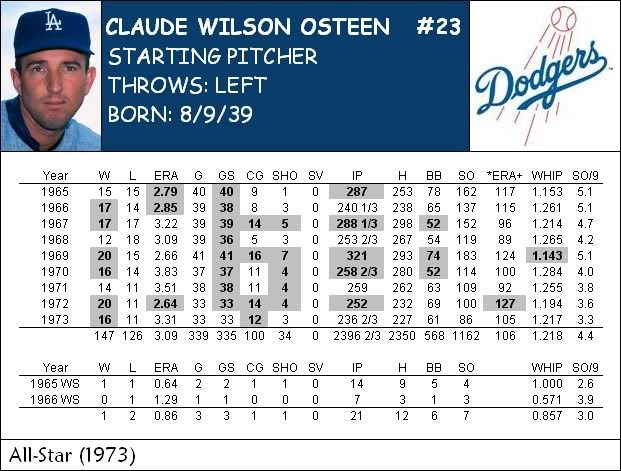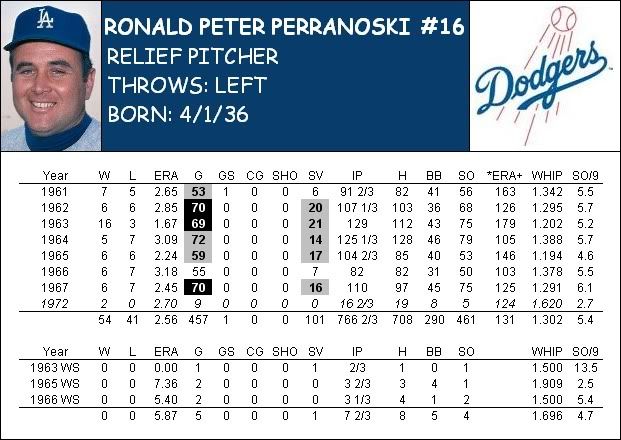 "I have said this many times: I've had many good pitchers on my teams during my career, including the best in the business in Sandy Koufax, and I am sure that all these pitchers will agree that if a club had to win one game, it would be (Johnny) Podres that would get the call." ~Brooklyn Dodgers GM Buzzie Bavasi on Bloomberg.com (Larry DiTore, 01/14/2008)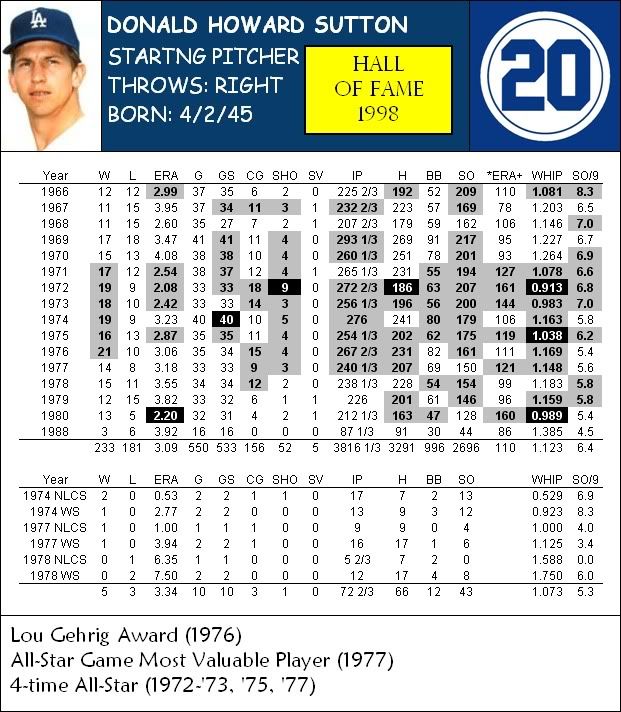 DON SUTTON: Why is that people always say this guy wasn't dominant?! Look at all that grey-ink. He was among the League's best in multiple categories almost every year he was with the Dodgers, for over a decade. This guy was
absolutely
dominan, and
absolutely
belong in the Hall of Fame,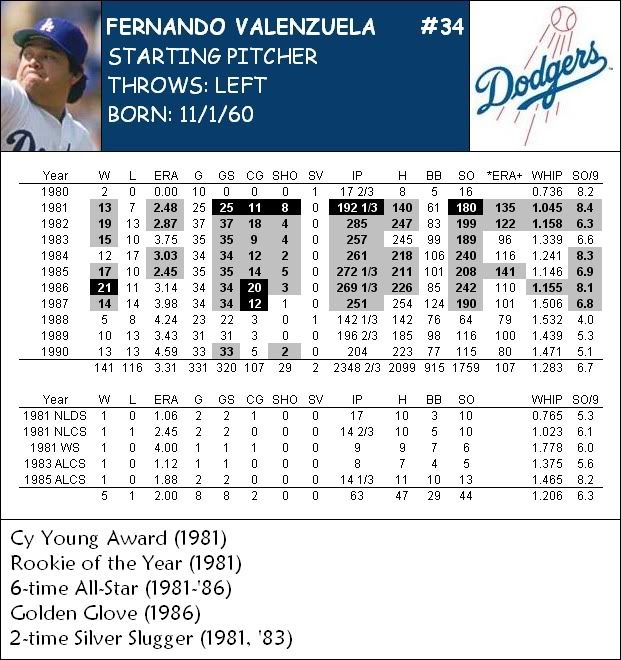 FERNANDO VALENZUELA: Quick: How many pitchers can you think of with a 'mania' named after them? Started out the 1985 Season by pitching a record 41 innings before allowing an earned run. Tie a record, striking out five conecutive batters in the 1986 All-Star game. Threw a no-hitter against the Cardinals on June 29th, 1990.