WORLD CHAMPIONS: 1950, 1951, 1952, 1953, 1956, 1958, 1961, 1962, 1977, 1978, 1996, 1998, 1999, 2000, 2009
AMERICAN LEAGUE CHAMPIONS: 1955, 1957, 1960, 1963, 1964, 1976, 1981, 2001, 2003
DIVISION WINNER: 1980, 2002, 2004, 2005, 2006
WILD CARD: 1995, 1997, 2007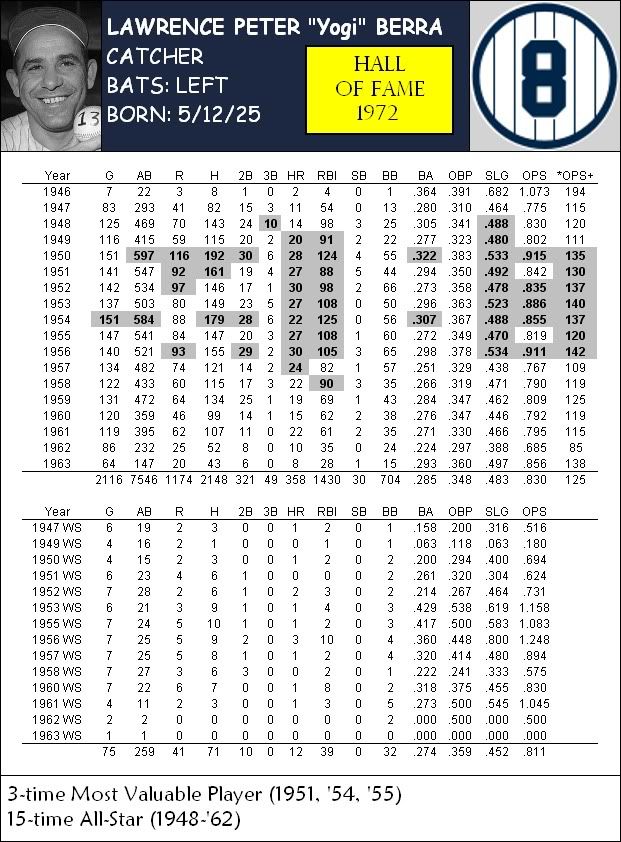 YOGI BERRA: One of the most beloved ball players of all-time, also easily the most often quoted... and misquoted. "
I never said half the stuff I said!
" One of the best pure-hitters of all-time, he had at least as many Home Runs as Strikeouts in five different seasons. Held the record for Home Runs by a
Catcher
at the time of his retirement.
THURMAN
MUNSON's
plaque in Yankee Stadium's Monument Park reads:
"Our captain and leader has not left us, today, tomorrow, this year, next ... Our endeavors will reflect our love and admiration for him."
I wouldn't even try to say it any better.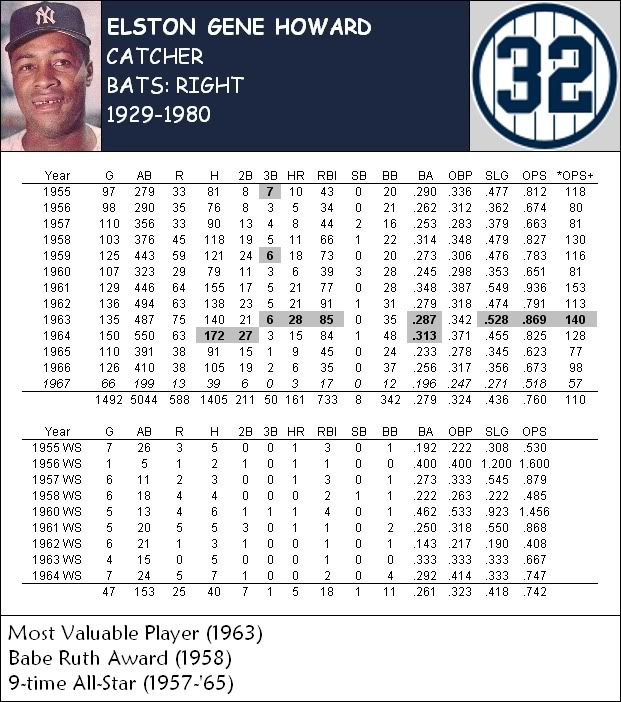 ELSTON HOWARD: Broke the color-barrier on the Yankees, the second to last team to integrate. Was also the first
African
-
American
to be named the American League's Most Valuable Player. A solid fielder, he set a records for Putouts by a Catcher in 1964. Equally solid as a hitter, he ranked fourth among AL catchers at the time of his retirement with a lifetime Slugging Percentage of .427.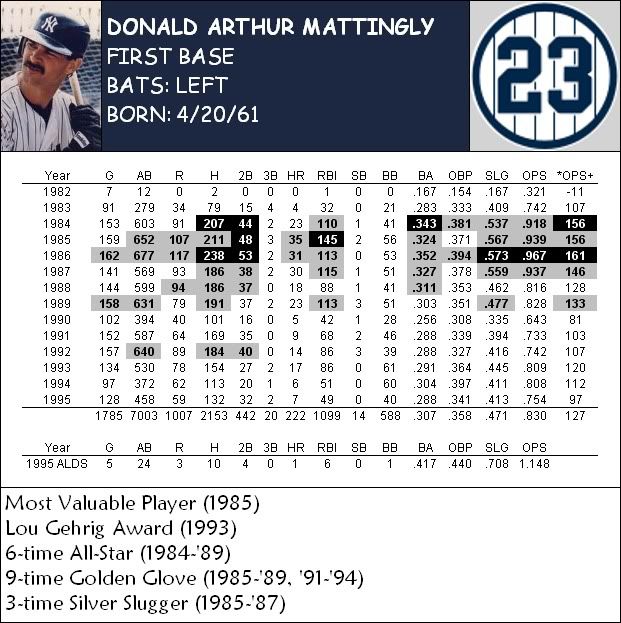 DON
MATTIGNLY
: Donnie Baseball. While recurring back injuries curtailed his career, at his best he drew comparisons to Gehrig. Has the infamous distinction of having the longest career in a Yankees uniform,
bracketed
by trips to the World Series, in 1981 and 1996. Despite playing hurt, he still made the most of the one post-season series he was able to compete in.
JASON
GIAMBI
: Although he never reached the heights that he reached with the A's, and he was dogged by both recurring injuries and the revelation of Steroid use, when healthy,
Giambi
put up the best offense of any Yankee First Baseman since Gehrig. His career OPS+ is exceeded only by
Mattignly's
best
years. And at his best, by *OPS+, he was a better hitter even than
Mattingly
was at his. Although he was
nowhere
near the
fielder
that
Mattingly
was, Torre resisted moving him to D.H. because he was a much better
hitter
when was playing at First.
NOTE: I have a feeling this pick is going to be controversial. When I did this team a few years back, before Giambi had 5 years on the team, the last First Baseman was Joe Peppitone. I considered keeping Pep, but Giambi was SO much better a hitter, it was embarrassing. And although Peppitone
was
a much better
fielder
, with Mattingly in the top spot, the team doesn't really need another defensive replacement at First, especially one with a 105 career *OPS+ on the team. (For the record, he was a
much
better hitter than either Tino Martinez (113 *OPS+) or Chris Chambliss (108 *OPS+) as well.)
2nd NOTE: Pretty much everything I said about the New York fan base down in the A-Rod entry can be applied here as well.
Whiny little ingrates.
LOL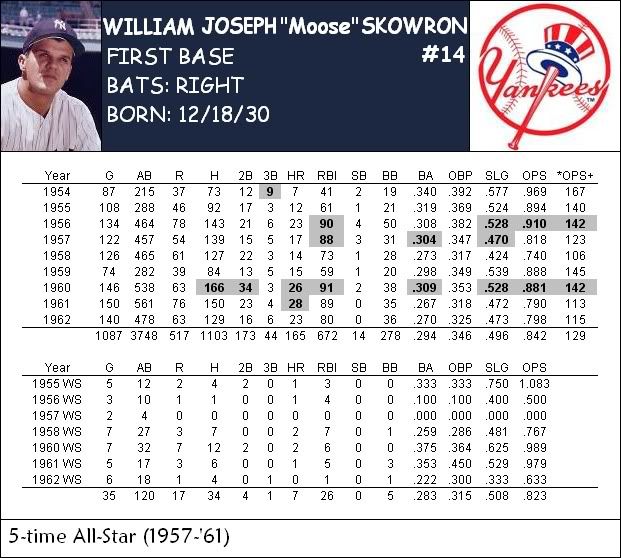 MOOSE
SKOWRON
: On almost any other team at the time, he'd have hit cleanup. But as he counted Mickey Mantle, Roger Marris, Yogi Berra and Elston Howard among his teammates, his production became easier to overlook.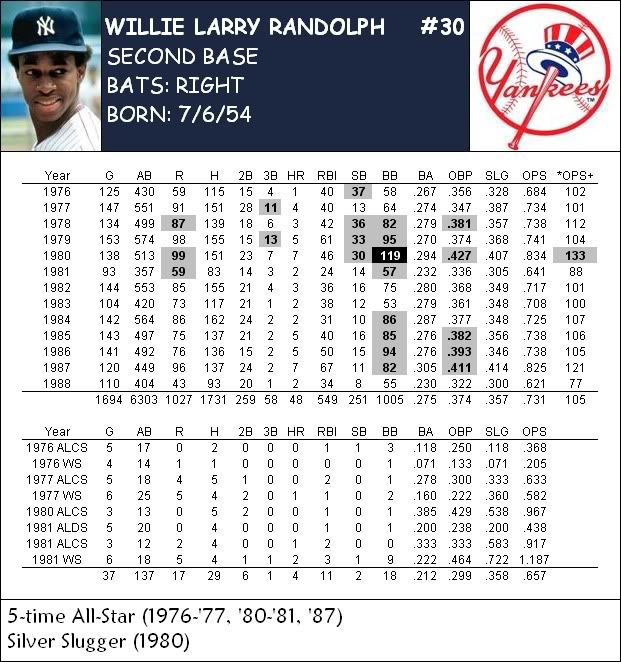 WILLIE RANDOLPH: A patient hitter, excellent
bunter
, speedy base-runner, slick fielder, smart ball-player and fine gentleman. Steve Sax had nothing on him. He should have retired a Yankee.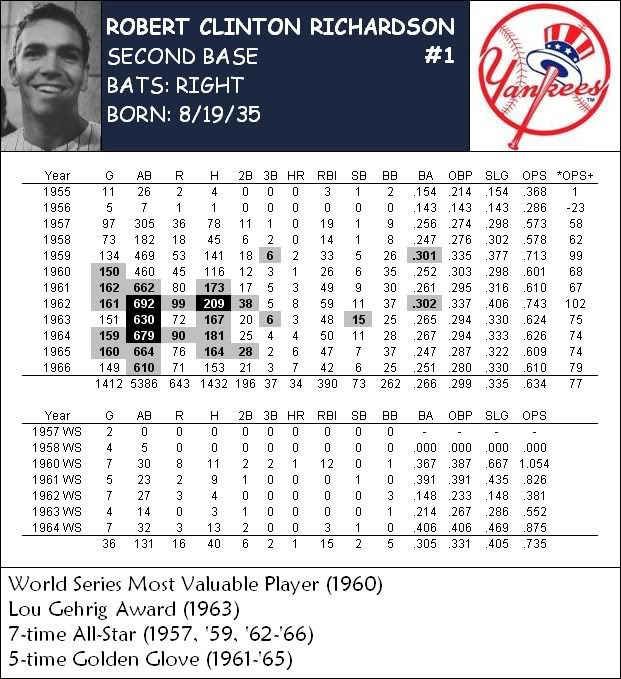 BOBBY RICHARDSON: Won the 1960 World Series MVP award despite being on the LOSING team. How cool is that? (Cooler than rival Second Baseman Bill
Mazeroski's
walk-off home run to win it all, apparently.) And how about that catch of
McCovey's
line drive in '62 to win the Series that year? Despite being arguably the worst
leadoff
hitter in Yankee history (.299 Career
OBP
) he teamed up with Tony
Kubek
to give them one of the best
middle
infields of a very strong defensive era.
ROBINSON
CANO
: As good as this guy is, I'm thinking this pick will still have some fans scratching their heads. What you need to realize is that he's only replacing Bucky Dent. That's right. If
Cano's
not on the team, Gil
McDougald
shifts over to this spot, and Dent
becoems
the third Shortstop. And as 'good' as Dent was - '78 World Series MVP and owner of the luckiest wind-blown pop-up in history -
Cano
is
already
better. He may not have Dent's history, or the cutesy nick-name, but if it were not for that one wind-
blown
pop fly and a 35 foot high left-field wall built built too close to Home Plate, you never would've even
heard
of Bucky Dent. To take his 74 *OPS+ with the Yankees over
Cano's
113, I want to see some Gold Gloves. Dent doesn't have 'em. And
Cano
hit 25 Home Runs last year alone - two less than Dent hit in
six years
with the Yankees. So as much upside as
Cano
has, I'm still not picking him on potential. He's flat-out better than Dent was. Much better.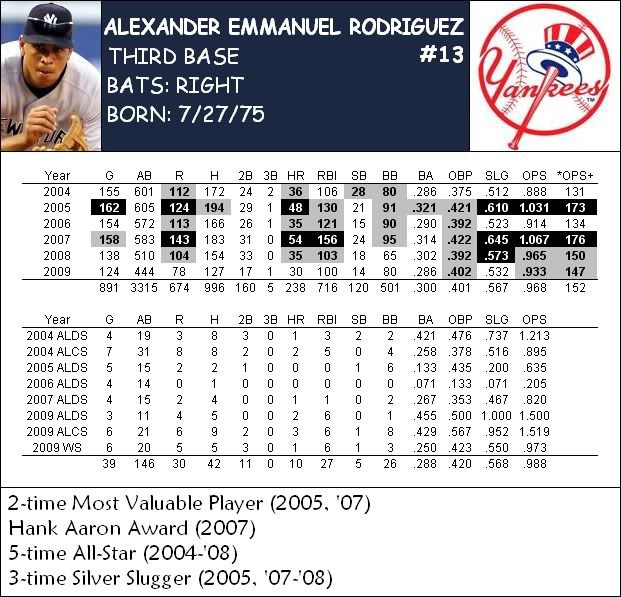 ALEX RODRIGUEZ: It must
suck
to play in New York. Seriously. I mean...
look
at this guys stats! And yet, all I ever here from Yankee fans is more whining and bitching about everything this guy doesn't do,
everything
this guy
can't
do.
WTF
? Suck it up Yankee fans! It doesn't get any better than this. He's the youngest guy to reach 500 Home Runs, and holds the single season records for Home Runs by both a Third Baseman and a Shortstop. So he's hard to like. So what? So was DiMaggio.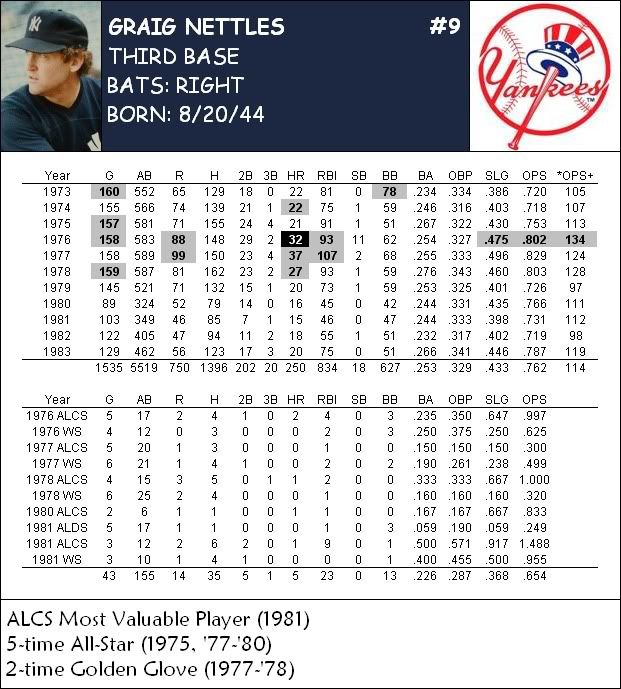 GRAIG NETTLES: Never got the appreciation he deserved. Came up towards the end of Brooks Robinson's career, and peaked right at the beginning of Mike Schmidt's. So playing in the shadow of two legends, it is easy to overlook his power - holds the American League record for home runs by a Third Baseman - and defensive prowess - holds the single season record for Assists by a Third Baseman, a
testament
to both his range and arm. Saved Game three of the '78 Series with several key clutch plays behind ace Ron
Guidry
.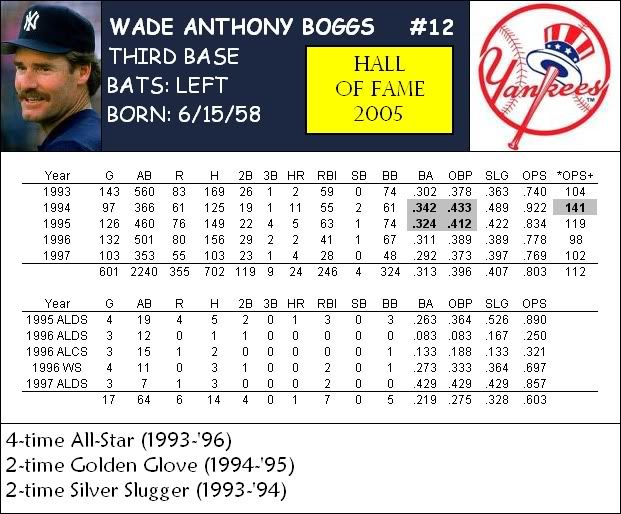 WADE
BOGGS
: Although his days of 200+ Hits, 100+ Walks and 100+ Runs scored we long behind him,
Boggs
remained a consistent hitter and brought a veteran's experience to a very young and rebuilding team. Although considered a defensive liability in his salad days in Boston,
Boggs
' defense had improved to the point were where was award tow Golden Gloves in New York. Drew a bases loaded walk in the 10
th
inning of the 4
th
game of the '96 World Series, breaking the tie and shifting the momentum of the series.
NOTE: It would have been been nice to have had
Clete
Boyer here and thus have every one one of the '61 Yankee starters on the team. But with the addition of Alex Rodriguez, either Boyer or
Boggs
had to go. Boyer was the better defender, but
Boggs
was a
much
better hitter (112 OPS+ to Boyer's 86) and as
Boggs
won a pair of Golden Gloves himself, the extra defense is hardly missed.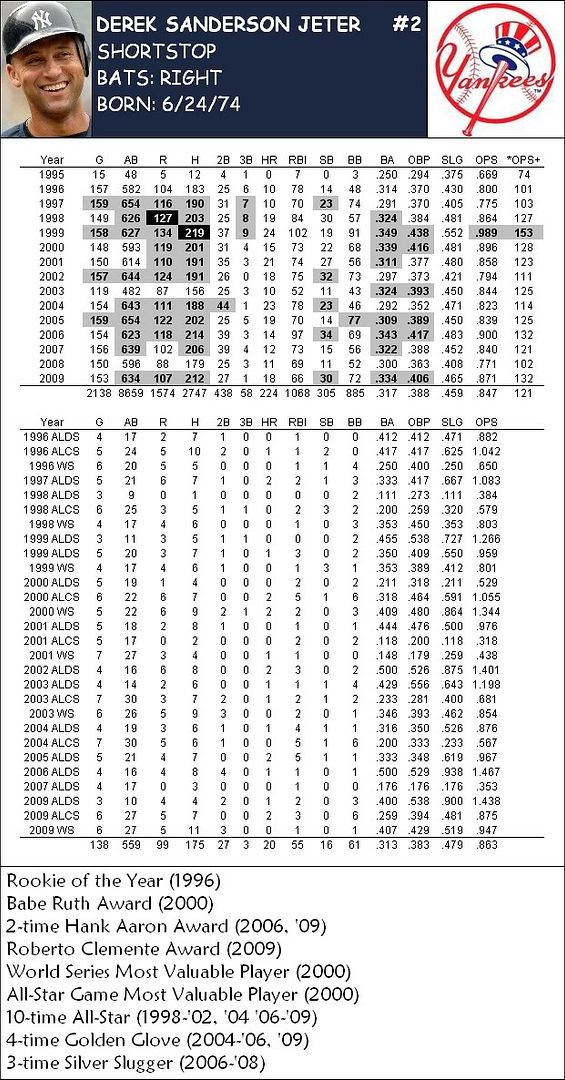 DEREK
JETER
: As a Red
Sox
fan, it should be easy for me to hate the guys that has kept this latest Yankee
dynasty
gelled and winning. But I can't. There is just no denying Derek
Jeter's
class, professionalism, dedication, sportsmanship and skill. If there was ever a Yankee who repeatedly beat us that I just
had
to tip my cap to, it's this man. The only question is: How soon after he retires will it take for the Yankees to retire his #2? I think it will be about 15 seconds.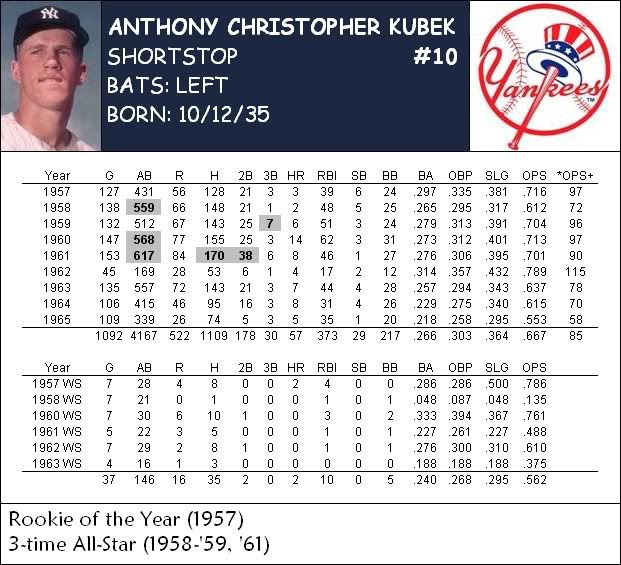 TONY
KUBEK
: Along with Bobby Richardson (and
Clete
Boyer) for a lethal Double-Play combination. In 1957 became only the second rookie to hit two home runs in a single World Series Game, after fellow Yankee Charlie Keller did it in 1939. (Since then Willie McGee did it in 1982 and
Anrduw
Jones in 1996,
against
the Yankees.) Went onto a Hall of Fame broadcasting career after his playing days were over.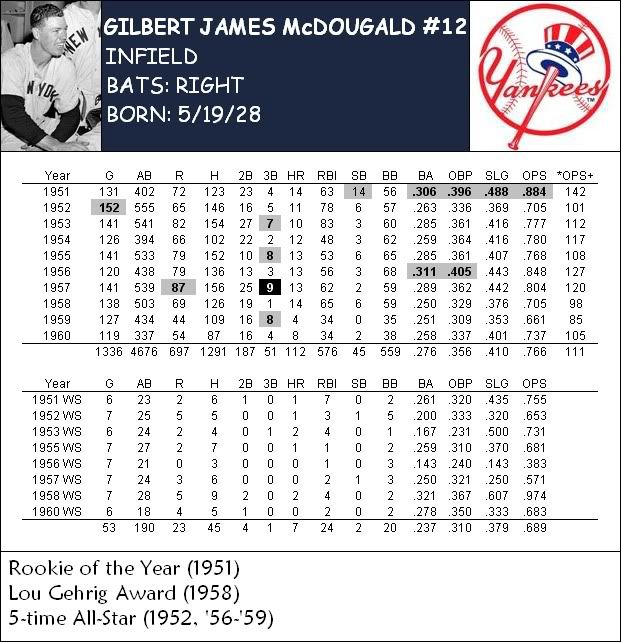 GIL
McDOUGALD
: Arguably the greatest utility infielder of all time. Qualified for selection at three positions: Second (599 Games), Third (508 Games) and Short (284 Games.) Moved from the second base roster spot to short stop when Bucky Dent was dropped to make room for Robinson
Cano
. Played
wherever
the Yankees needed him to, with skill and consistency. Was the unsung glue of the 1950's Yankees dynasty.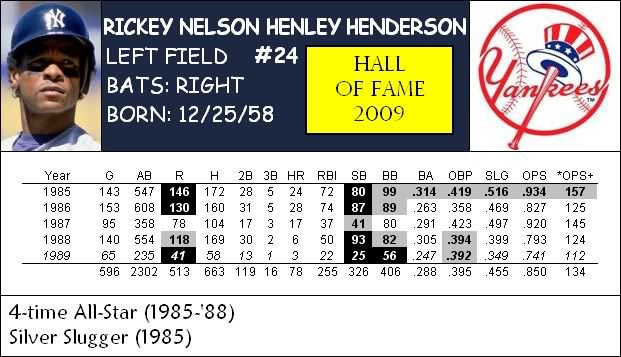 RICKEY HENDERSON: The greatest
leadoff
hitter of all time. Hold the all-time and single season stolen base record, the all-time runs scored record, the all-time lead-off home run record and retired holding the all-time walks record and membership in the 3000-hit club. Although his time with the Yankees was short, it included what
might
have been his best overall year, in 1985, and the season in which he reached his career high in home runs, 1986. He is the only member of the team that did not reach the post season while in New York.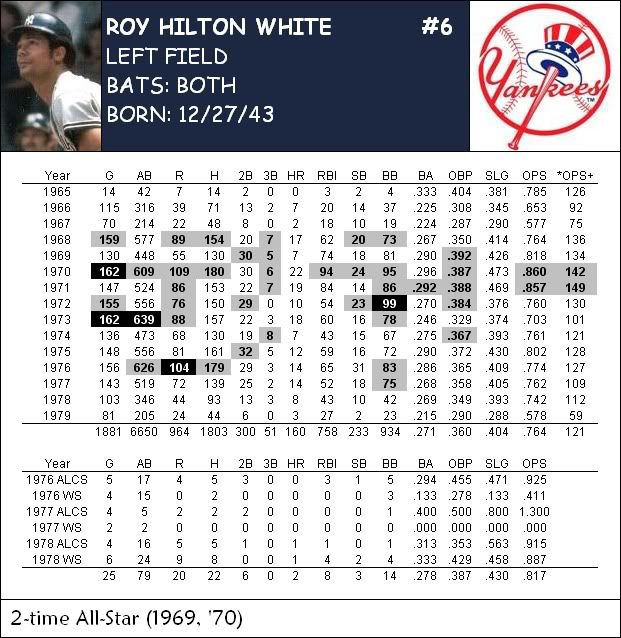 ROY WHITE: Roy White was a old-school, fundamentals-style player who was strong in every aspect of the game. This breed of player if both rare and
underapreciated
in the modern day of Home-Run
Derby
. Holds his spot on the team despite a strong case being made by 2009 World Series MVP
Hideki
Matsui
.
Matsui's
OPS+ after seven seasons with the Yankees is 124. White's was 121 after 15. So in his day, he was not only a much better defensive Outfielder, with vastly superior speed, but a better all-around hitter than
Matsui
as well. (As a Red
Sox
fan, I hate to say it but: These guys are GOOD!)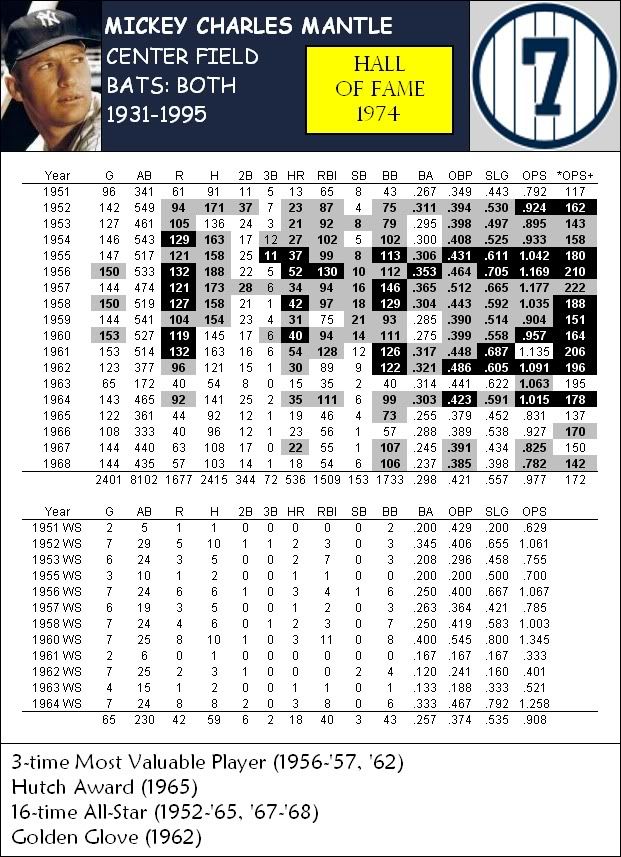 MICKEY MANTLE: Few players player ever came up with so much raw talent, and fewer still accomplished as much as he did, leaving so much
potential
unfulfilled. Considering that he played the bulk of his career on bad knees, torn
cartilage
and later an injured shoulder, with the storied career he was able to have despite this, it is truly awe-inspiring to imagine what might have been if he'd been in good health for more of his career. Ranks
third
on the team, behind only Ruth and Gehrig in
OBP
, OPS, Runs Scored, Extra-Base Hits, Total Bases and *OPS+. Holds club record for Games Played; ranks 2
nd
in Home Runs, At-Bats and Walks; 4
th
in Hits and RBI; 5
th
in Slugging Pct; 7
th
in Doubles; 9
th
in Stolen Bases and 10
th
in Triples. Is the only Yankee, other than Ruth, to
record a
.500
OBP
in a season, and his 54 Home Runs trail only Ruth and Maris for the club's highest single season total.
BERNIE WILLIAMS: "He's got a calm about him that I trust, and he's electric at times. To me, he's still a threat. I expect big things from him because he doesn't panic. For me, he's in the upper echelon among switch-hitters all-time." ~ Joe Torre
Not going to argue with Joe.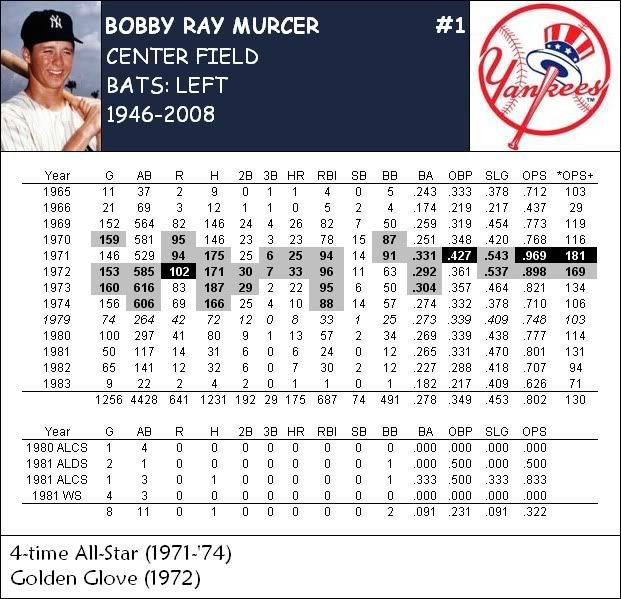 BOBBY
MURCER
: He was billed as the 'next Mickey Mantle' but
preferred
to be known as the 'first Bobby
Murcer
.' Things didn't work out quite
that
well, but
Murcer
added to his first Yankee career, as a hot-shot new Outfielder carrying a lot of teams that never made, by coming back as older veteran, just in time to help them to a couple of post season berths, backing up on some otherwise injury-riddled teams.
REGGIE JACKSON: If you want to know how great Reggie was, just ask him, he'll tell you! I don't think I could sing his praises quite as well as he could, so I'll just leave it to him.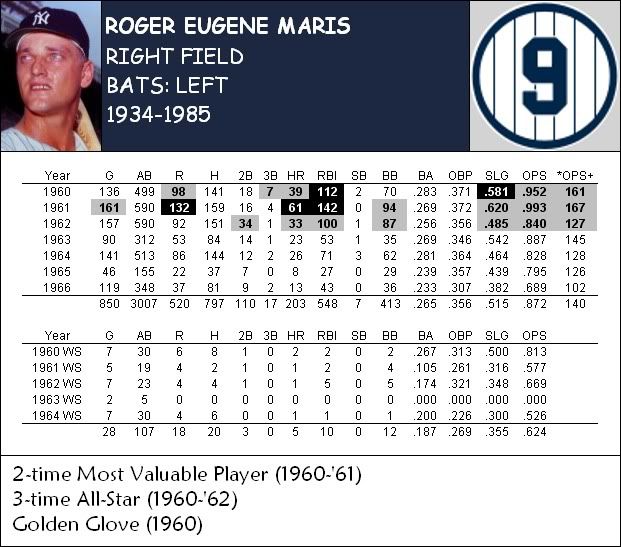 ROGER MARIS: You might this 61* Home Runs is all there is to this guy, but it's hardly a 'one-season wonder' who has TWO MVP awards, not to mention three All-Star selections (to go with one while he was on the A's) and a Golden Glove that he won
before
he broke the home run record. He may not be Hall of Fame material - and you can argue it both ways - but there was a
lot
more this guy that just 61* homers.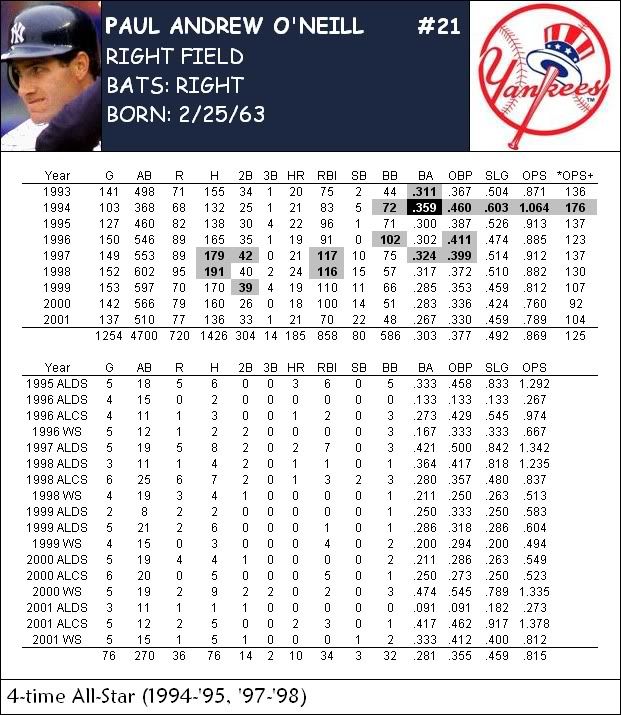 PAUL O'NEILL:
Remembered
by Yankee fans as the heart and
soul
of the Yankees late 1990's to early 2000's dynasty. His own worst critic, despite being possessed of a fierce temper, O'Neill still exuded both class and
professionalism
as a true student of the game. Owner
Steinbrenner
labelled him a 'warrior;' high praise from a man who is not known for being generous in that department.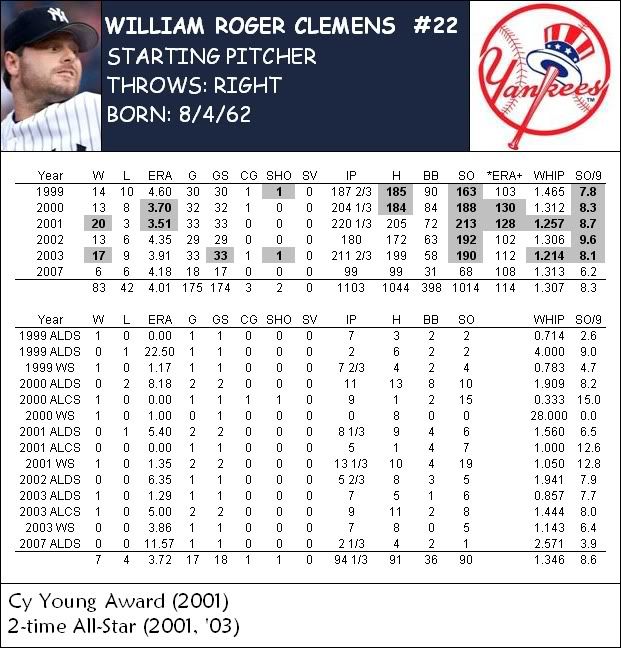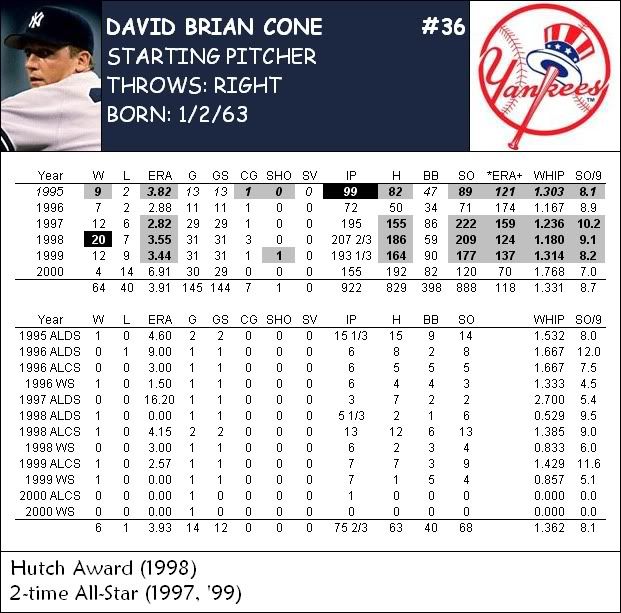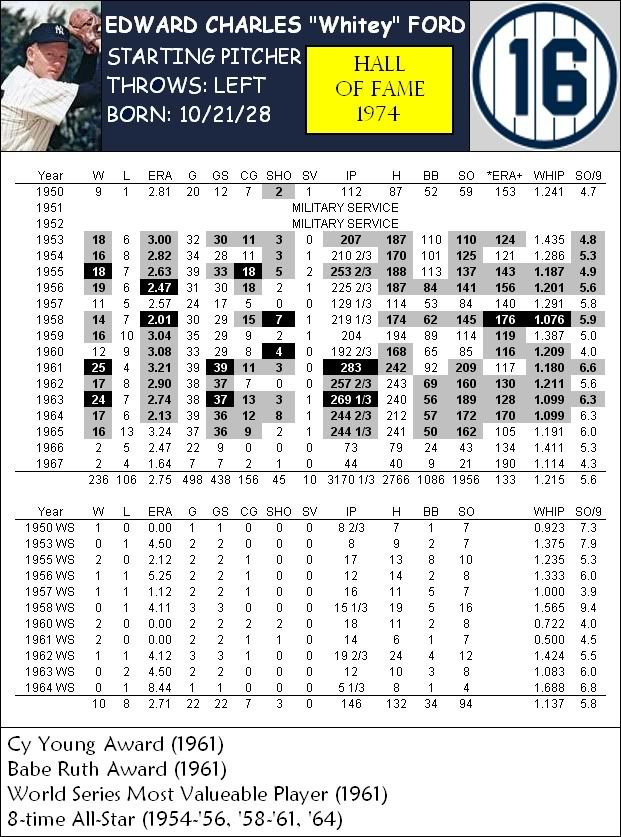 WHITEY FORD: The greatest pitcher in club history. Holds the teams records for Wins, Innings PItched, Strikeouts, Starts and Shutouts. Also ranks 10th in ERA, 9th in Hits per 9 Innings, 6th in Winning Percentage, and 3rd in Games. Adept at holding runners, set a record in 1961, pitching 243 innings without allowing a stolen base. Also holds the record with 33 and 2/3 consecutive scoreless Innings Pitched in World Series play.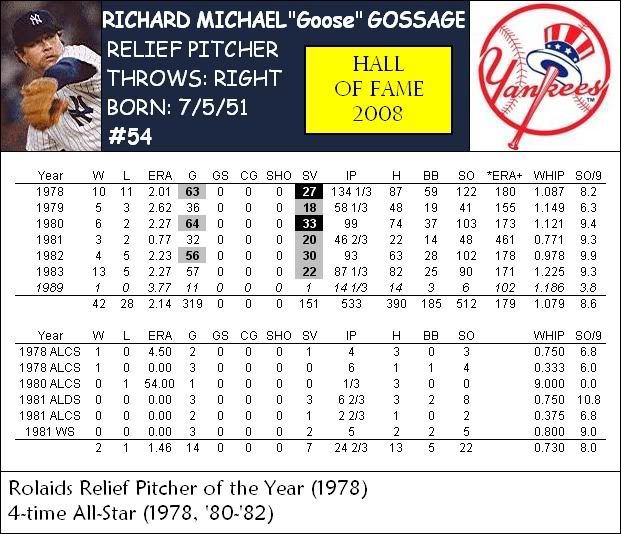 GOOSE GOSSAGE: An intimidating pressence with a blistering fastball, with Rollie Fingers and Bruce Sutter, help define the role of the modern closer - although they all frequently pitched as many as three innings to get a Save. In 1987 ranked 2nd on the All-Time Saves list, and ranked 4th at the time of his retirement. Holds the record for the lowest ERA and Hits per Nine Innings Pitched, ranks 2nd in WHIP, *ERA+ and Strikeouts per Nine Innings Pitched and third in Saves.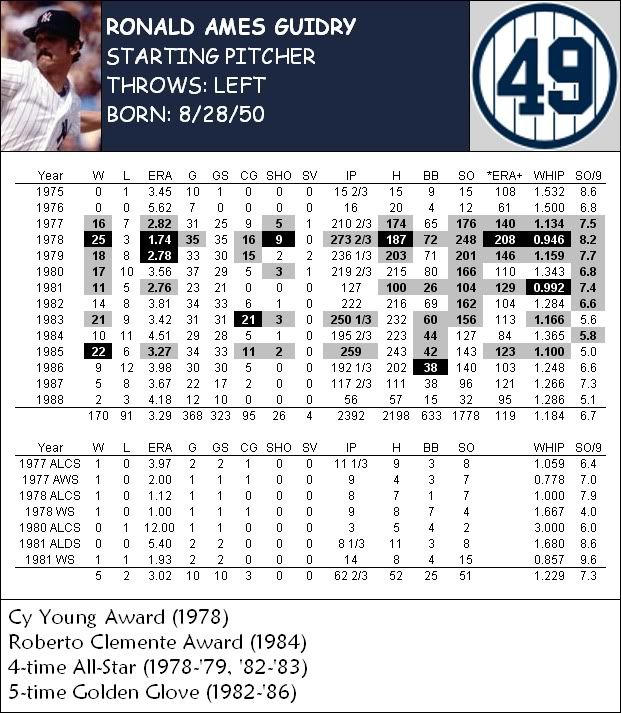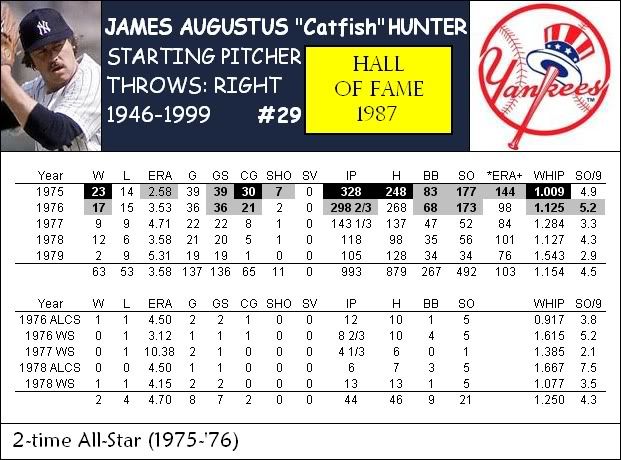 "CATFISH HUNTER brought respectability to the Yankees. Without him, we would never have been world champs. If he never pitches another ball, he has been worth every cent." George Steinbrenner
Who am
I
to argue with the Boss?
NOTE: It is a testament to how good the Yankees have been over the years that a 20-game winner and popular Hall of Fame would be the 16th Pitcher. What is even more impressive is the number of pitchers with roughly that same qualifications. This spot could have just as easily gone to Don Larsen, Bill Stafford, Bob Turley, Jim Bouton, Al Downing, Fritz Peterson, Ed Figueroa, Orlando Hernandez, Ralph Terry or Chien-Ming Wang. But, like I said: Who am
I
to argue with the Boss?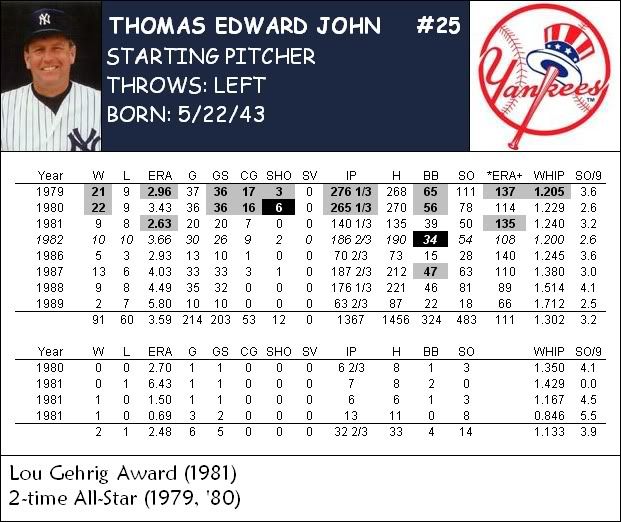 TOMMY JOHN: It's a good thing for both modern medicine and future pitchers that John ended up having as good a career as he did. Somehow I don't think that many pitchers would want to have "
Terry Felton
surgery." Winningest pitcher of the 20th centrury to not make the Hall of Fame.
ED LOPAT: With Allie Renolds and Vic Raschi formed the "Big 3" in the Yankee starting rotation. From 1948 to 1952 the trio compiled a record of 294 wins against 136 losses, for a .684 Winning Percentage and a 3.29 ERA. In those same years, the trio also combined for 15-6 record and 2.41 ERA in five World Series together.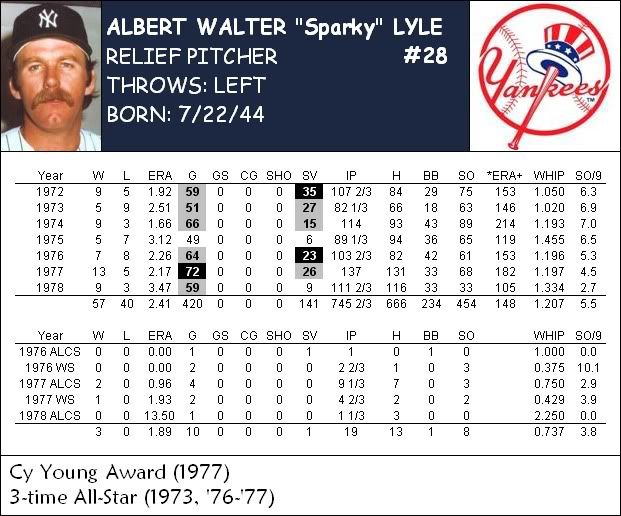 SPARKY LYLE: Acquired from the rival Red Sox for a warm body named 'Danny Cater,' Lyle went on to become one of the better relivers of the 1970's culminating in his Cy Young award win in 1977. After being replaced in the closer role by free agent aquistion and future Hall of Famer Goose Gossage, Lyle was traded to Texas for future All-Star Reliever Dave Righetti. This is one of the many reason Red Sox fans hate the Yankees so much.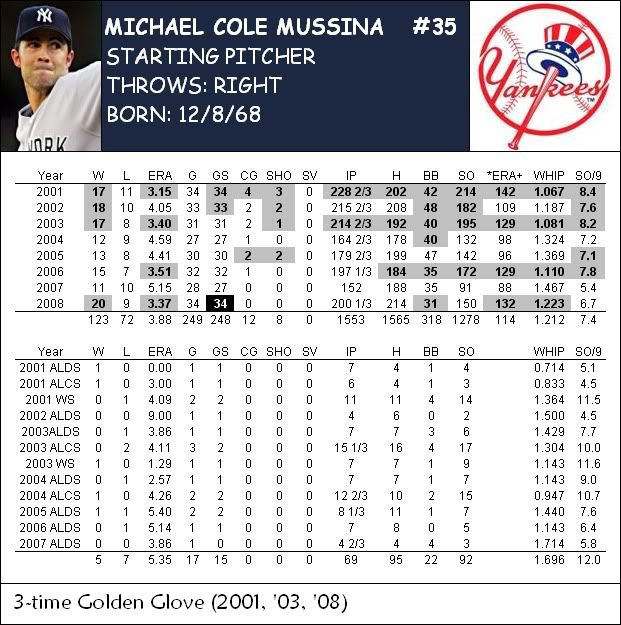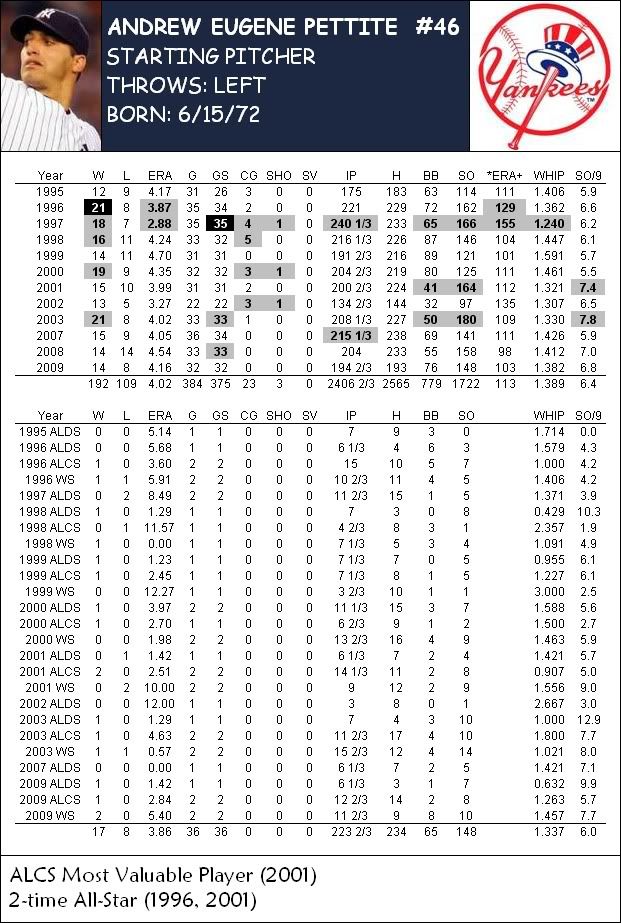 ANDY PETTITTE: This one was easy. All I had to do was ask myself which Yankee pitcher I hated the MOST. And that's easy. I honestly don't know what Pettitte's record is against the Red Sox, but he is WHATEVER and ZERO against them in games that
I'VE WATCHED
. I can honestly say that I have NEVER
seen
the Red Sox beat this guy!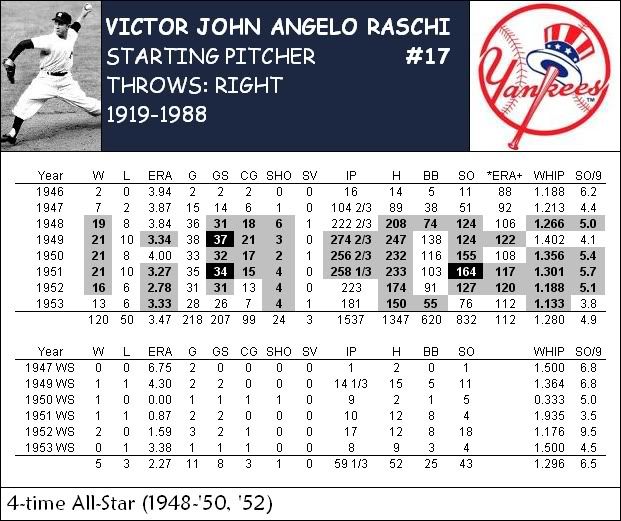 VIC RASCHI: With Allie Renolds and Ed Lopat formed the "Big 3" of the Yankees starting rotation. From 1948 to 1952 the trio compiled a record of 294 wins against 136 losses, for a .684 Winning Percentage and a 3.29 ERA. In those same years, the trio also combined for 15-6 record and 2.41 ERA in five World Series together.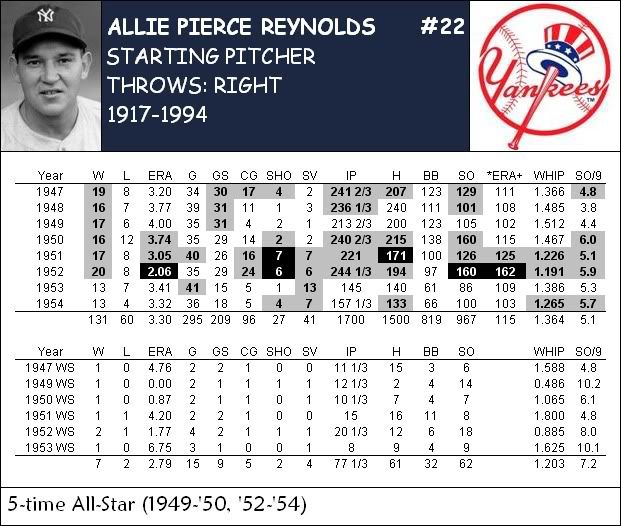 ALLIE REYNOLDS: Ed Lopat and Vic Raschi formed the "Big 3" in the Yankee starting rotation. From 1948 to 1952 the trio compiled a record of 294 wins against 136 losses, for a .684 Winning Percentage and a 3.29 ERA. In those same years, the trio alsoocombined for 15-6 record and 2.41 ERA in five World Series together.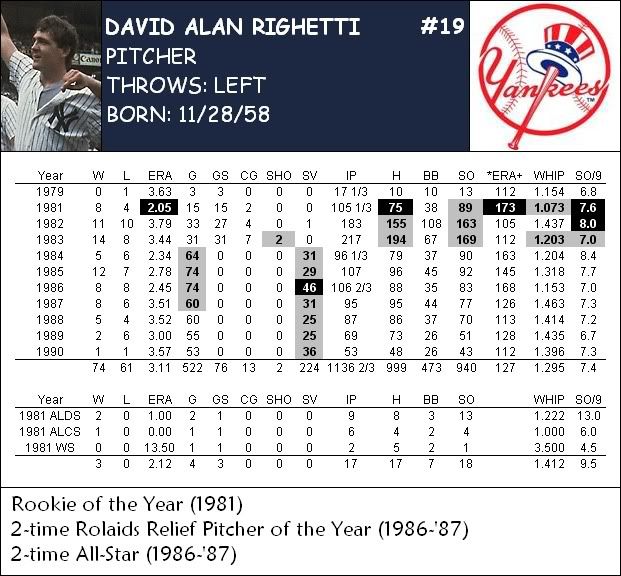 DAVE RIGHETTI: As a Red Sox fan, it is
really hard
for me
not
be bitter about this one. Not only did he no-hit the Sox in 1983, but he was acquired in a Trade from Texes for Sparkly Lyle. So not only do the Sox trade one of the best relivers of the 1970's for washed-up pocket lint (Danny Cater), but after the Yankees are done with him, THEY turn around and trade him for one of the best relievers of the 19
80
's, making the original deal sting even more for those Sox fans who still remembered it! His 46 saves in 1986 (the same year the Sox Bullpen blew the World Series) were the single season record at the time.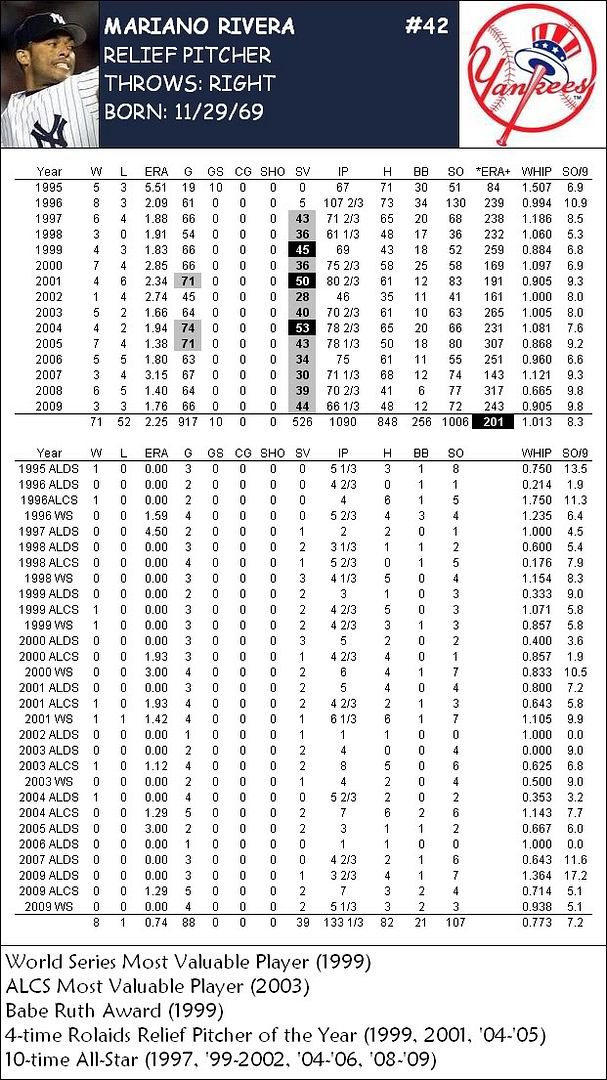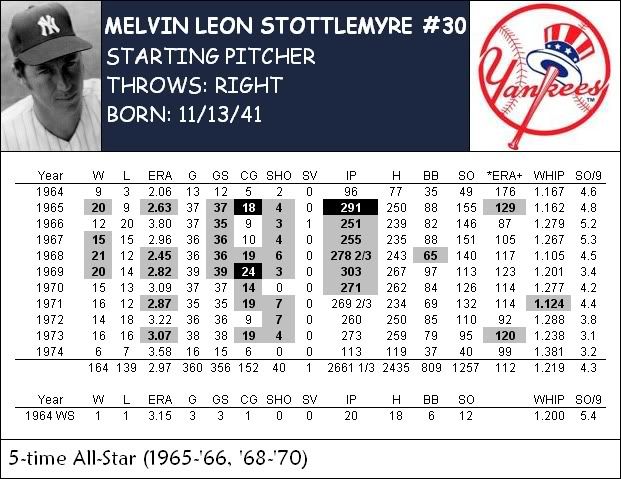 MEL STOTTLEMYRE: Came up just as Yankee dominance bagan to wane. In his three 20-Win season the Yankees finihsed no higher than 5th and twice had a losing record. Ranks 8th all-time on the team in Complete Games, 7th Wins and Strikeouts, 4th in Starts, 3rd in Innings Pitched, and is tied for 2nd in Shutouts. Once went 5-5 and hit an inside-the-park grand slam in a game in which he hurled a 2-hit shutout.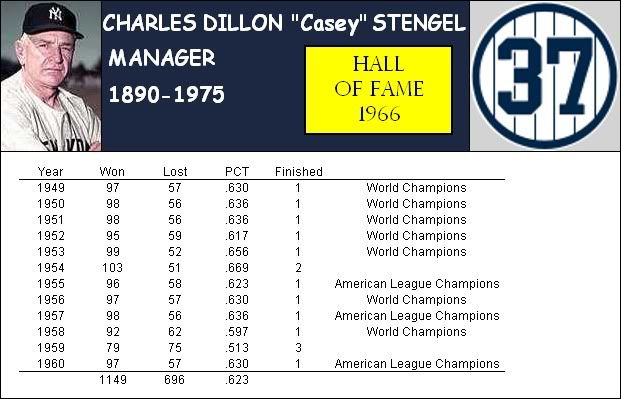 CASEY STENGEL: The Perfesser. He may have been handed a can't miss franchise, but he managed them to a record five strait World Championships and added two more before his tenure was up.
NOTE: Once could make a pretty good case to have chosen Joe Torre instead. Torre was at the helm for the first true dynasty of the Steinbrenner years. But as good as Torre's Yankkes were, they didn't take home the top prize nearly as oftne as Stengel's, and I have a hard time choosing an active manager over TWO that have had their number's retired - Stengel AND Billy Martin. Though, for the record, I never really considered Martin. Way too unstable and dysfunstional to deserve a team like this. (Why did Steinbrenner keep bringing him
back
anyway?!)
TEAM CHANGES:
11/26/09: Ralgh Terry replaced with Tommy John.