World Champions: 1903, 1912, 1915, 1916, 1918
American League Champions: 1946
Also known as Boston Americans, from 1901-1907.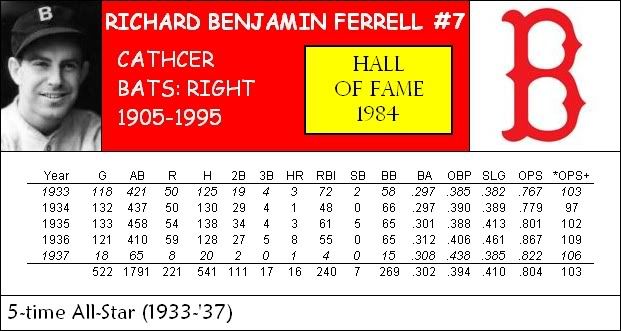 RICK FERRELL: His Hall of Fame candidacy was controversial at best, and his time in Boston was about as short as it could be while still qualiifying. But every year that he wore a Red Sox uniform, he made the All-Star team. Every year. Only Fisk had more.
BILL CARRIGAN: In addition to Catching for three World Championships, he also served as Manager for two of them.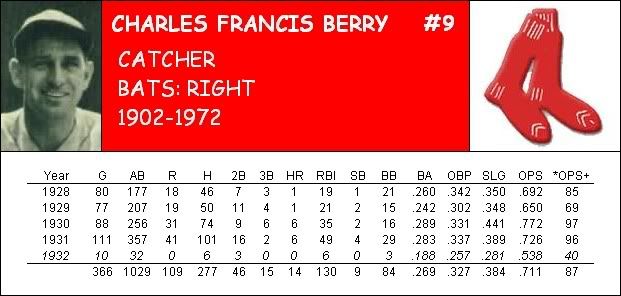 CHARLIE BERRY: Cathers were few and far between in these years, I'm afraid. Among those that qualified, Berry was not only one of the better hitters, but an interesting all-around sportsman. He played both Baseball and Football professionally, and went on to become an Umpire/Referee in both sports as well.
JIMMIE FOXX: Double-X. The Beast. One of the first really SCARY hitters to come along after Ruth. He was the just second player in history to reach 500 Home Runs, and, until Alex Rodriguex, also the youngest to reach the mark. Held the Club's single-season Home Run record until 2006, when it was broken by David Ortiz.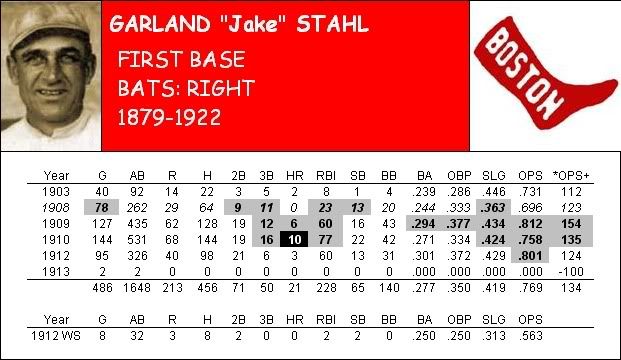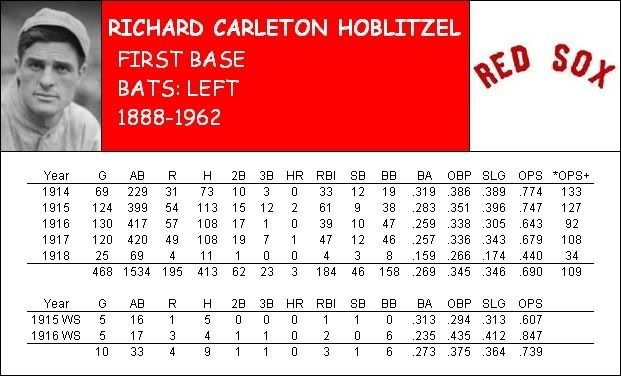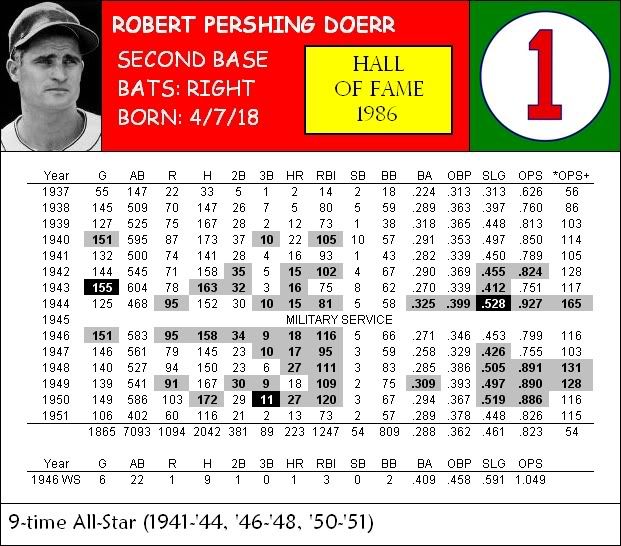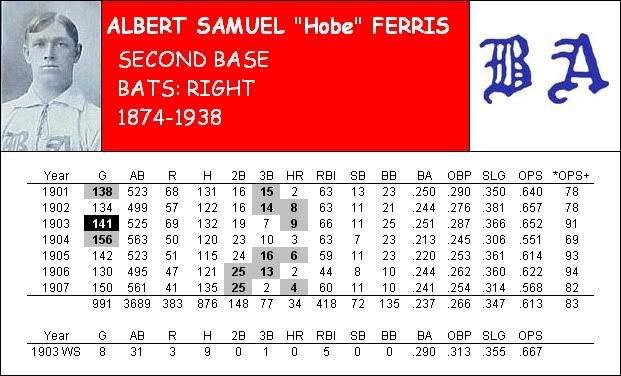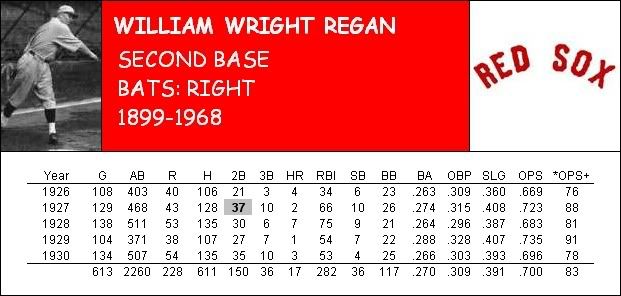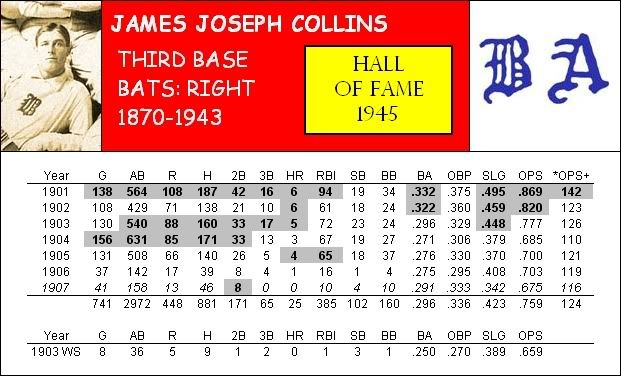 JIMMY COLLINS: The first third baseman to be inducted to the Hall of Fame. A fine fielder and hitter as well as manager for the first-ever World Series Champions.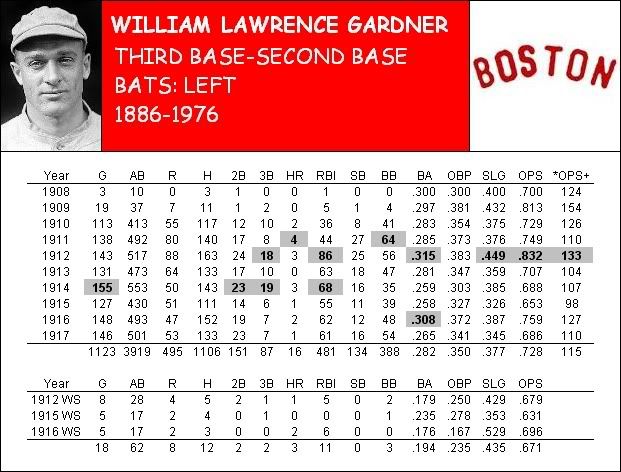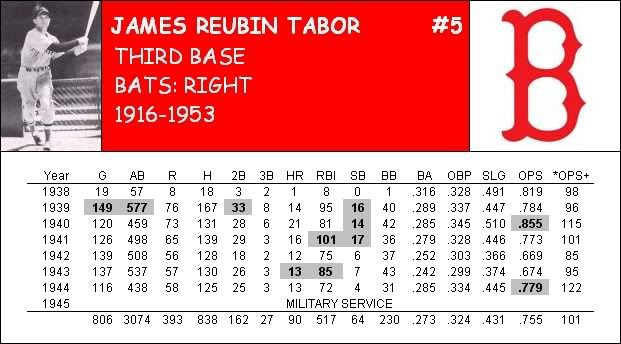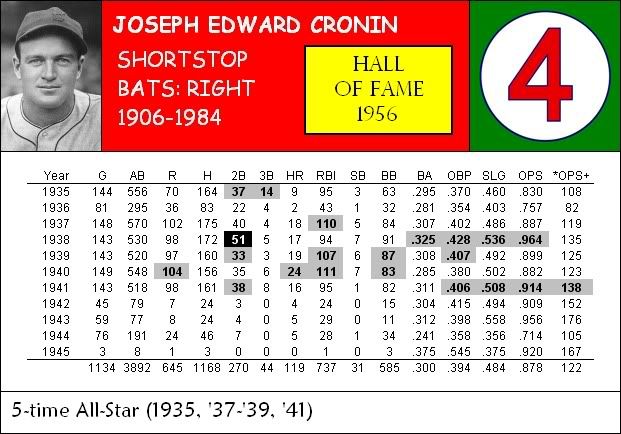 JOE CRONIN: One of the best hitting shortstops of the 20th Century. Went on to manage to club to it's first pennant in 28 years in 1946.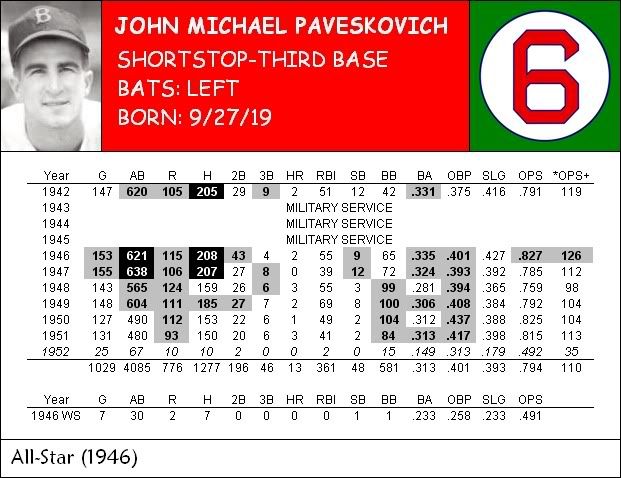 JOHNNY PESKY: One helluva ball player and one helluva gentleman. Pesky has served the Red Sox organization as a player, manager, scout, coach and in other capacities for going on seventy years now. His record of four consecutive 200-hit season to start his career stood until 2004, when it was broken by Ichiro Suzuki. (And he absolutely DID NOT hold onto to the throw home in 1946! Slaughter just ran like a madman and got lucky!)
FREDDY PARENT: I'm guessing most people figured Everett Scott would take the third Shortstop position. Scott was more well-known, and played in more World Series, but Parent was strait-up, a MUCH better hitter than Scott: 103 *OPS+ to Scott's anemic 69, not to mention at least SOME grey-ink in Batting and Slugging, where as Scott was never close.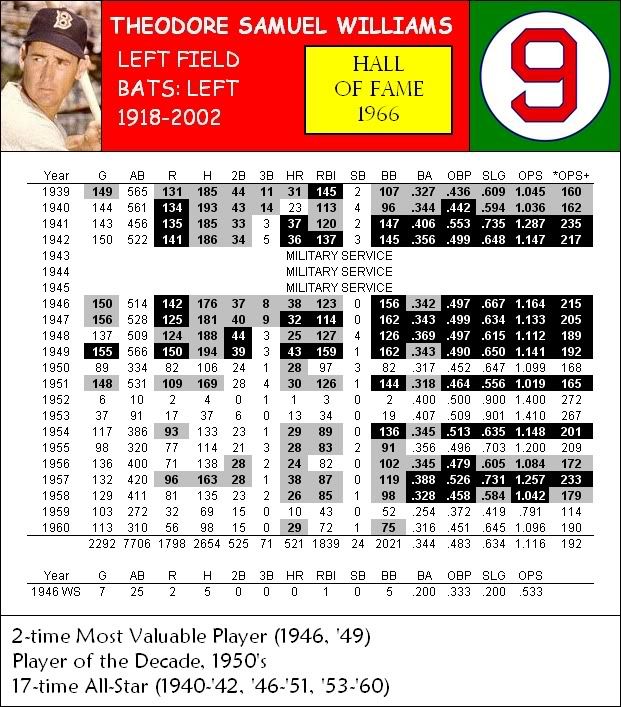 TED WILLIAMS: Since he always wanted to hear people say it, I'll go ahead and say it:
There goes the greatest hitter that ever lived!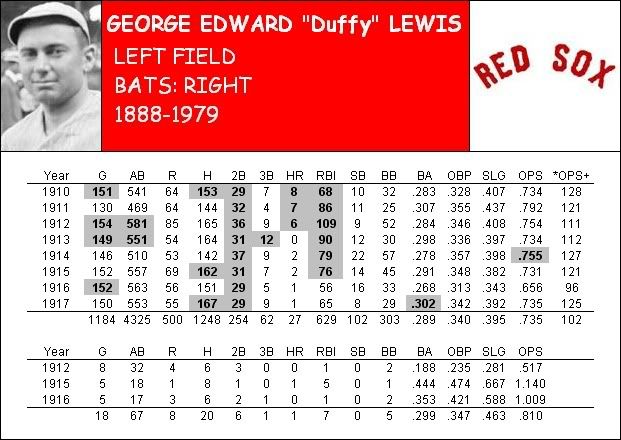 DUFFY LEWIS: Along with Tris Speaker and Harry Hooper, made up what is considered to be the best defensive Outfield of all-time.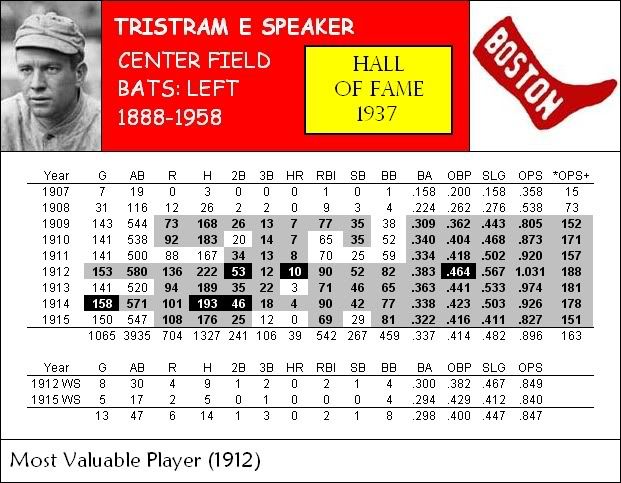 TRIS SPEAKER: You see all those grey squares? A lot of those would have been black, if not for a certain Outfielder playing over in Detroit about the same time... Ty...
something
? In addition to consistently being
almost
as good as Cobb, he was widely regarded as the best defensive Center Fielder in history until WIllie Mays came along. And even Mays never had the range that allowed Speaker to play shallow enough to practically double as a fifth infielder. Trading Speaker to Cleveland (for a warm body or two) ranks up there with the Ruth sale a few years later as one of the worst deals Boston ever made.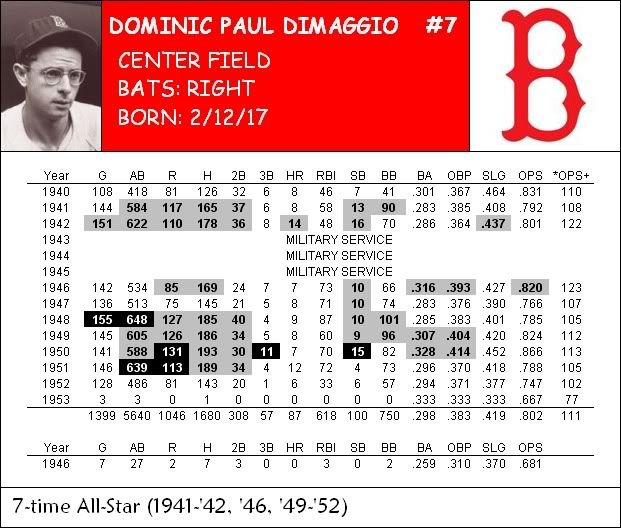 DOM DiMAGGIO: The only one of the "Four Friends" to not have his number retired. While his more famous brother Joe played for New York, Dom was a solid and consistent hitter in his own right, and generally considered the BETTER defender and one of the very best of his era.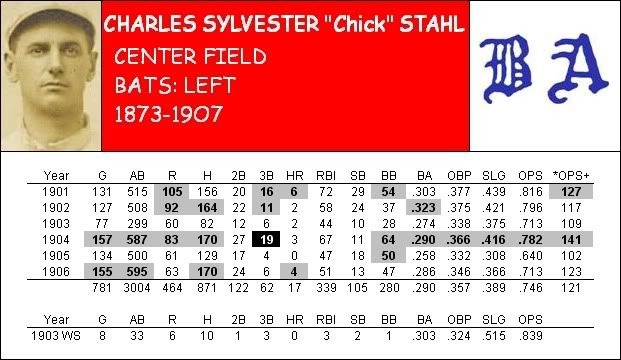 CHICK STAHL: Other than his being a solid hitter and serving as the team's manager for one year, there is not much more I can add about Stahl. If you're wondering, I'll save you trouble: His death in 1907 was the result of suicide, having drunk four ouces of carbolic acid. He left a note to his teamates reading, "Boys, I just couldn't help it. It drove me to it." but it was never discovered exactly what "it" was.
DOC CRAMER: Along with Jimmy FOxx and Lefty Grove, one of the talented veterans peeled away from Philadelphia by Tom Yawkey in his bid to reduild the team in the mid-1930's. Cramer was an excellent fielder, and consistent .300 hitter at a time when that alone would brand you a successful hitter.
HARRY HOOPER: Along with Duffy Lewis and Tris Speaker, made up what is consdiered to be the best defensive outfield of all time. One of the few Hall of Fame Outfielders inducted more for defense.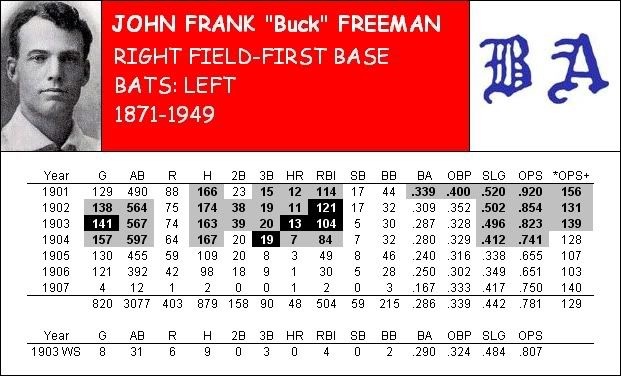 BUCK FREEMAN: The Club's first real slugger and the star of the League's first World Series winner.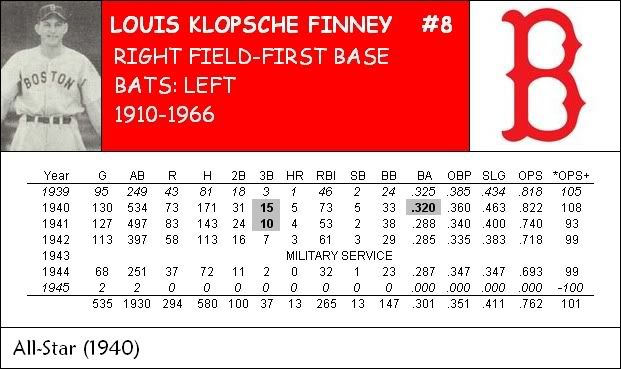 LOU FINNEY: An All-Star from the War years.
BILL DINNEEN: Three 20-win seasons to go with 3 wins in the first ever World Series. "Big Bill" was a strong second after team ace, Cy Young.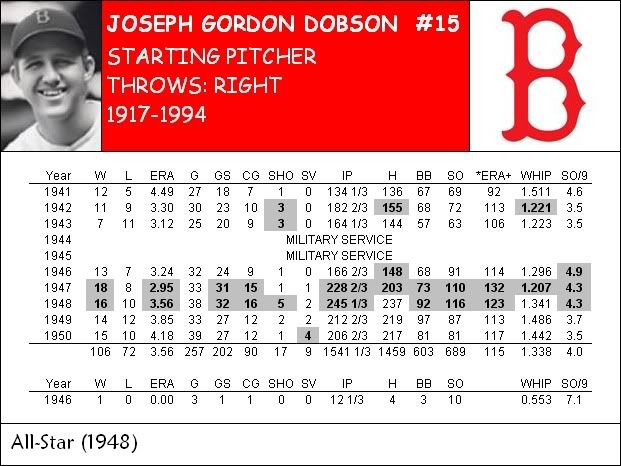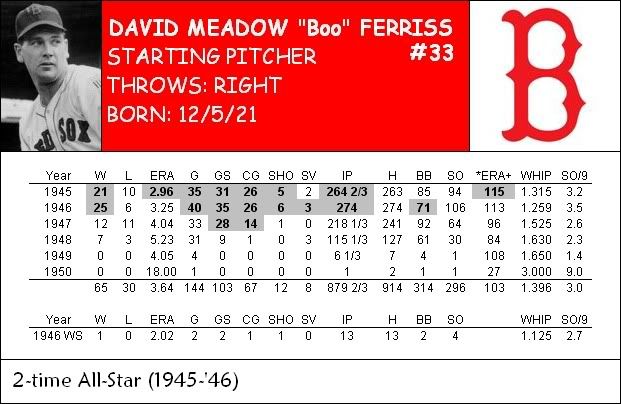 BOO FERRISS: I had the privelidge of attending a pitching clinic with Mister Ferriss about 20 years ago. In addition to learning a thing or two about the game, I found him to be a fine gentleman and truly funny character. (Great stories!) He was the second 20-game winner on the '46 pennant winners, behind ace Tex Hughson, and also the last Red Sox pitcher to win 25 games in a season.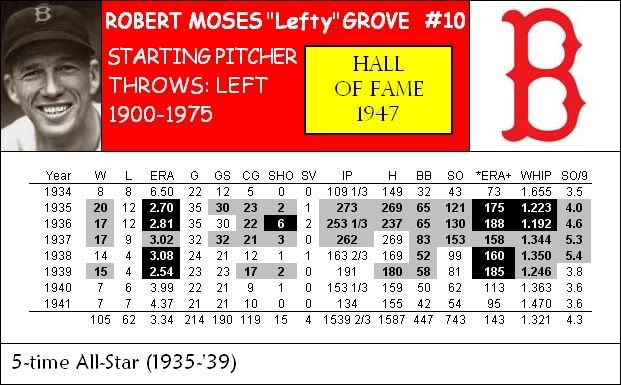 LEFTY GROVE: Four of the record nine years that he won the league's ERA title were in Boston.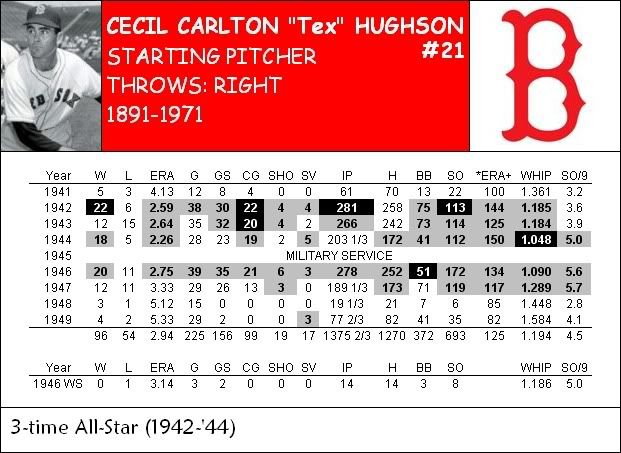 TEX HUGHSON: The Sox ace of the 1940's.
SAD SAM JONES: Another 20-Game Winner in Boston who later won 20-Games in New York. Ironically, he also had a 20-
loss
season in both cities.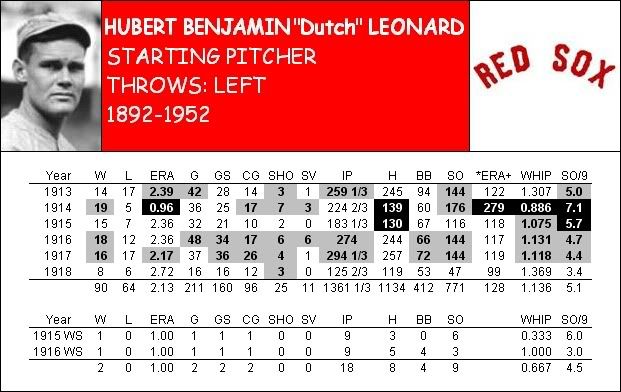 DUTCH LEONARD: Hold the 20th Century's single season ERA record. Only one other pitcher in history (Hall of Famer Tim Keefe) finished a full season with an ERA uner 1.00.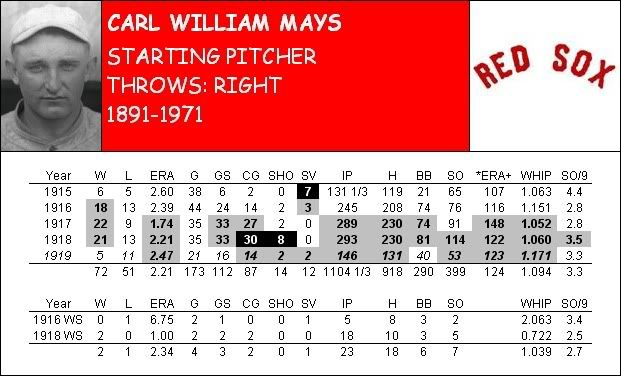 CARL MAYS: Add Mays' name to list of Pitchers who starred in Boston, and were traded to New York for warm bodies and pocket change, only to go on to multiple 20-win seasons in New York. Threw hard, with a submarine-style delivery. Was involved in the fatal beaning of Cleveland Shortstop Ray Chapman in 1920.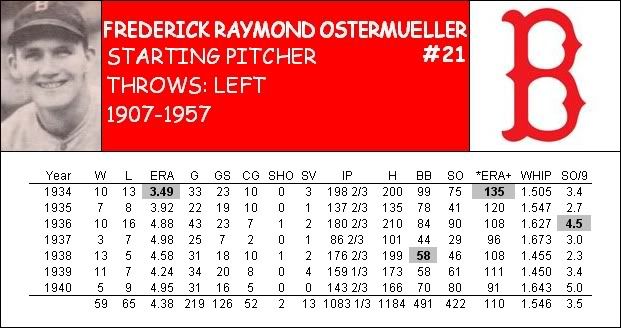 FRITZ OSTERMUELLER: Yeah... if there's a truly unremarkable choice on this team, it's Fritz. I'd have taken Shore or Ehmke, but they didn't have the requisite five years on the team. The only other pitcher of note that qualified was (future) Hall of Famer Red Ruffing, who was utterly gawd awful in his Boston years. (Far worse than Ostermueller, actually.) So if you can find anyone you think belongs that I left out,
this guy
is
definitely
the one on the bubble!
HERB PENNOCK: One of the few players to lose playing time due to service in the FIRST World War, very little of Pennock's Hall of Fame potential was realized in Boston. To be fair though, by the time he was made a regular starter, most of the team's talent had been sent to where he would soon go: the YANKEES. Pennock is yet one more of several pitchers to follow up their modest success in Boston with multiple 20-win seasons in New York. The "Curse of Ruth" had to do with a LOT more than just
Ruth
!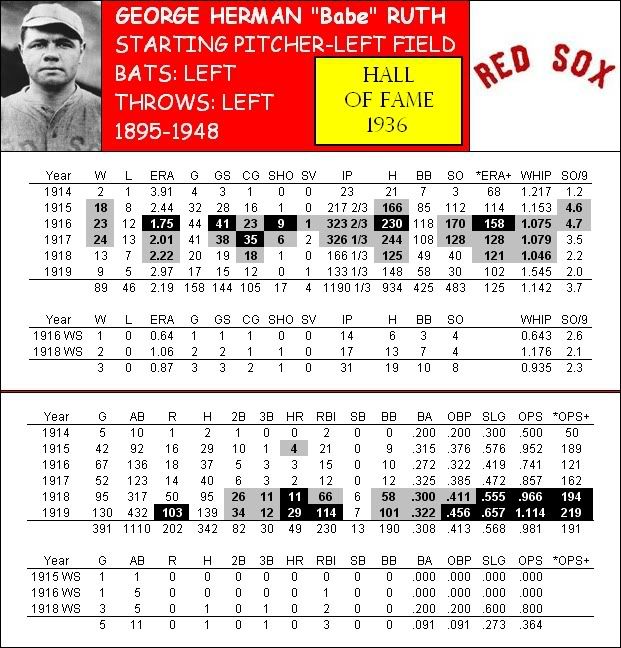 BABE RUTH: One All-Time Sox pitcher had an award named after him,
this one
had a curse. A two-time twenty game winner who set the first of four single-season home run records in
Boston
. His sale marked and, to a great extent,
caused
the beginning of 14 years of the Red Sox finishing in the second division. They would not finish .500, or as high as 4th until 1934 - Ruth's
last year
in New York.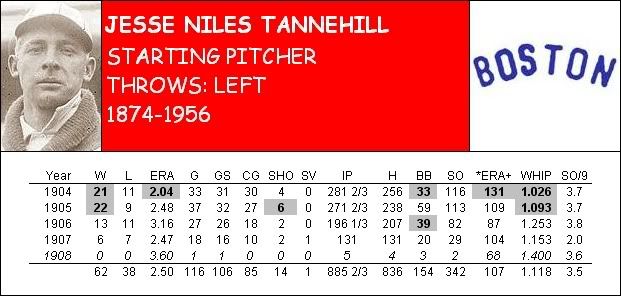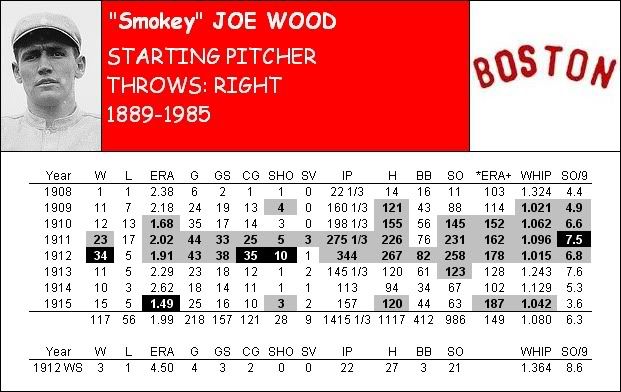 "SMOKEY" JOE WOOD: At his best he was comparable to Walter Johnson, and even beat him 1-0 in one 1912 game that was promoted as if it were a prize fight. Injuries kept him from repeating that level of dominance, but he recovered well enough to capture his first ERA title three years later.
CY YOUNG: His very name is synonymous with excellence in pitching.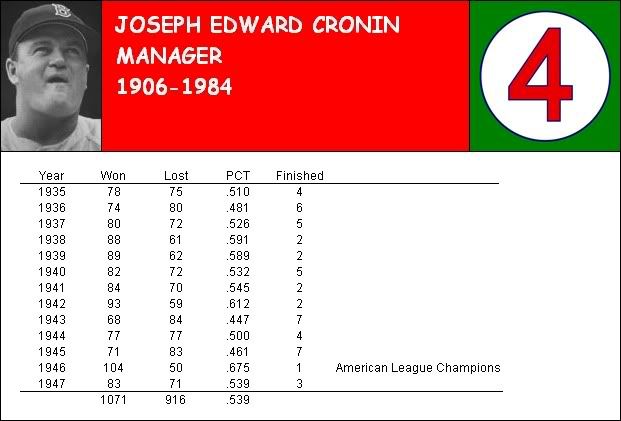 JOE CRONIN - His racism
may
have cost the Sox a couple of prospects named "Robinson" and "Mays" but he remains the Winningest manager in Club history, and the longest serving. He'll get help anyway: Jimmy Collins, Jake Stahl, and Bill Carrigan all served as Player-Managers for World Champions and both Cy Young and Chick Stahl also served stints as Player-Managers.