World Champions: 2004, 2007
American League Champions: 1967, 1975, 1986
Division Winners: 1988, 1990, 1995, 2007
Wild Card: 1998, 1999, 2003, 2005, 2008, 2009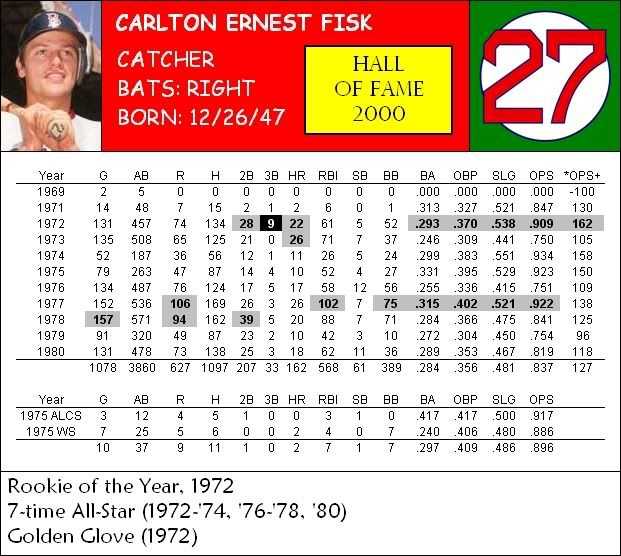 CARLTON FISK: One of the most beloved ex-Red Sox of all-time. Provided arguably most dramatic World Series moment in club history with his 12th Inning Homer in Game 6 of the '75 World Series of Pat Darcy to force a Game 7.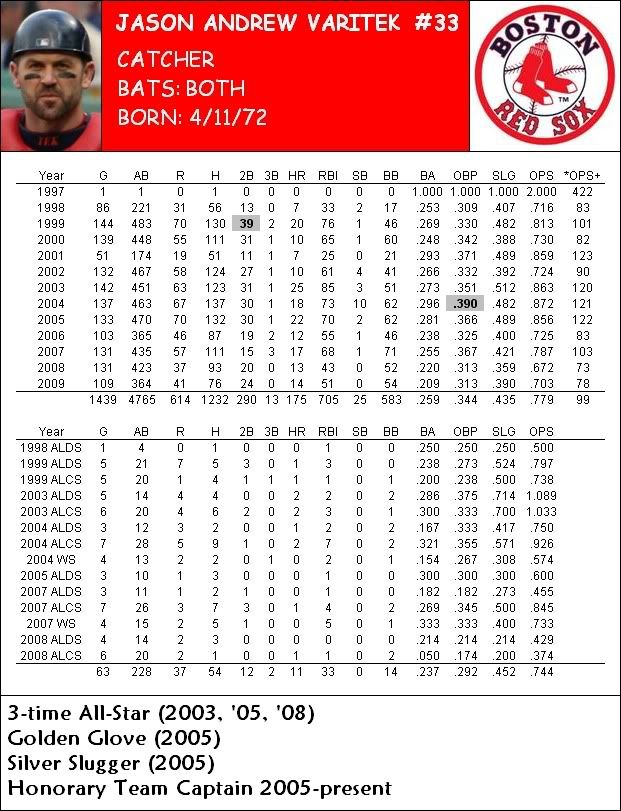 JASON VARTIEK: The Captain. The smartest Catcher in the majors in his prime and on of the few Catchers left that can make his Pitchers better. Holds club record for most Games Played at Catcher.
SAMMY WHITE: An under appreciated, standout defensive Catcher from a relatively forgettable era.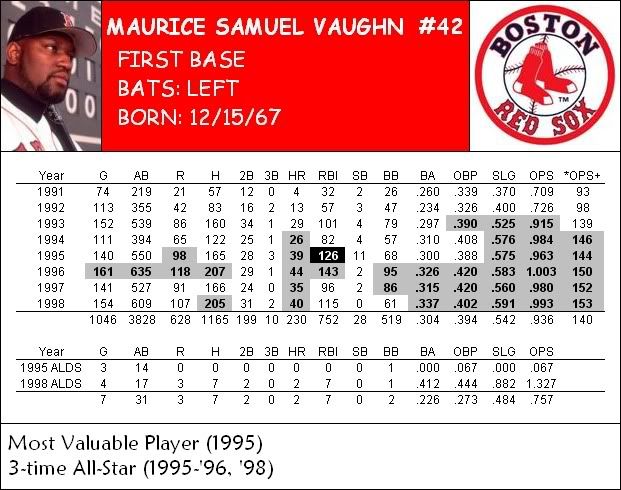 MO VAUGHN: "Hit Dog" made up for his utter absence in the 1995 ALDS with an absolutely monstrous Series in '98 (sadly in yet another losing effort.) Though rarely the very best in any category he still managed to dominate the offensive leader boards in all six of his years as a starter in Boston.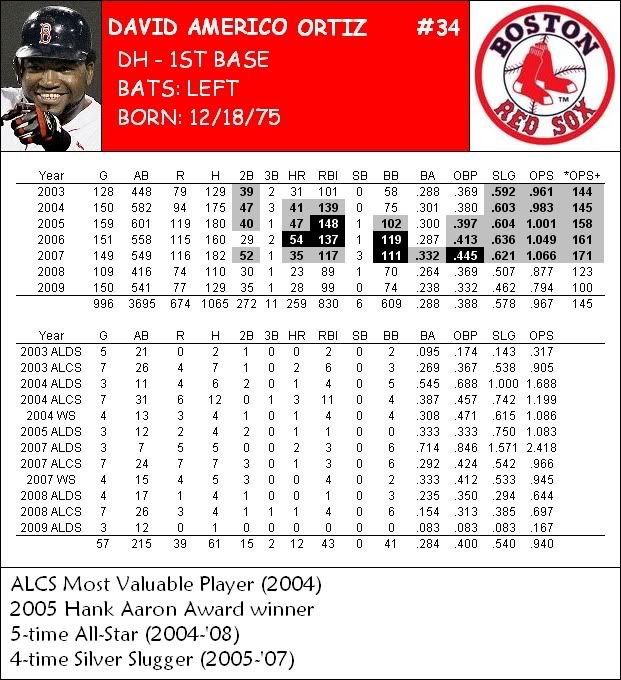 DAVID ORTIZ: The best days of 'Big
Papi
' may now be behind us, but what days they were.
Clutch
-hit after clutch-hit, he willed the Red
Sox
out of their 0-3 deficit against the Yankees in the 2004
ALCS
. Along the way hit hit 50 Home Runs in a season for the first time since 1938, something that even Ted Williams never accomplished, breaking the club's single-season Home Run record.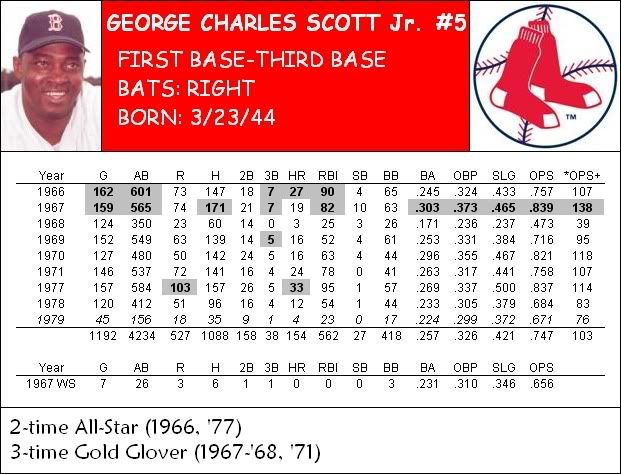 GEORGE SCOTT: Well... Let's face it: If your starting First-Basemen are Mo Vaughn and David Ortiz, you're going to need some help on defense. And no Red Sox First baseman ever did that better than George 'Boomer' Scott: He won the first three of his eventual eight Golden Gloves in Boston. (We'll just forget about that '68 Season, and the fact that we traded Cecil Cooper to get hit back for what amounted to just one more decent year, OK?) ;)
NOTE: Kevin Youkilis is making a pretty good run at Scott's spot on the 40-man roster. I'm not convinced just yet, maybe in a couple of years, but let me know what you think!
PETE RUNNELS: Runnels spent only five years in Boston, all for largely mediocre teams, but he definitely made the most of his time there, picking up two batting titles and narrowly missing a third, finishing second behind teammate Ted Williams in 1958.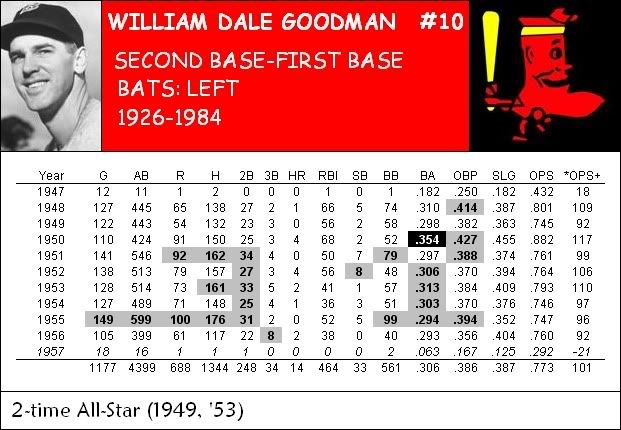 BILLY GOODMAN: A versatile fielder who played regularly at both First and Second as well as some Third and in the Outfield. He won the Batting Title in 1950 despite not being the team's regular starter at ANY position.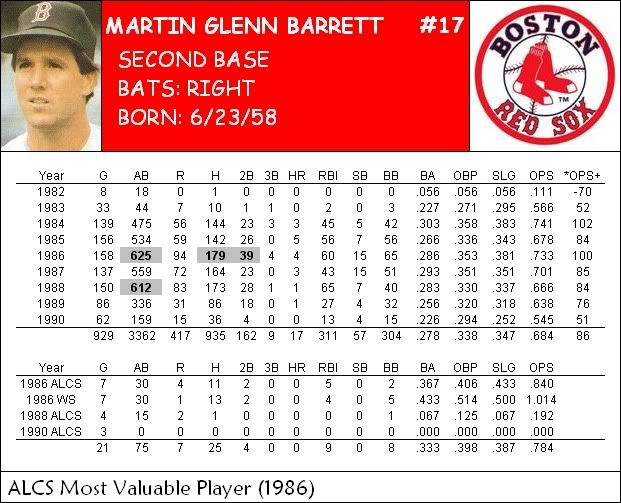 MARTY BARRETT: A tough-as-nails, grind it out, give 110% every game, kind of player. It's possible that no player in the 1980's got as much out of the talent they had as Marty Barrett. He was one of the toughest players of his day to strike out, finishing in the 5 in AB/SO four times, leading the league in 1988. He also was the best bunter in the league, leading in Sac Hits three years in a row (1986-88) and finishing in the top 10 three other times from 1985-1990.
NOTE: It could be argued that Jerry Remy was the better player, but I think they're about the same and Barrett's amazing 1986 Post-Season pretty much puts him over the top. It should also be noted that next year, when Dustin Pedroia finally qualifies, it is a pretty much a given that he'll take Barrett's spot on the roster.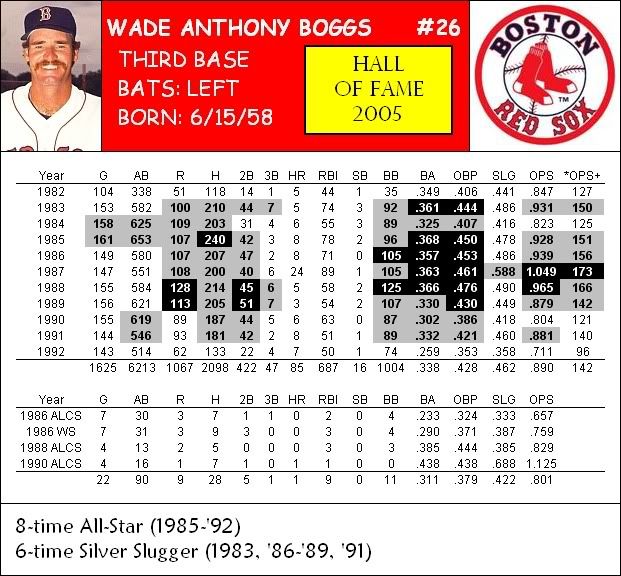 WADE BOGGS: What can I say, really? Greatest hitting Third Baseman in Red Sox history. Trails only Ted Williams in terms of Batting Titles, and his modern record of seven strait 200+ Hit seasons stood for almost two decades.
FRANK MALZONE: Another hard-nosed, underappreciated player from a forgettable era in club history. With three Golden Gloves, he is arguably the best defensive Third Baseman in club history.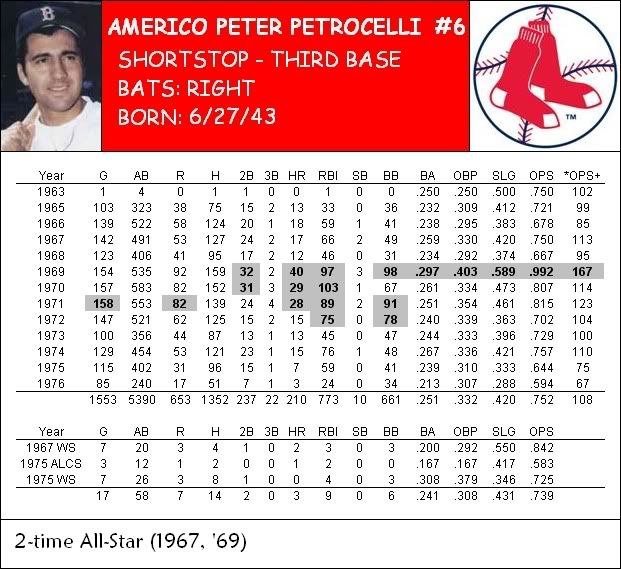 RICO PETROCELLI: Although more often playing at Short, Rico is taking up a Third Baseman slot due to a lack of Third Basemen and a surplus of Shortstops. (And his SS/3B split was about 50/50.) His 40 Home Runs in 1969 remains the record for American League Shortstops not named 'Alex Rodriguez.'
NOTE: Next year, when Mike Lowell qualifies, it is very possible that Rico will move to Short, taking Rick Burleson's spot on the roster to make room for him.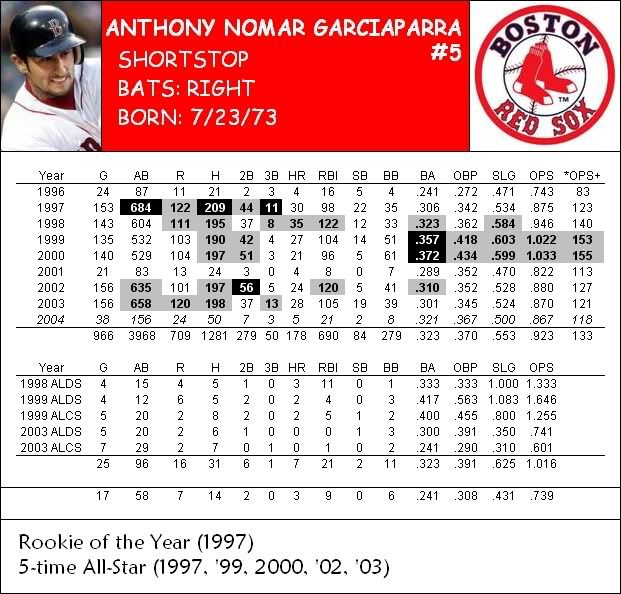 NOMAR GARCIAPARRA: A fan favorite. It broke my heart to see him go, necessary though it may have been, and it broke my heart even more that he was never able to recapture the success he found in Boston. He was the best pure-hitting Shortstop in club history. Ted Williams himself said of him, "DiMaggio. The kid Shortstop reminds me of DiMaggio!" Well... if he's good enough for Teddy...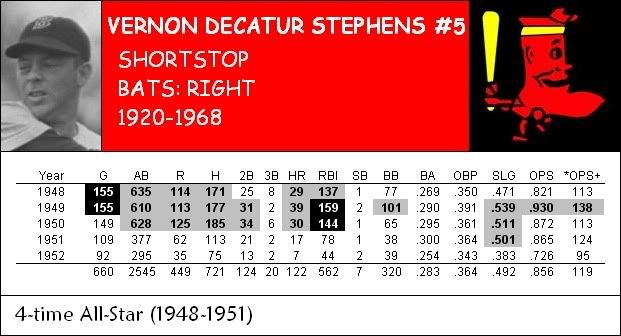 VERN STEPHENS: A truly scary slugger back in the day, and an underrated defender because of it. (Johnny Pesky was moved to Third when Stephens came on board!) His time was short, and at the tail end of his career, but Stephens was still one of the more potent Sluggers the club has had
at all
, and at Shortstop no less!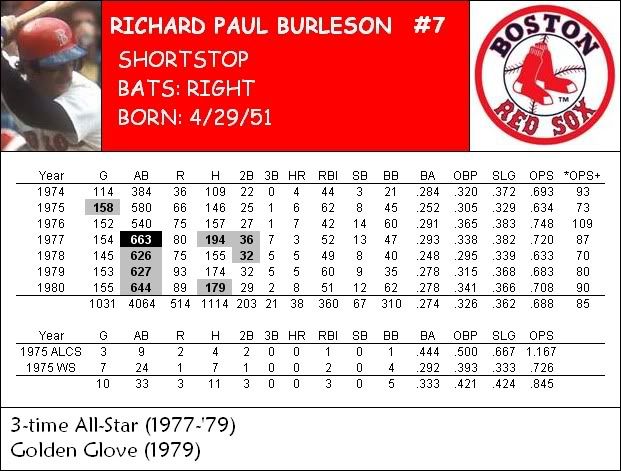 RICK BURLESON: A slick fielding, light-hitting Shortstop from an era chock-full of slick fielding, light-hitting Shortstops. The Rooster was a pesky hitter, a tough competitor and
possibly
the best defensive shortstop in club history that stayed long enough to qualify for the team. (Glad to get at least one picture in there with the RED HATS too!)
NOTE: Next year, when Mike Lowell qualifies, it is very possible that Rico Petrocelli will move to Short and take Rick Burleson's spot on the roster to make room for him.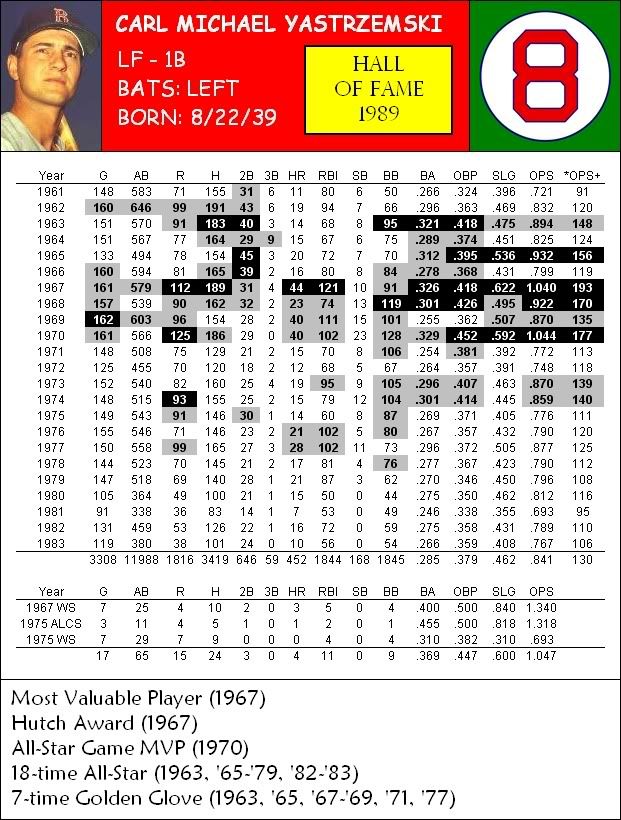 CARL YASTRZEMSKI: The most beloved Red
Sox
player of all-time and the best all-around player we've ever had. If I compare him to Ted
Williams
, I'll admit that I'd take Williams, standing at home plate, with a bat in his hand. But I'd take Yaz in the field, Yaz on the base paths, Yaz in the clubhouse, Yaz in the post-season, Yaz in the clutch and Yaz with a man on Third and one out. And, uh... Yaz could hit a little himself too!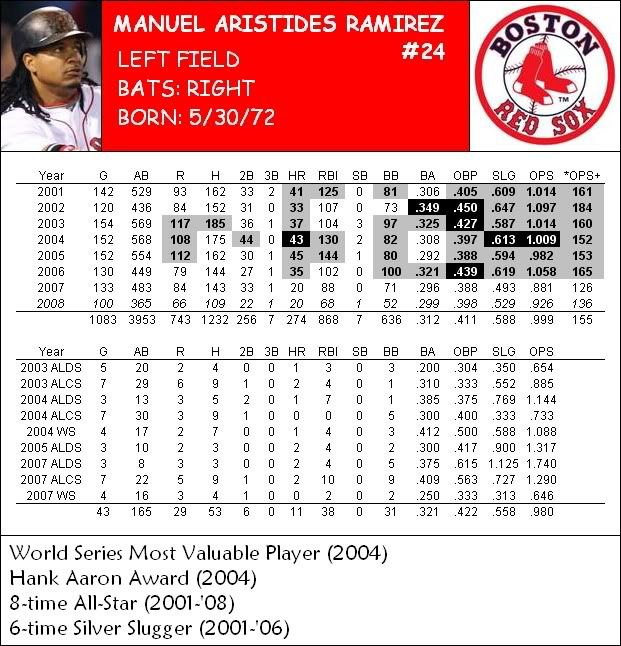 MANNY RAMIREZ: I was every bit as sorry to see him go as I was glad to be rid of him. What a complicated, amazing, frustrating, wonderful, awe-inspiring and flaky character this man was. And he was also the best pure-hitter on the team since Ted Williams. "Manny being Manny" means remembering that it is, after all, still just
a game
. Thank for the memories Man-Ram!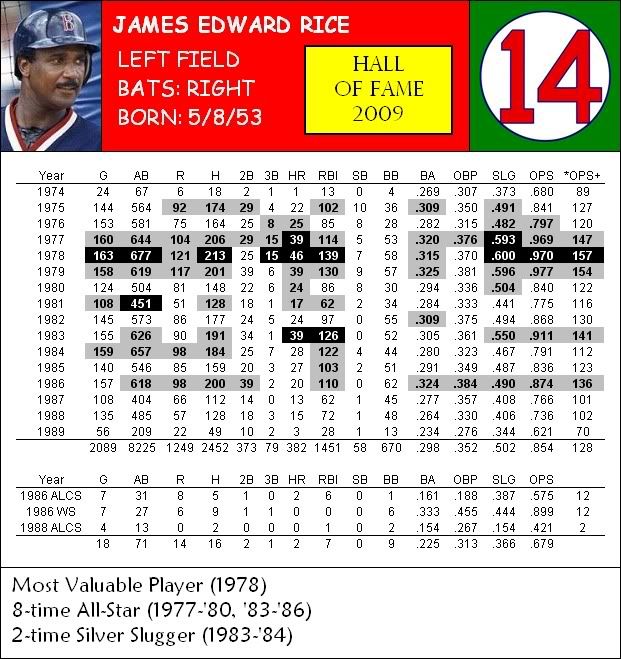 JIM RICE: My own personal favorite player growing up. His career may not have looked Hall-worthy to some, but in light of all the juicing that's gone on since his retirement, I think people are getting a better appreciation of how good Rice actually was. He was strong enough to break a bat checking his swing, and level headed enough to save the life of a child that had been struck in the head by a foul ball with his quick action. Rice was an intimidating presence in the lineup: He was the only hitter
Goose Gossage
ever admitted to being afraid of. Thirty of his Home Runs in 1978 either tied the game or put the Red
Sox
ahead. How's
that
for hitting in
the
clutch?
FRED LYNN: The other half (with Rice) of the 'Gold Dust Twins' that
propelled
the Red
Sox
to the Series in 1975. A player who gave so much that he actually injured himself crashing into the wall chasing flies - the padding out there now was because of him. As exciting a rookie season as he had, he topped with an absolute
monstrous
season in '79. Injuries,
many
due to his
aggressive
style of play, left much of his potential unfulfilled, but he was a player that had it all: Speed, Power, Range, Arm and Average.
REGGIE SMITH: One third of "the impossible dream's" Outfield. Although his best years with the bat would come later, Smith was an integral part of the Red
Sox
offense for many years, and in the field developed a reputation for have the best arm of any Center Fielder in the league.
DWIGHT EVANS: The best defensive Right Fielder in the American League in the late 1970's and early 1980's. Dramatic play in Game 6 of the '75 World Series kept the game alive, and allowed Fisk to hit 'the shot.' Was the decade's leader in Home Runs for the 1980's in the American League.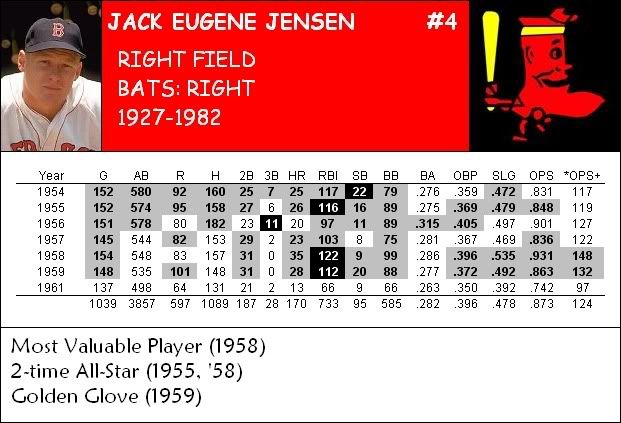 JACKIE JENSEN: A short but dominate tenure on some unsuccessful and forgettable teams. A strong mix of Speed, Power and Defense.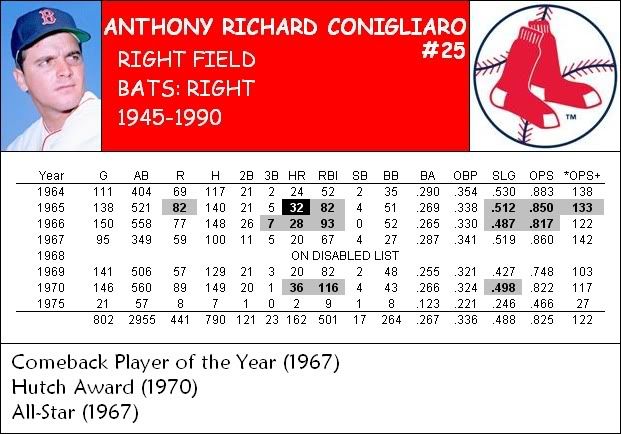 TONY CONIGLIARO: Oh what might have been! Still the youngest player to reach 100 home runs, how much more could Tony-C have given if not for that fateful beaning by Jack Hamilton that night in August of 1967? And the unfulfilled potential was not limited just to his own, but also in 'the Impossible Dream,' which had to go to the World Series without his powerful bat and clubhouse presence. Although he came back strong, persisting vision problems shortened his career. To add to his already tragic story, he suffered both a heart attack and stroke in 1982 and spent the remainder of his life in a vegetative state, until he died in 1990 at the age of just 45. God bless you Tony!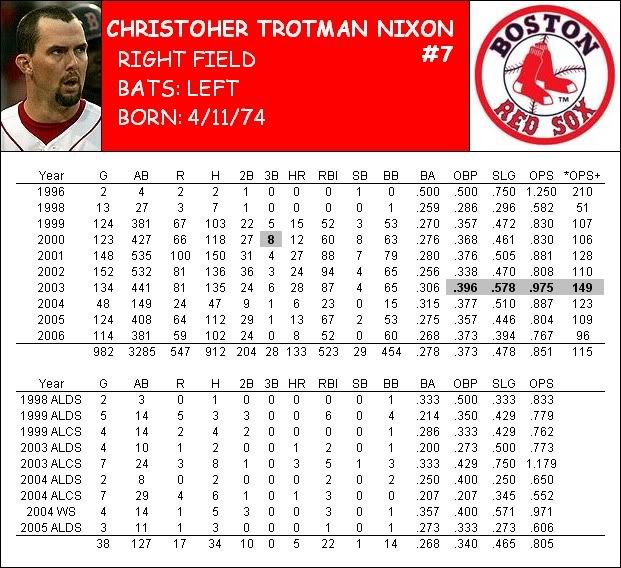 TROT NIXON: The Dirt-Dog. Another tough-as-nails,
fiery
competitor who wrung every last bit of potential out of his talent and left it all on the field. His career was shortened by injuries, but he'll be a fan favorite for a generation to come.
NOTE: Despite my affection for him, Nixon is the 9th Outfielder. So if there's anyone you
think
I missed (Mike
Greenwell
, Ellis Burks and Jimmie
Piersall
all come to mind) it is Nixon's spot they're competing for, and Nixon that they'll be
compared
to.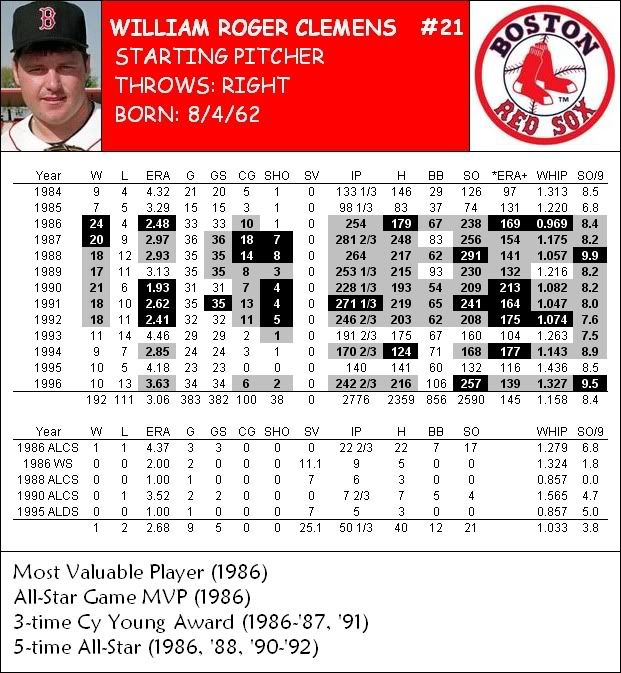 ROGER CLEMENS: He was hard to like, off the field, and left on somewhat unpleasant terms, but when he was here he was the first true Hall of Fame caliber Ace that we'd ever had
in his prime years
. Although nowhere near Pedro (and no one really
is
) he still had more Cy
Youngs
, All-Star
Appearances
, 20-Win Seasons and Shutouts in a Red
Sox
uniform
than Mr. Martinez. Other than beat
Oakland's
Dave Stewart (1-9 career against) there was little he couldn't do. He's the only pitcher in history with two 20-Strikeout, 9-Innings games and accomplished both while in
Boston
.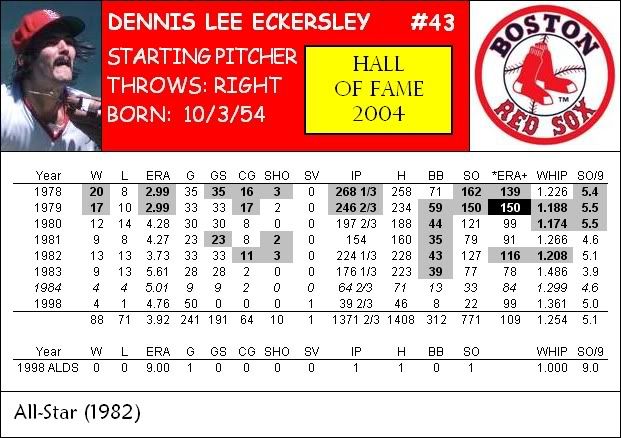 DENNIS ECKERSLEY: Obviousy he's not in the Hall of Fame for his pitching with the Red Sox. Nevertheless, he was the Ace of the '78 staff, was statistically better in '79 and was still an All-Star a few years after that.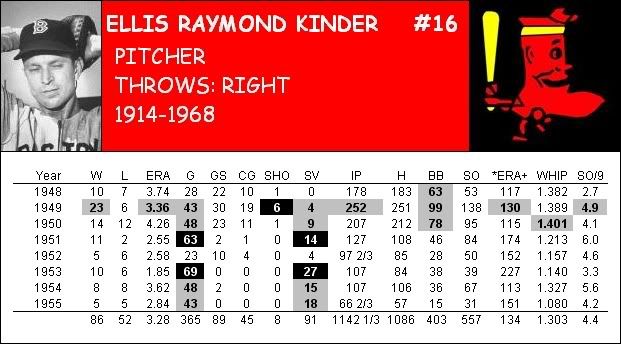 ELLIS KINDER: He was a 20-Game winner that developed into a League Leading relief pitcher, although before the save was an official stat.)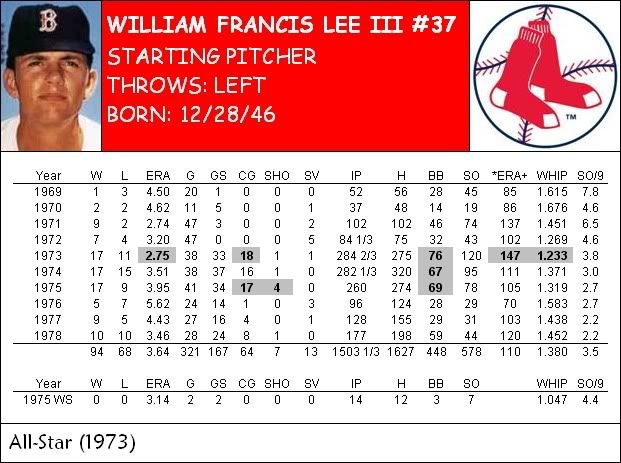 BILL LEE: The Spaceman. One of the biggest Yankee-killers in club history. If not for him being in Don Zimmer's doghouse in 1978, you probably never would have even
heard
of Bucky Dent.
JIM LONBORG: Purely a sentimental choice. Take away 1967 and you've got Al Nipper. But he was the Ace of the Impossible Dream, and every bit as important as Yazstrzemski at making it a reality. Plus it's hard to exclude a 20-Game winner, Cy Young Winner and All-Star, who won two games in the World Series.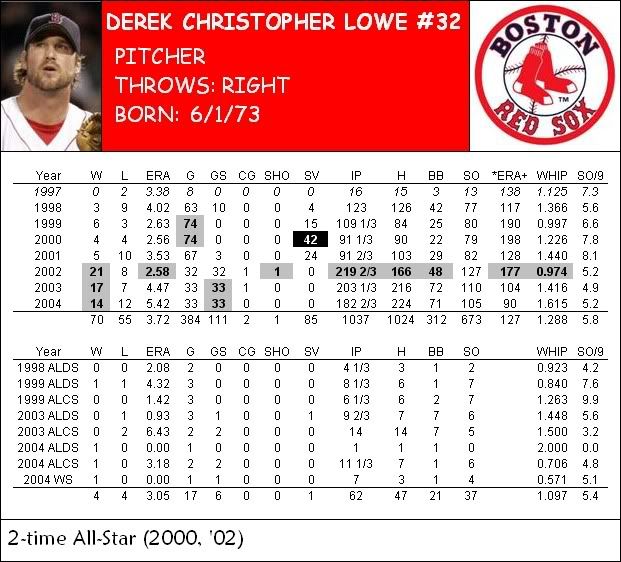 DEREK LOWE: I was a little on the fence about Lowe versus some of the other choices. Then I noticed something interesting: If you flip his career upside-down, you get Ellis Kinder's! LOL. He's was an All-Star Closer with 40 saves who became an All-Star Starter who won 20 games and threw a no-hitter. Was the winning pitcher in the game that finally broke the Babe's curse.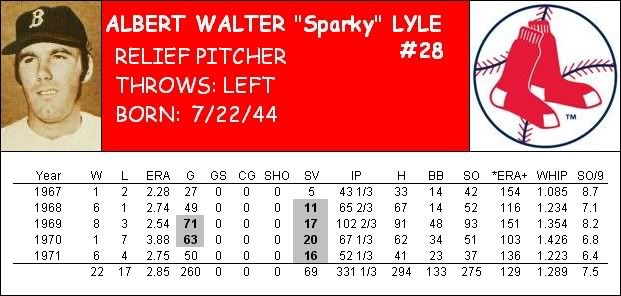 SPARKY LYLE: Arguably the best left-handed reliver we've ever had, and involved in arguably one of the worst trades in club history, to (never mind) for (never mind.) (It's to distressing to write about.)
PEDRO MARTINEZ: He was the most dominant pitcher of all time, with the highest carreer *ERA+ of any Starting Pitcher, and the highest single season *ERA+ since 1880, and we had him at his absolute best.
BILL MONBOUQUETTE: Another one of the best Pitchers you never heard of. Another Ace stuck on mediocre clubs. Won 20 games for a 7th place team that finished 76-85.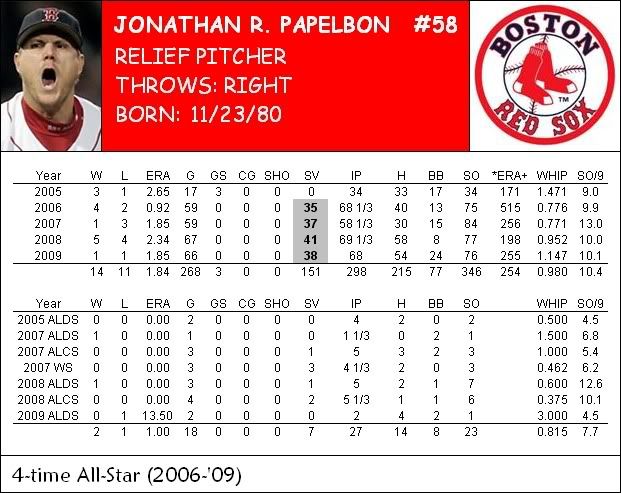 JONATHAN PAPELBON: Within five years he's broken the Club's All-Time save record. The 2009 ALDS not withstanding, I hope this crazy SOB become a Sox lifer. We'll see how it goes.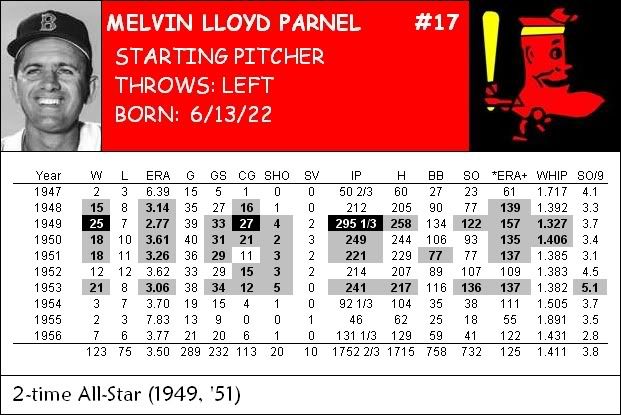 MEL PARNELL: One of the best southpaws in club histry, holding the club marks in Wins, Innings and Starts for Lefties. Should have started the 'Denny Galehouse' game in '48.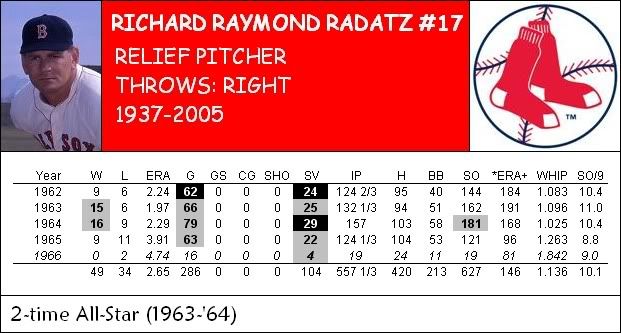 DICK RADATZ: The Monster. The first great Closer even before the was such a thing. He was the first reliever to Save 20+ Games two season in a row, before the Save was even an official stat, and still holds the record for most Strikeout in a Season by a reliever.
BOB STANLEY: With the image of his errant sinker sailing under Mookie Wilson in 1986 forever etched into our consciousness, it's easy to forget just how
good
this guy was when he was ON. At one point held both the Club's Single Season and Career Saves records. In 1982 became the only pitcher in American League history to log enough innings, exclusively in relief, to qualify for the ERA title, finshing 2nd, and leading the league in *ERA+.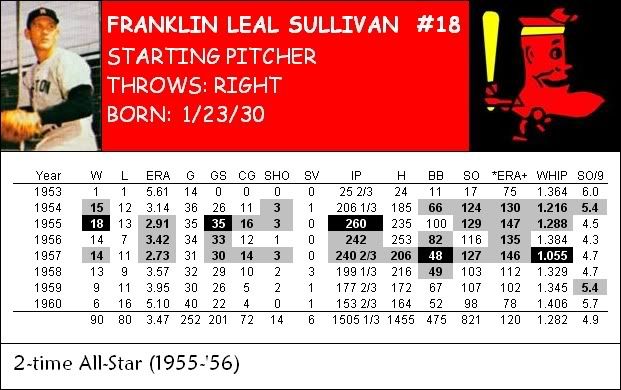 FRANK SULLIVAN: The best pitcher you never heard of. The Sox Ace for the second half of the 1950's.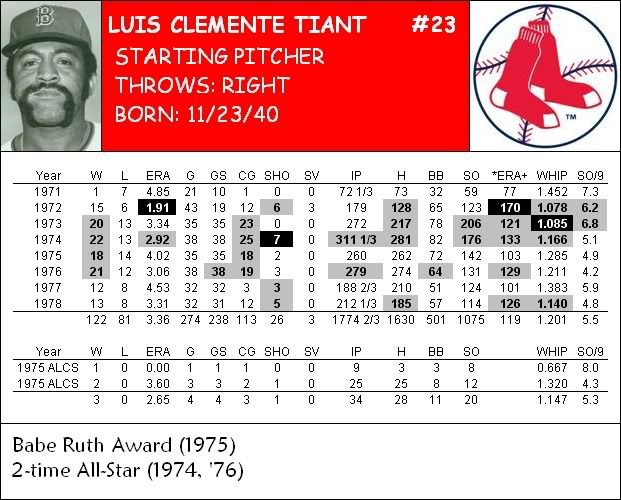 LUIS TIANT: I don't think I could say it any better than Darrel Johnson did: "If a man put a gun to my head and said I'm going to pull the trigger if you lose this game, I'd want Luis Tiant to pitch that game." (Of course, if a man put a gun to my head and said I'm going to pull the trigger if you lose this game, Darrel Johnson would not be on my short-list of
managers
, but he was right about Tiant!)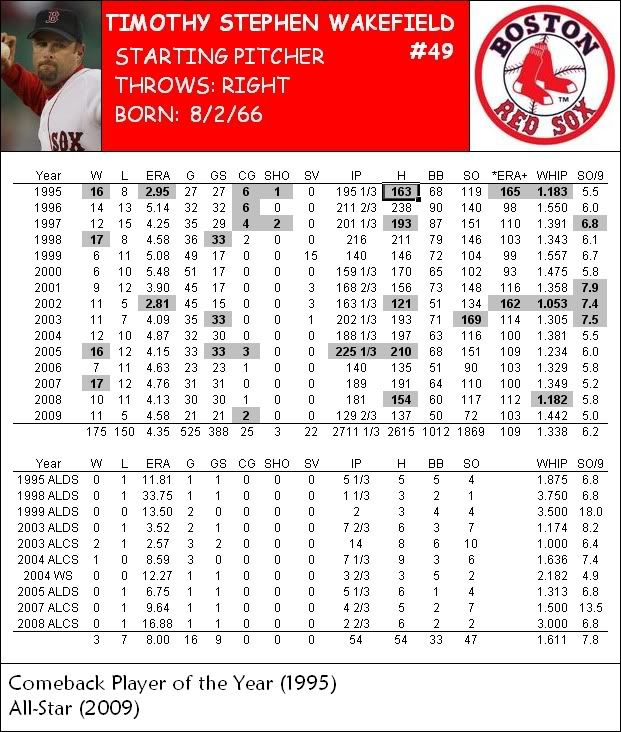 TIM WAKEFIELD: He's pitched in Boston longer than any other pitcher in club history, and has seen more post seasons that any pitcher or player as well, serving effectively in every role that was asked of him. Ranks third on the club in career wins behind Cy Young and Roger Clemens.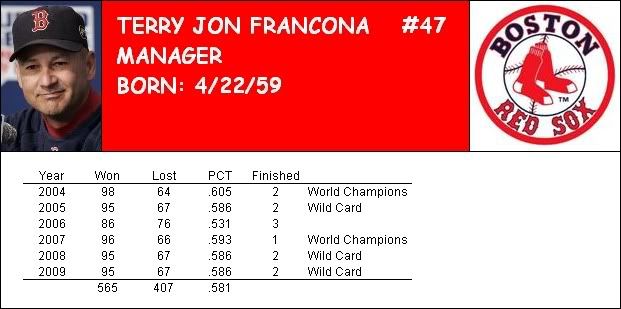 TERRY FRANCONA: Is there really any other rational choice?